Requiem æternam dona eis, F News.
This month, the editors wish to offer their respects to the recently deceased. As we present our Day of the Dead altars to the literal and metaphorical dead, we remember the things that made them special in our eyes.
Lux temporaria luceat eis.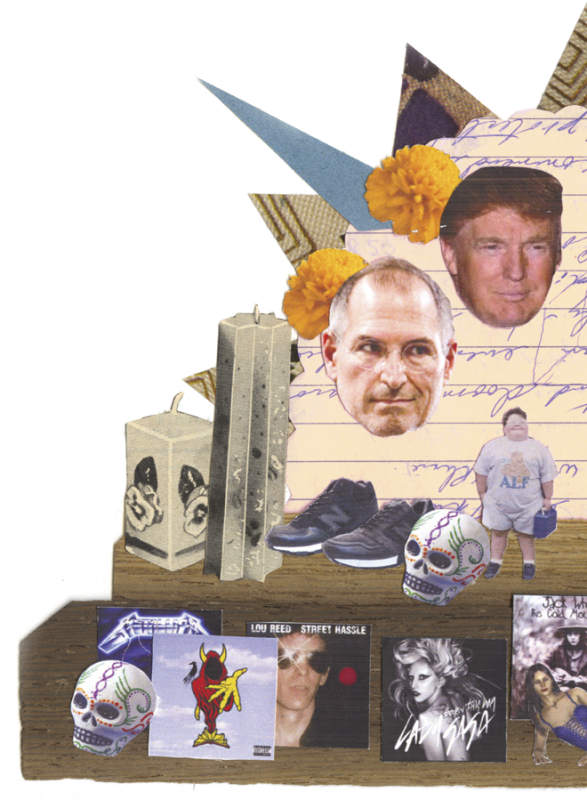 Capitalism. Far be it from us to be the final judge of what works and doesn't work, but clearly, something is wrong here. Maybe it's not totally dead, and maybe it's not totally dying, but the decadent pangs of folks like Donald "Of Course This Is My Real Hair" Trump are enough to set fire to a million Fawkesian- masked souls. And that is an impetus for change.
Steve Jobs, one of our generation's great innovators, passed away on October 5.
We remember him for his mock turtleneck/ running shoes uniform, and we look forward to reading about Steve Jobs sightings with those of Tupac and Elvis in the local tabloids.
Music has had a rough year. Between Lady Gaga's bizarre motorized woman camp-fest cover art on "Born This Way," to the blas- phemous unions of Lou Reed/Metallica and Jack White/Insane Clown Posse, it's clear that the musical apocalypse is upon us.