Not every student can  – or wants to – make it home for Thanksgiving. In the absence of a traditional family gathering here are a few alternatives that will help you celebrate the season. (And more reasons to wear your personalized-butt-text sweatpants.)
Turkey is fleeting, art lasts forever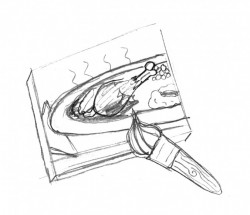 If you burned the turkey or (let's be honest) never had one to begin with, get out a canvas instead and paint yourself holding a giant turkey leg. Dress in your favorite Flemish costume to get in the meat-eating spirit. Once immersed in your mannered-Vermeerian brush strokes and listening to Top Lute Songs of the 1690s, you'll probably forget about your hunger and end up with a masterpiece … assuming you don't eat it.
Cook for the desperate
Dust off that festive apron you bought three years ago – the one that makes you look like you're dressed as a busty Pilgrim. It's time to let go of the 2008 Salmonella Supper mishap and give cooking another chance. Even though family will probably never eat your food again, and your friends know better, settle on getting chummy with your weird neighbors. You can all bond by giving thanks that your other neighbors went on vacation with their annoying yap-dog.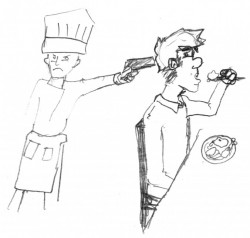 Sweat out the gravy
Hmm. Black Friday shopping or a peaceful afternoon of yoga? Avoid getting yourself stuck in a maniac shoppers tug-o-war over discount decorative sofa pillows. Choose to meditate instead. With help from yoga instructor Mary Scherer, you'll breathe out (exhale) the holiday stress and re-center yourself. Class will be tailored to students' individual needs on the Friday after Thanksgiving for $2, from 4:15-6:15 p.m. in Sharp 214.
Give thanks for expert critique
The friendly people at The Joan Flasch Artists' Book Collection and The Writing Center are teaming up the Wednesday before Thanksgiving for a first-come, first-served Publication Clinic. Available for all students, they are offering a free critique of publications you're struggling to finish, including your Zombie Turkey Comic book. Meet on the first floor of The LeRoy Neiman Center from 4:00-5:30 p.m.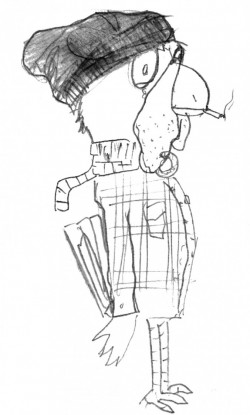 March for Turkey Pride
What do trombones have in common with an oversized helium balloon of Dora the Explorer? They will both be present on State Street Thanksgiving Day. McDonald's hosts the 77th parade starting at 8:30 a.m., with a route moving from Congress to Randolph. You can either view the marching bands and holiday-themed floats in person, or stay home in your dirty sweats and watch it on WGN Channel 9.
Tofurkey for All
Thanksgiving is a meat-lovers holiday, but vegans and vegetarians are festive people too. The Chicago Diner is having their 30th Annual Vegan Thanksgiving Dinner with a menu of renowned classics, minus the meat. Options include: a tofu roast with herb-seasoned stuffing and country gravy, marinated seitan referred to as "Beefy Wellington" or a pumpkin ravioli topped with apples and onions. Entrees start at $11.99 and are carry-out only. Order at veggiediner.com and pick-up at 3411 S. Halsted.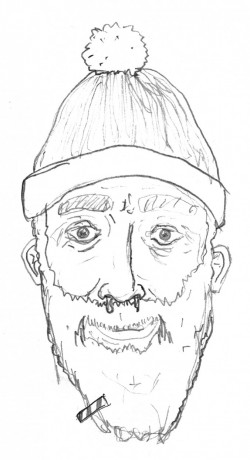 Run your stuffing off
Create the illusion of a healthy holiday by starting your day with a run. On Thanksgiving, the 2012 Chicago Turkey Day 5K starts at 9 a.m. in Lincoln Park with a course that moves northbound on Lake Shore Drive for 1.5 miles. You're allowed to wear your dirty sweats for this one. Or why not run in the heirloom Pilgrim outfit just sitting in the closet? Early-turkey registration is $30 at www.turkeyday-5k.com
If you can't beat 'em, out drink 'em
Few things are worse than having your blissful bar-based sorrow-drowning interrupted by a pub crawl of swaggering, pickled bobble-heads. Might as well join in and become part of the spectacle. The Turkey Crawl is on Wednesday, November 21 and again Saturday, November 24 beginning at noon. For an admission fee of only $1, what else do you have to do? And yes, you can wear your sweats.
Sit on a strange man's lap
Here comes Santa Claus. Here Comes Santa Claus. Right down Santa … wait … wait … wait … Thanksgiving is the next major holiday. But if you're getting into the Winter Wonderland mode on Thanksgiving Eve, Santa's House at Daley Plaza will have an available Santa for picture-taking opportunities from 6-8 p.m. Sweats are not recommended because the resulting image of you on Santa's lap will be weird. And creepy.