By Charles Loie
Birds do it, bees do it, even educated flees do it. But when Americans do it, or better yet, talk about and hint at "it," they are smacked like a wack-a-mole by the Chuck-e-cheese mindset of the powers that be. Personally, I'm sick and tired of the ass-backward attempt at pulpit-preaching the evil that is sexual content and innuendo for the sake of children or anyone else and, furthermore, insulting the greater public by acting as if they had no choice in the matter. But not just sexuality, anything taboo, anything with any semblance of truth that mocks the deficiency within a system, is evil. The irony of Howard Stern is that the shtick that made his fortune is now the source of his undoing. The tragedy is that his martyrdom affects not only himself, but every artist working in America.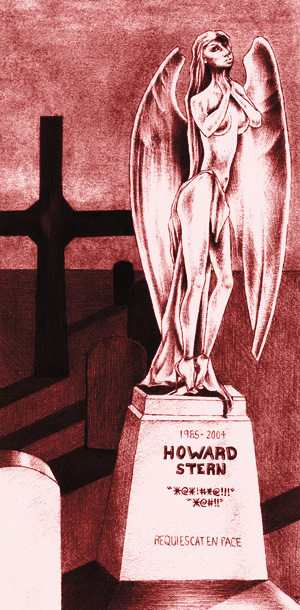 You may find it strange to identify Stern as an artist. He has made a long career of blatant sexuality, often bordering on the grotesque and, more often than not, hilarity. In the past four years, while the dirty man aspect is wearing thin and losing its novelty, Stern has had some profound and honest political commentary about the Bush administration. I say Stern is an artist because he forces a perspective on the things he puts out in the world, his own self-absorption included.
And then there was "Nipplegate," the grandest excuse ever to begin "regulating" all that we hear and see. What once was a shameless act of self-promotion from an artist who has increasingly wanted the world to be aware that she has breasts (exhibit B-DD Rhythm Nation Janet–The Janet of today), is now the Federal Communication Commissions' (FCC) touchstone to go out on a smut witch hunt. Sure, they could have started with purely the sex symbols, like Ms. Janet, but they went for the "shock jocks," the airwave satirists whose sexual content is much more than just symbolic.
On April 8, 2004, the FCC slammed Clear Channel, the communications monopoly firm (radio, advertising and concert promotions, among other things), with a $495,000 fine for indecency due to comments made on Stern's broadcast. Fearing other liability issues, Stern was taken off six of Clear Channel's "channels" with one reprise. During this reprise, Infinity, Stern's syndication company, censored a "best of" broadcast that previously was acceptable to air. Amusingly enough, similar broadcasts were deemed acceptable in 2003 by Clear Channel when the FCC investigated some 15 seconds of questionable air-time (as can be seen in a memo issued by Clear Channel, conveniently at howardstern.com, an extremely comprehensive and popular site).
Weeks before the crackdown Stern was quoted as saying, "Eight-to-ten billion dollars a year is spent on porno in this country and John Ashcroft is saying 'It's invading my life.' It's not invading your life. We're inviting it in. We like it. Why can't we admit that we're a country that likes outrageous humor? That likes to poke holes in society? Who are these people that are taking that away from us? It's Bush. It's Ashcroft. It's Colin Powell, Jr. They're winning. Fight them. I am going off the air. I look forward to the day, because those guys will make me bigger than life…I am ready to be bigger than I've ever been. I'm ready to accept the responsibility."
What once was a doomsday speech smacking of self-importance now reads as a warning to all those who push boundaries in the fields of artistic expression.
A further quote issued by Stern directly after his dismissal declares that all art, from paintings to literature, is at stake. Without going into the cliché ridden excuse that these regulations stem from America's puritanical base, I will say that the first Amendment is usually the first thing the religious right wipes their ass with. According to the first Amendment the rights addressed within cannot be infringed even if it is deemed indecent by the greater public. But the line between what is indecent and what is prime for popular consumption is more than razor thin, it's imaginary, it's air.
By opening our eyes, by stepping outside, we are bombarded by sexualized and violent imagery to sell products without being given a choice. And, for the most part, these images are hollow. Which is not to say pornography is filled with great depth, but it doesn't hide what it is. Art, inside or outside the galleries, that is deemed offensive doesn't either.
To bring up a fictitious, though no less pointed example, the popular Showtime show The L Word, a show no doubt the lesbian-fixated Stern would find appropriate here in juxtaposition, hosts a character who works at a modern art museum in Los Angeles and was the subject of a protest for showing offensive, "edgy" material. One such blasphemous work, which I truly wish was more than just a product of a clever writer, was a video/performance piece featuring a naked woman being penetrated doggy style by a fully dressed Jesus with the apostles looking on. While watching these episodes, I thought that there was no way in this day and age for such a protest to be so large and vocal, especially in Los Angeles. But the truth is it can be and it should be. The beautiful thing about free speech is that it ensures freedom on more than a dichotomous level.
Artists produce their work to ellicit a response from the public. If the public decides that this work is worth vocally responding to, whether positive or negative, that is their right as well. What underlies this relationship is that all parties are allowed forums to express their opinions, as long as those opinions do not instigate physical harm. The choices we make as members of the public to view or listen to these opinions are our own and are not forced upon us. That hand reaching for the button, dial, or a modest student newspaper, is a hand with hypothetical free will. To put blame on the artist for our own choices is a selfish bit of blame projection.
Howard Stern and his ilk are the first large- scale strike in what may be a long drawn out war against our own "best interest." Who may follow is yet to be seen, but clearly the battle lines have been drawn between those who create or uphold the creation and those who destroy and limit the creation of art. For all our culture's advances, we continually fall back on a strange piety that serves no other virtue than promulgating the old and lambasting the new and thusly "taboo." In the field of the arts, if there is to be a purpose at all, there is no greater purpose than to redefine and expand the norm. Not to give Stern more airs, but what he stands for is more than the titty parade he revels in. Rather, he is a martyr, if you will, for non-conformity. A word and concept that is at times laughable in its association with inaction and cynicism. The future of art is dependent on the unconventional, and to keep that alive artists need to go even further.
Illustration by Jenjen Tobias