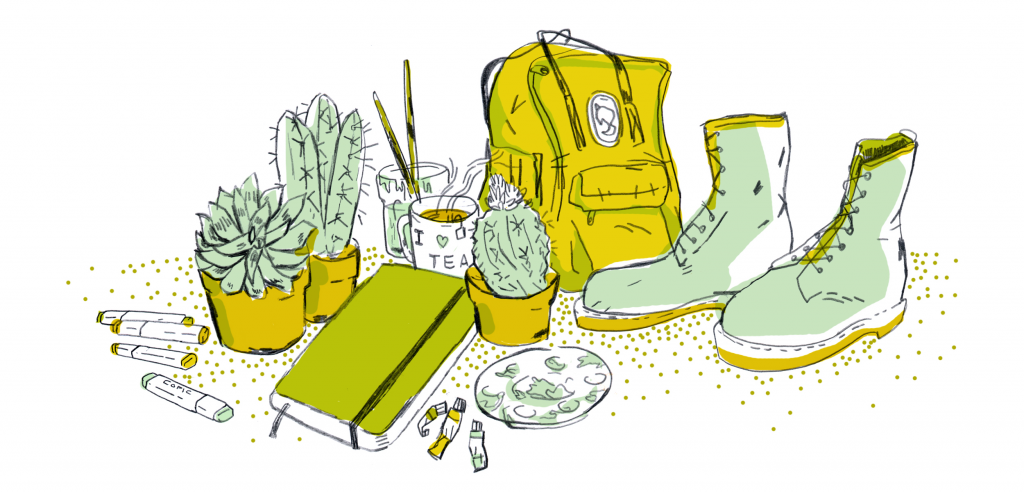 Illustration by Alex Kostiw
Move over health goth, there's a new subculture that's traipsing around the blogosphere and leaving aesthetically pleasing photosets in its wake: the "art hoe." The cyber-cultural oracle known as Urban Dictionary defines an art hoe as "a hoe who is mysterious and chill and like hippyish and good at art."
  Though this definition is not particularly elucidating, it does touch on the foundational aspects of the art hoe aesthetic: a sense of style which is propelled by a chic nonchalance, and a passion for art journaling. Essentially "art hoes" exist within sub spheres of social media such as Twitter and Tumblr.
If you search the tag "art hoe" on tumblr, you will find countless photo sets of succulents and selfies superimposed over Van gogh paintings, along with photos of piles of art books rented from local libraries. They value the classical art canon while maintaining an ecstatic love for impressionism and knit crop tops. They're also young, with most "art hoes" on Tumblr being around 16 or 17. Yet, they seem to be almost avant garde in direct relationship to their high school aged peers.
Instead, they combine and popularize everything that art students hold dear: notebooks, American Apparel,  awkwardly expensive markers, and  mugs filled with either tea or paint water. At this point, you may be asking yourself, "as an art student with tendencies that could qualify as 'hoe-esque' am I automatically an some sort of "art hoe" elder?" In order to quell your own fears about melting into the void that is normalized "alternative" aesthetics, I've compiled a simple checklist serving the dual purpose of both explaining the ideologies of "art hoes' and telling you whether you've found your people.
Do You…
enjoy the color mustard yellow?
own a Fjallraven Kanken backpack?
own a succulent?
own a cactus?
own more than one pair of Birkenstocks and/or Doc Martens?
enjoy using classical paintings and/or literal art galleries as backgrounds for your selfies?
have an Etsy store?
art journal extensively?
know that Moleskines are expensive but keep buying them anyway because their paper quality is prime?
empathize with Vincent Van Gogh on a level that could be classified as "spiritual?"
own a pair of mom jeans?
own a pair of high-waisted shorts that used to be mom jeans until you rescued them from Goodwill and did some much needed trimming?
sometimes confuse your tea mug and your paint water mug?
Enjoy the color forest green?
know your way around a jar of Mod Podge?
manage an art and/or "aesthetic" blog?
own a pair of socks with a famous work of art embroidered on them?
If you answered "yes" to five or more of these questions, congratulations, you're an art hoe. Before you lapse into a crisis because your interests are now being transformed into a meme, consider this: art hoes are groovy!
Unlike the micro subcultures of previous summers (ie, the insufferable "pastel goth" of summer 2012) art hoes value passion rather than apathy. The foundation of the art hoe aesthetic is an insatiable curiosity about the art world. Art hoes just want to learn about art and make some of their own, there's nothing wrong with that. If anything, it should be encouraged.
The main criticisms towards art hoes come from the same disgruntled bros who insist that teen girls "don't even know who the Misfits are." They complain that art hoes are a subculture made up of oblivious middle-upper class white girls when in reality, art hoes are incredibly inclusive towards both women of color and individuals who choose to ignore the gender binary all together. As far as I can tell, there's nothing culturally appropriative going on within the art hoe subset either. No one's sporting a bindi and oozing "wanderlust," they just want to paint and help their plants grow.
I have observed a lack of women/ women of color within the art cannon which they study so intently within their personal or art blogs, but that's the canon's fault. When you become interested in a subject, you consume what is available to you, and in the case of art, what's most widely available is a canon pretty devoid of women and people of color. This speaks to a pervasive need for more women artists, thus art hoes should be encouraged to expand their own art practices rather than having their interests trivialized in an Internet fad.
Let's face it, teenage girls and their interests are constantly belittled within popular culture. When they become interested in products traditionally marketed towards them, like boy bands or YA (young adult) literature, they are dismissed as someone who is blindly following the next trend without maintaing any genuine  interest in the subject. Likewise, when they are interested in "alternative" subcultures like punk, they are dismissed as "posers, once more calling the authenticity of their interests into question. Either way, teenage girls are being told that their age and their gender somehow make their interests seem disingenuous.
The art hoe narrative appears to be a twist on the classical archetype of the teenage loner, manifesting adolescent anxieties into art journals and paintings set to dry on the racks found in high school art rooms. It  seems painfully familiar to me because I too was once a shy nerd who ghosted around her high school art room…but didn't we all?
As art students ourselves, we should all try to support art hoes as an homage to our pre-art school selves.
This sense of support should extend beyond art hoes, and encompass teenage girls in general. We need to teach teenage girls that their feelings and interests are vaild. Consider art hoes as your high school do-over, encourage them to go Molly Ringwald and make their own prom dress. Tell them to nurture their own art practice with the kindness they show towards the succulents they love, tell them to never let the fuckboys get them down.