Chicagoans March Against US Intervention in Syria
The opposition to U.S intervention in Syria is widespread. According to a recent Pew Research survey, Americans, regardless of their gender, race, class, and political affiliations, tend to oppose US military intervention and would prefer diplomacy. Demonstrations against possible military intervention in the area have taken place across the country. On Saturday, Sept. 7, demonstrators gathered in Federal Plaza in Chicago to voice their opposition to U.S involvement.
"We do not think it's a good idea for anybody to go into Syria for any reason. It would only add misery and more destruction," said Janet Fennerty, former Chicago Public Schools high school teacher and veteran anti-war activist. "It's just stupid…to think that it's going to have any effect on Assad or the rebels. Either way, it's the people who are going to suffer."
"I'm afraid we might repeat history," said former U.S Army Sergent Alejandro Villatoro, who served in both the 2003 invasion of Iraq and the War in Afghanistan in 2011. "This act of war could bring a lot of implications, especially knowing that Russia and China and Iran are supporting Syria…we cannot afford to send more troops, we cannot afford to send our military or take military action knowing that we don't have the resources and we're already involved in two wars."
Villatoro and other protesters expressed their frustration with Nobel Peace Prize winner President Obama and his administration for wanting to engage in any military action in Syria. "We have elected a president that promised to withdraw from these wars and to bring peace, to bring hope," says Villatoro. "But this is an act of war. He was not elected to take this type of action."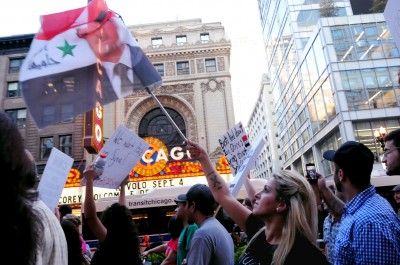 Washington Post columnist Eugene Robinson recently wrote that the United States needs to intervene in Syria because, "somebody needs to be the world's policeman." This is an attitude shared by many mainstream news outlets, which also argue that a lack of intervention would make the US and the Obama administration appear weak. Other mainstream news sources believe the US must intervene in Syria to maintain its legitimacy as a world power, arguing it is the job of the US to make sure other countries abide by international law. Some of the protesters gathered Saturday disagreed with these assessments.
"That's kind of hypocritical because we don't abide by the law," says Villatoro. "We invaded Iraq illegally and we haven't received approval from the UN to take any military action in Syria."
In 2003, the United States invaded Iraq under the pretense that Saddam Hussein had "Weapons of Mass Destruction." Iraq is still not confirmed to have had such weapons and many Americans postulate that the United States invaded Iraq to control its oil supply. Now the Obama administration claims that involvement in Syria is necessary because of Bashar Assad's alleged use of chemical weapons on civilians. Are chemical weapons the new Weapons of Mass Destruction? Syria, unlike Iraq and Afghanistan, is not an oil-rich nation. But are there other reasons the United States wants to get involved in a civil war in Syria?
"It is strategically placed," stated Fennerty. "It is in the middle of the Middle East. It's a very strategic location and [the U.S is] also looking out for the interests of Israel, that's for sure. So that's another reason for them to try to take charge."
"I think [U.S intervention] has a lot more to do with geopolitical consequences, having a government that's opposed to Israel and is not a friend to Saudi Arabia, which are the U.S.'s allies in the region," argues John Stachelski of the Chicago Anti-War Committee. "I think that [the US] does not want to have any opposition to their plans there. And there's all this historical antagonism, especially between Saudi Arabia and Syria. It's not necessarily about resources sometimes, or oil specifically…I think it's a lot more complex than just a question of resources."
On Tuesday, September 10th, the Obama administration reconsidered launching an attack on Syria. President Obama issued a speech regarding "the red line" and U.S plans to intervene in Syria. The administration has gone on to claim that it will place its strikes on hold if Assad surrenders his chemical weapons. Still, with no official diplomatic agreement reached, the US's future in Syria remains uncertain. This makes it all the more important for these demonstrations to occur. With the Obama administration continuing to delay the use of military action in Syria, it could be the voices of protesters across the country that ultimately sway its decision in the direction of diplomacy.