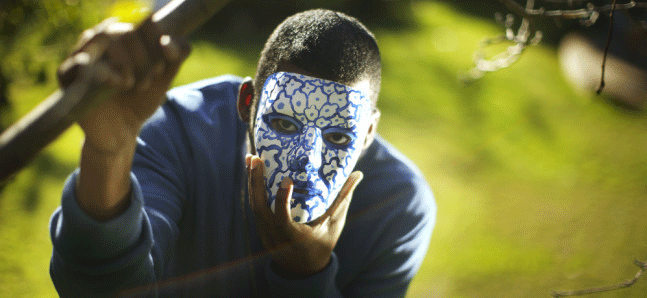 "This is some good shit!" announced experimental electronic artist Flying Lotus (Steve Ellison) as security guards nervously watched him accept — and smoke — a blunt given to him by an audience member.  Performing at the Metro Tuesday night in support of his third and most mellow album to date, Until the Quiet Comes(2012), Flying Lotus engaged the audience in a number of crowd-pleasing antics. In the live setting Ellison revealed an interesting dichotomy between the subtle, contemplative nature of Flying Lotus the recording artist, and the riotous party ethos of Flying Lotus the performer.
His committal to an all-around party vibe at his Metro show was a little bizarre but not wholly unexpected, given the similar mood of a show at the Bottom Lounge in early July. Both concerts ended with the remixing of Waka Flocka Flame's inane hit "Hard in Da Paint," had Flying Lotus and his audience members unabashedly toking in public, and possessed a 'greatest hits' catalogue of his songs. Under any other circumstances, this wouldn't seem too out of the ordinary, but after billing the show as a promotion for Until the Quiet Comes, his approach to showmanship seems like a step in the wrong direction.
His refreshing venture into more stripped down and immediately dreamy music espoused by Until the Quiet Comes seemed betrayed by his decision to make the concert experience a party. Though he was comfortably concealed between two screens of trippy CGI graphics, Flying Lotus made his presence and benevolence felt throughout the show. Often cutting into the middle of his songs to acknowledge the audience, or to shout something humorous, his actions came off as both heartwarming and occasionally distracting. Though any Flying Lotus fan would rejoice in hearing favorites like "Kill your Co-Workers," "Do the Astral Plane," and "Massage Situation" played within the middle of a show, it was a gesture that seemed to belong more in the second half or encore of a performance than at the beginning.
Strangely, the set list didn't contain more than about six tracks (notably "See Thru To You" and "Heave(n)") from his new album. This was a bit disheartening at first, but things improved after Ellison displayed the incomparable quality of his ear for mixing and juxtaposition. In an unexpected moment of the night, he played a sped up version of Kanye West's materialist anthem "Mercy," and seamlessly blended it into the bleeping falsettos of his own "Putty Boy Strut" from Until the Quiet Comes. When Ellison started his hyper-speed reinterpretation of "Mercy," it seemed as aimlessly immature as the actual song, but immediately after the crossbreeding of the two songs, the crowd's smirks quickly turned into riotous laughter and applause.
Nitpicking aside, it's a pleasure to see someone like Ellison perform live. Though a great deal of his merit lies in the unparalleled ingenuity and finesse of his recorded work, he also proves himself to be a talented performer and crowd-pleaser.