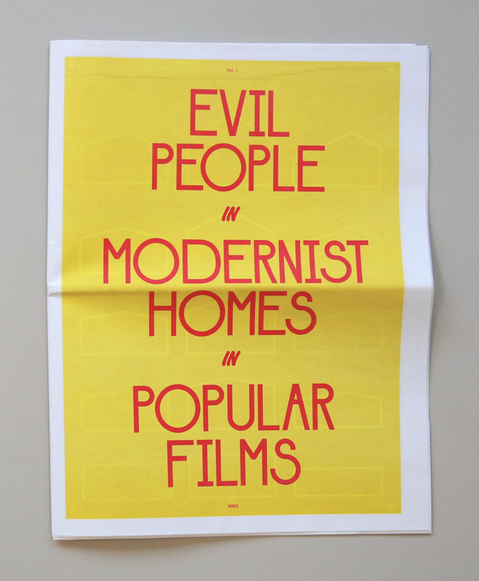 Even though its been floating around the internet for over a year now, I just finally got my non-virtual hands on a copy of Yale graphic design grad Benjamin Critton's zine, Evil People in Modernist Homes in Popular Films.  It's such a cool print run– offset in red and yellow– and its tabloid style still seems totally appropriate for this year of nostalgia for old Hollywood (<3 you Jean Dujardin and Uggie!). As background, Critton selects screen shots from major run films (from classic Bond to Twilight) and assembles them quatrefoil, juxtaposing title frames and absurdist Hollywood villains with their Neutra/Wright/Lautner dens of plotting, destruction, and, usually, throwing super awesome parties.  Mod pool parties are sure signs of evildoing in sixties films and throwbacks — just see Mad Men Season 2 classic "The Jet Set" if you need convincing.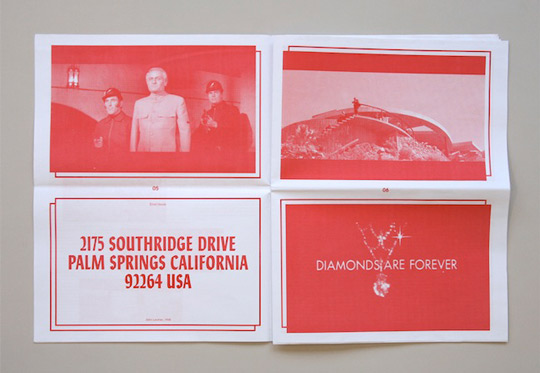 EPiMHiPF falls squarely into the category of "hey, I also had that idea but never did anything about it!" but it's Critton's execution that makes it shine.  Copies are still available from Printed Matter for $10 if any of you are so inclined…
This also made me start thinking about potential Chicago-area modernist-loving villains.  Can anyone think of any deranged midwesterners with a penchant for steel-frame post-and-beam?  One of my favorite local blogs, Chicago Screenshots, does an incredible job slogging through crappy "Jim Belushi/Arnold Schwarzenneger cop buddy movies" to find gorgeous shots of the changing urban environment hiding just behind Arnold's giant head.  He takes suggestions for new films all the time and it would be super cool to capture some modernist villainery happening in the city or the nearby suburbs.  Cameron Frye's dad doesn't count, despite his slightly sinister Ferrari obsession and gorgeous David Haid garage.