by Amanda Aldinger
This weekend I had the distinct pleasure of going to the opening night performance of Noble Fool Theatrical's "25th Annual Putnam County Spelling Bee" at Pheasant Run Resort in St. Charles, IL.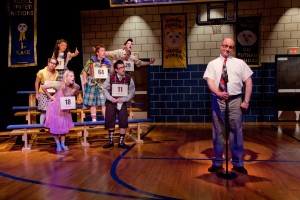 Each of the spellers possesses a spelling tic, or general oddity that adds to the hilarity of the show – from Leaf Coneybear's (played masterfully by a show-stealing Jack Sweeney) Tourette's-like method of shotgunning his words and brilliant irrelevance, to the unfortunate erection that leads achieved boyscout Chip Tolentino to an untimely elimination. William Barfee's "magic foot" and Logainne Schwartzandgrubenierre's two aggressively competitive gay dads only add to the show's pandemonium.
Never before I have laughed so hard at a play, and I definitely plan on going back to see the show again before the run closes. As an ensemble, the cast of "Spelling Bee" works together wonderfully – especially considering the show's inclusion of three audience members as "spellers," each night. If you're looking for P.C. humor, this show is definitely not for you. If you're looking to laugh your a-s-s off, I'd get over to Pheasant Run by June 13 to see this production before it closes.
Pheasant Run Resort is located at 4051 E. Main St., St. Charles, IL. For tickets, call the Pheasant Run Box Office at 630-584-6342, or visit www.ticketmaster.com. Additional performance information may be obtained at www.noblefool.org.
Image courtesy of Noble Fool Theatricals