The unlikely success of Sad Brad Smith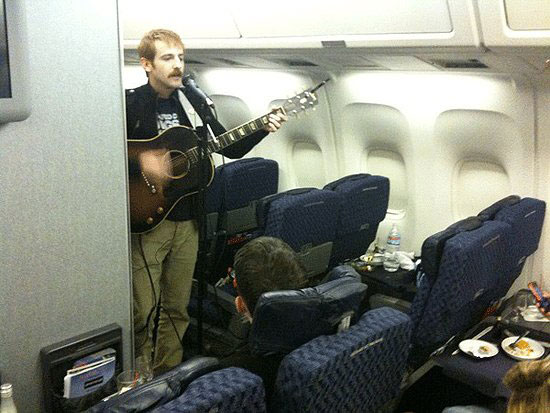 By Britany Robinson
If love is not what you need, then maybe luck is.
The release of Chicago native Sad Brad Smith's first album, "Love is Not What You Need, " follows an unlikely stroke of luck that changed his musical career from an idling hobby to Oscar-worthy attention in one of the year's biggest films, "Up in the Air." His song, "Help Yourself," plays prominently in the emotional climax of the Best Picture nominee, and was briefly in the running for Best Original Song before an unfortunate technicality made it ineligible.
"Help Yourself" was Smith's first release, included on the soundtrack to "Up in the Air." Before his song's inclusion in a motion picture, he had no following other than close friends, and he rarely performed outside of his apartment. Jason Reitman, director of "Up in the Air," happened upon Sad Brad Smith's music when Smith accidentally left a CD of his in a friend's car—a friend of a friend who happened to be Reitman's brother-in-law.
"I used to be, I don't want to say embarrassed of my work, but I didn't want to push it on anyone who didn't want to hear it. So unless I was asked to play somewhere, I usually wouldn't," said Smith in an interview with F Newsmagazine. Smith's hesitancy to "force" his music on anyone is endearing, considering his song was played during the Golden Globes nearly every time the film was mentioned.
Smith's touching lyrics just skirt sappy, with charming sarcasm and quirky musings on life and love scattered throughout. His lilting voice lends honesty to his chirpy melodies, and you'd never guess the singer-songwriter recorded the entire debut in his apartment with Garage Band—a free application that anyone with a Mac can play around with—without much thought to its potential success or failure. Not that he's careless about his music — he simply felt the need to release something soon after his song's appearance in "Up in the Air," and didn't have the time or budget to do much editing or revising.
Although clearly excited about the success of "Help Yourself," Smith hopes that listeners will tune in to the rest of his album to truly understand his style. Critics have likened his sound to Simon & Garfunkel, but Smith shies away from that comparison, preferring to cite artists such as Leonard Cohen and The Flaming Lips as major influences on his work. "Help Yourself" is a lovely ballad that lends perfectly to the scene in "Up in the Air." It succeeds in tugging the viewer's heartstrings even harder than the simultaneous emotional awakening of George Clooney's character, Ryan Bingham.
The rest of his album, however, has a humor to it that cannot be found in his popular single. "Calling myself 'Sad Brad Smith' was my way of calling attention to it," he said of the imbued humor of his music. "But paired just with 'Help Yourself' alone, I don't think people could discern that I'm not quite serious. Well, I'm serious, but I see no reason why seriousness and humor cannot co-exist."
So what has this Chicago-based talent been up to since his newfound success? He performed an awkward set over the roar of a plane engine for a press junket on a plane that flew journalists from New York to LA, and had a brief encounter with Clooney at the movie's premiere. But, other than that, Smith's life is just as low key as it was before Reitman chose "Help Yourself" to be the main track of his much anticipated third movie.
The Oscar buzz that originally surrounded the single has died down since Smith acknowledged that he had a portion of the song in the works before being commissioned for the project — a violation of strict academy rules that songs develop as a direct result of the movie and interaction between the artist and the director. Despite impressive album sales of the soundtrack as a whole, Sad Brad Smith has not let the success go to his head, as one might expect. He remains modest, yet hopeful that this experience might lead to a larger following, and that his musical career can keep him out of part-time work in local cafés (opting to perform there rather than wait tables.)
Smith says he'll still watch the Oscars, despite his lingering twinge of bitterness. Regardless of his personal disappointment, he seems well aware that not many aspiring musicians chance upon his kind of luck.
"Somebody asked me if I was worried about becoming a one-hit wonder. I said I wasn't aware that I had a hit." Despite his "Up in the Air" exposure, Smith remains down-to-earth, and hopefully he will stay grounded even as his career climbs to loftier heights.