Hey, did you notice you're not freezing anymore? Yeah, weird. Hey, did you notice there are tulips alongside downtown State St.? Yeah, they're pretty. Hey, did you notice that your epidermis is showing? Ha ha, that means skin. Hey, did you…What? What's that? This is called Spring? Oh, that's a season, right? Summer is next? It gets even hotter? Wow.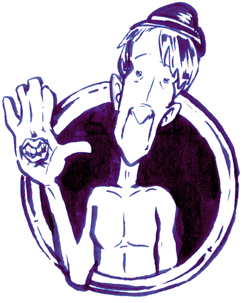 Well, we sun-starved F lackeys want to know what songs remind you of S-U-M-M-E-R. Sound good homeslice?
Some on F's play-list include:
" Stuck in the middle with you": Stealers Wheel
" Our lips are sealed": The Go Gos
" El cuarto del tula": Buena Vista Social Club
" Good vibrations": The Beach Boys
" California love": Tupac feat. Dr. Dre
" Summertime": Janis Joplin
" California sun": The Ramones
" Anti-Hu" : Pinback
" Wrong way": Sublime
" Surf wax America": Weezer
" Surf rider": The Lively Ones
" Pistolero": Juno Reactor
Have fun, play safe, wear sunscreen and don't run around the pool.
— Summer Babes of F News
Its the late '80s, my friends and I live by the pool. The public one, the one where the bad boys hang out. We've grown boobs but not hips yet and we look great in our bikinis (for the first and last time in our lives). And we smear baby oil all over our skin to "Pour Some Sugar on Me" by Def Leppard. Today when I hear that song it's enough to make me want to paw a bad boy, tear the SPF 35 off my skin, and marinate myself in margaritas by the pool.
—MMG
" El Amanecer" by Son de Madera
This song reminds me of summer because these jarochos sing about loving, dancing, singing, and living until the sun comes up – rituals not recommended during the winter, especially in our bitter Chicago weather.

— Edward Escarsega
—Chris Bower
" Summertime" by Mungo Jerry (1970s)
Why? Listen to it! How can you not be happy while to listen to it?
— David Goodberg
Hi F People, Obviously the best summer songs are the ones you listen to full blast while driving around with your windows down singing to them. My two favorites that make me think of sweltering heat, slushies and broken air conditioners, are "Paul Revere" by the Beastie Boys and "Loud Neighbors" by 2 Skinnee Jays.
— Emily
Sticky songs that sound good no matter what pills you're on and make you think of potbelly's, midgets, and bananna waffles each time you shut your golden lids against the sun:
1. "Cherrybomb": The Runaways
2. "Birdland": Patti Smith
3."Femme Fatale": The Velvet Underground
4. Any recording by Nina Simone
5. "I Love Rock-n-Roll": Joan Jett
6. "Largo": Handel
7. "Jumpin' Jack Flash": Rolling Stones
8. "Working Class Hero": Marianne Faithful
9. "Sunset Strip": Courtney Love
Junked after lights out snug against a beanbag:
1. "Watersong": The Cranes
2. Any recording by Simon and Garfunkel
3. "Whats New": Billie Holiday
4. Sigur Ros on repeat till five a.m.
— Michael Koby
Fiber and Material Studies, Grad.
Hey y'all, here's a couple summer songs:
" Cadillac": t. rex
" Besa me": Los Ponchos
" Dirty deeds": AC/DC
" I.O.I.O": Bee Gees
" Talking about the good times": The Pretty Things
They remind me of kicking a 40 out on my stoop in Philly.
— Carl Baratta
"So Much Beauty In Dirt" by Modest Mouse totally makes me feel like a warm summer breeze is blowing in my face while I'm driving at night on some random country road. Or laying in the grass at night looking at the stars, trying not to get too many mosquito bites, but actually not caring because the sky is so big and wonderful.
— April
"Marakesh Express" by Crosby, Stills & Nash: This song always makes me think of cruising on an open road with the car windows down, without a care in the world, on a perfect summer day…not too hot, with the sun shining brightly against a clear, blue sky…ahhh.
"Hot Fun in the Summertime" by Sly & the Family Stone: This one reminds me of sitting on the ground under the shade of a tree during one of those lazy, sweltering summer days where no movement is made unless absolutely necessary… Well, maybe just enough effort is made to lift a glass of something ice cold to the lips, feeling the cool, soothing liquid running through the core of the body, which is begging for relief…
— Debra Stephens
Director of Student Accounts
"Summertime" by Fresh Prince & DJ Jazzy Jeff….everyone was bumping this song from their car that year. (like 96' or 97') All I can say is good times!!
— Quiana Carter,
Multicultural Affairs Program Coordinator
One of my favorite summer songs has to be "School's Out" by Alice Cooper. Every time I hear that tune I get all pumped up that the semester is almost over. Every nerve is itching to run out the doors of school. I want to scream my head off with joy that I get three months of hot weather without being stuck indoors (except for the part where I have to stay indoors because of work). SCHOOL'S OUT!!
— Francesca W. Songs
I like to drive to in the summer:
1. "Dreaming" by Blondie
2. "My, My Metrocard" by Le Tigre
3."Ballad of the Sin Eater" by Ted Leo/Pharmacists
4. "Oh!" by Sleater-Kinney
5. "Real Wild Child" by Iggy Pop
6. "Jet Boy Jet Girl" by The Damned
7. "Aguas De Marco" by Cibo Matto
8."Dig For Fire" by The Pixies
9. "City" by Tracy + The Plastics
10. "Jungla" by Yma Sumac
–Micah Bloom