On a Saturday afternoon in October, knots of people arrive at 33 E. Washington Street and Maclean for SAIC's Open Graduate Studios. Descending the airy stairwell to the lower levels of 33, the vibe quickens, the lights brighten. Usually the studios are veiled by a curtain, but for this occasion,  visitors hum in and out the studios, taking in the sights, sounds, and smells of graduate work in various stages of completion. Some studios function as micro-galleries, while others contain evidence of the artist's process.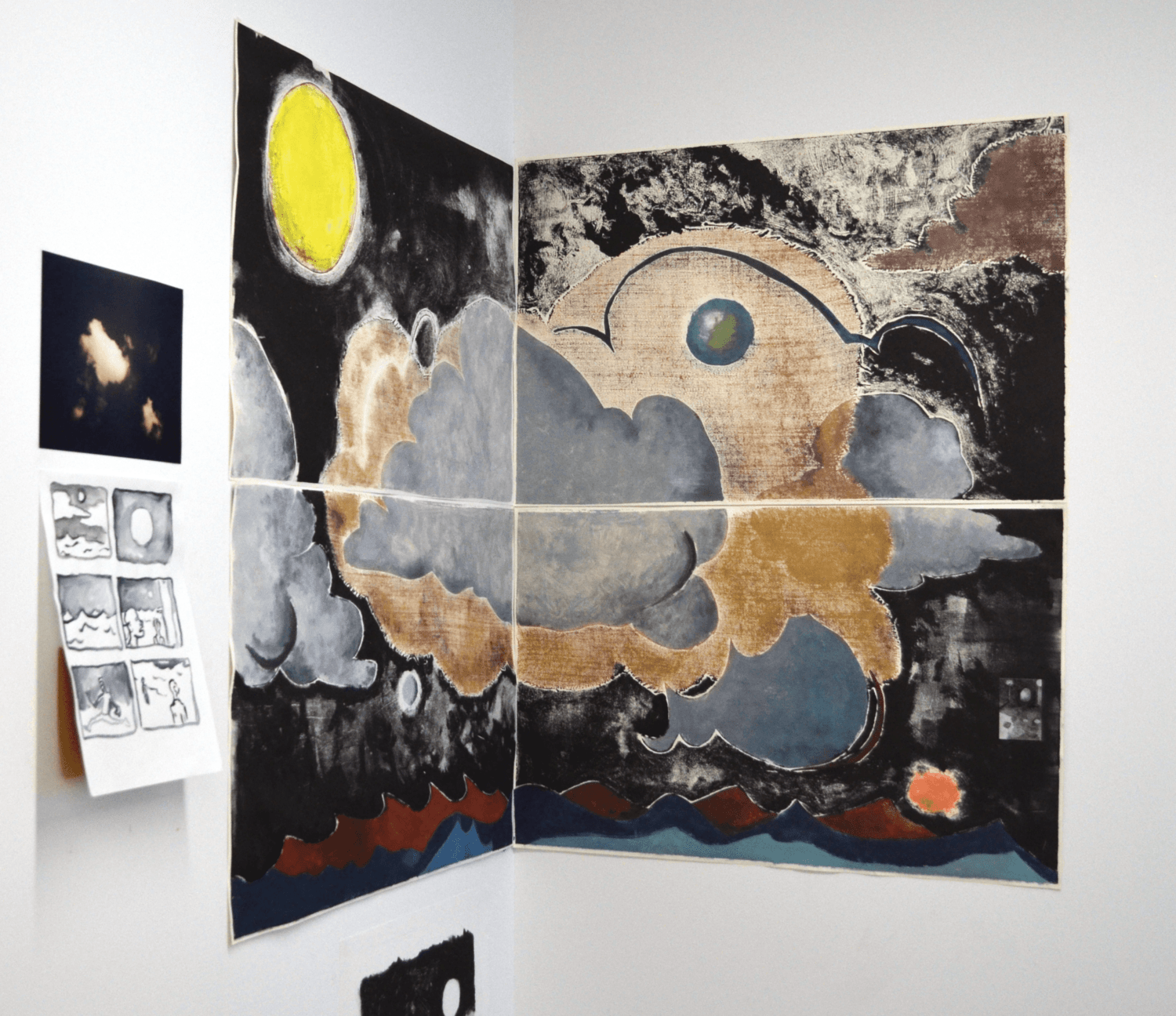 Tiago Mena Abrantes (MFA Film, Video, New Media, and Animation)
Mythical clouds on a massive sheet of paper greet visitors to Tiago Mena Abrantes's's studio. A soundtrack grounded in whimsy and arhythmic tones play as one slowly revolves about the studio, taking in the illustrations, paintings, and video that conjure a particular universe. Tiago is creating a portrait of a landscape. Abrantes sees his home, Angola, as the site of an invasion by oil rigs that shoot flames into the sky. In his mother's home, Cabinda, Abrantes says that "I've seen that all my life; my mom's seen it all her life." His mother knows about the project on a superficial level, but Abrantes would rather show the final film to her and his grandmother. Merging the invasion with the natural, Abrantes wants to coax from a viewer the question hounds him: "At what point can we distinguish the sunset from the flames?"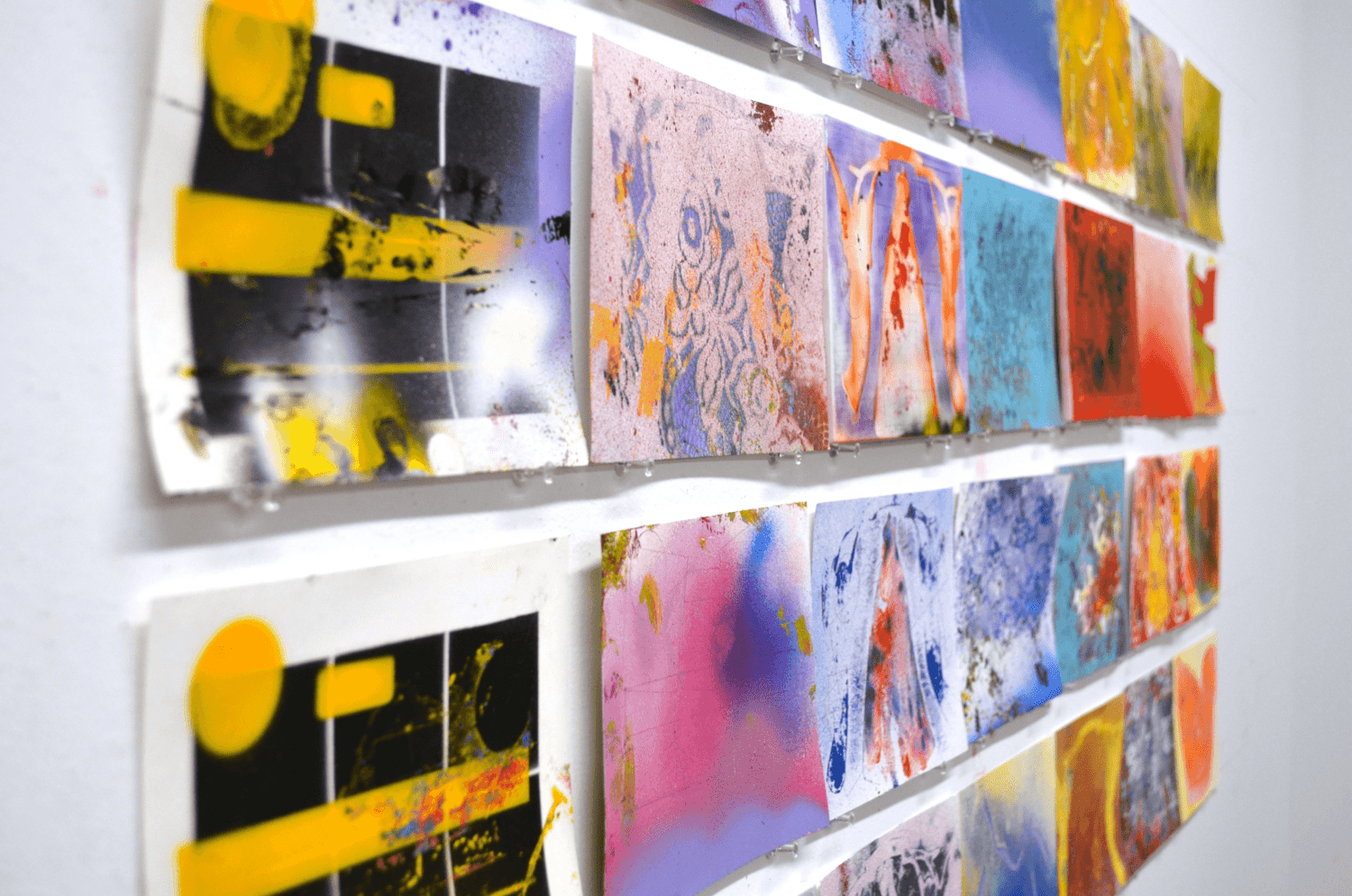 Yaismel Alba Garib (MFA Performance Art)
On the far wall of Yaismel Garib's studio, rows of vibrant paintings pop off the walls. The 5.5" x 7.5" spray paint pieces contain speculative marks and hints of regular geometry. The artist reflects that this practice "comes from a reflection on my condition as a Cuban living in self-exile, where I constantly try to recover and/or find new ways of finding love." On the near wall of their studio, rows of screenshot printouts reveal how the paintings manifest in the world: the instagram account @y.a.i.s.m.e.l. posts the painting divided into six square images. After a week, the painting disappears. At any given time, there are only six posts on the profile. This process has happened dozens of times now, and Garib most enjoys the act of erasing the post. At that moment, they produce absence, show emptiness, and make space  for the next iteration.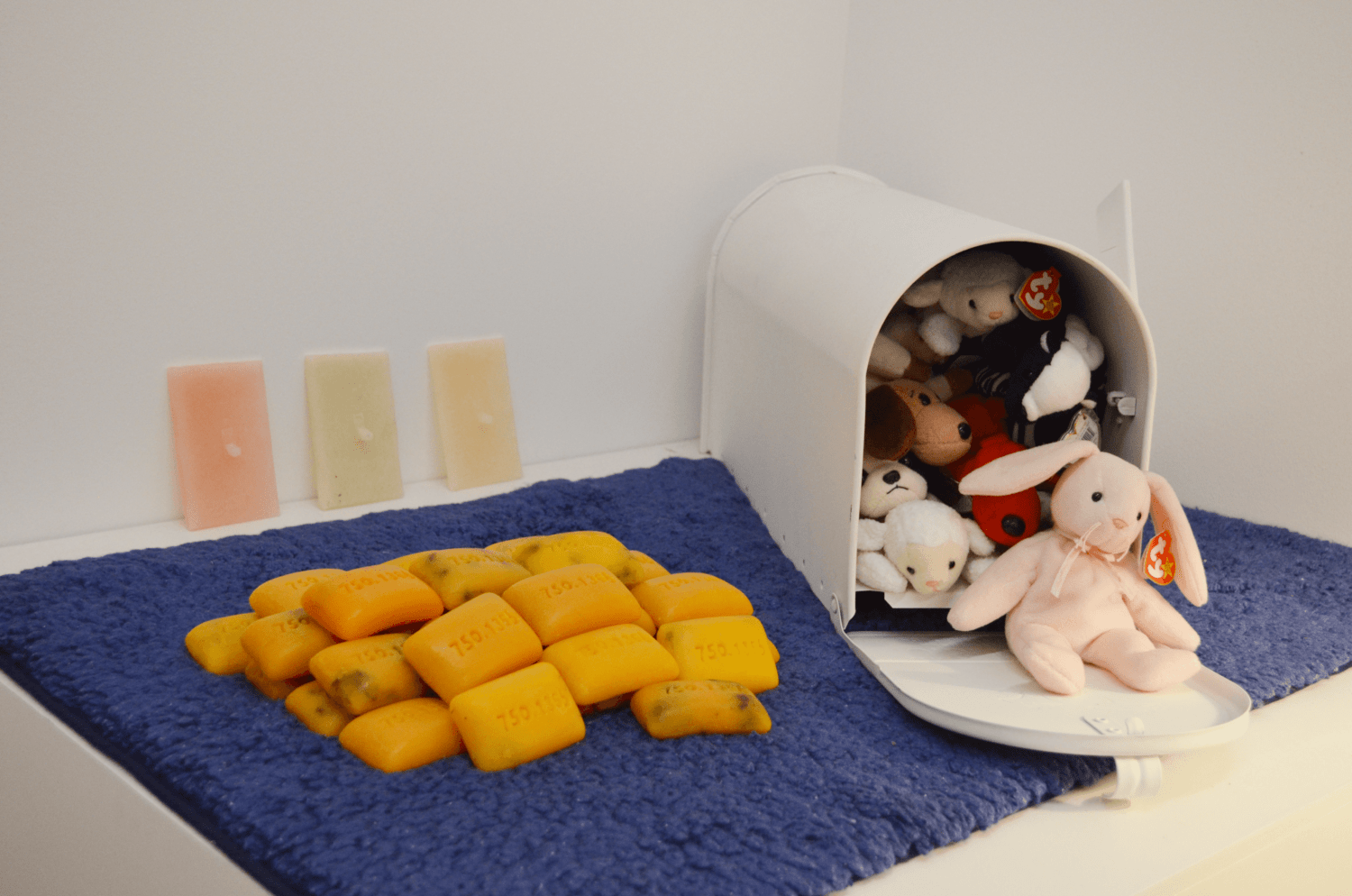 Madison Nicole May (MFA Printmedia)
On the floor, on a bath mat, three pink-wrapped milk jugs hooked into an aquarium pump bubble over their lips. Maddie May is part of the printmedia department, a surprise to visitors who encounter recast soaps piled in careful disarray next to a mailbox overflowing with Beanie Babies. "Most of my objects are sourced from second hand stores and are found objects as well  — alley ways, side of the road, Facebook marketplace or Craigslist," May says. "I am drawn to older, used furniture that might be considered lower-class domestic objects, or that recall past memories of childhood." The ethos of printmaking show up in color, pattern, and multiples throughout May's work. To find May, one need only look for the person pulling an eleven foot long pillow through the hallways.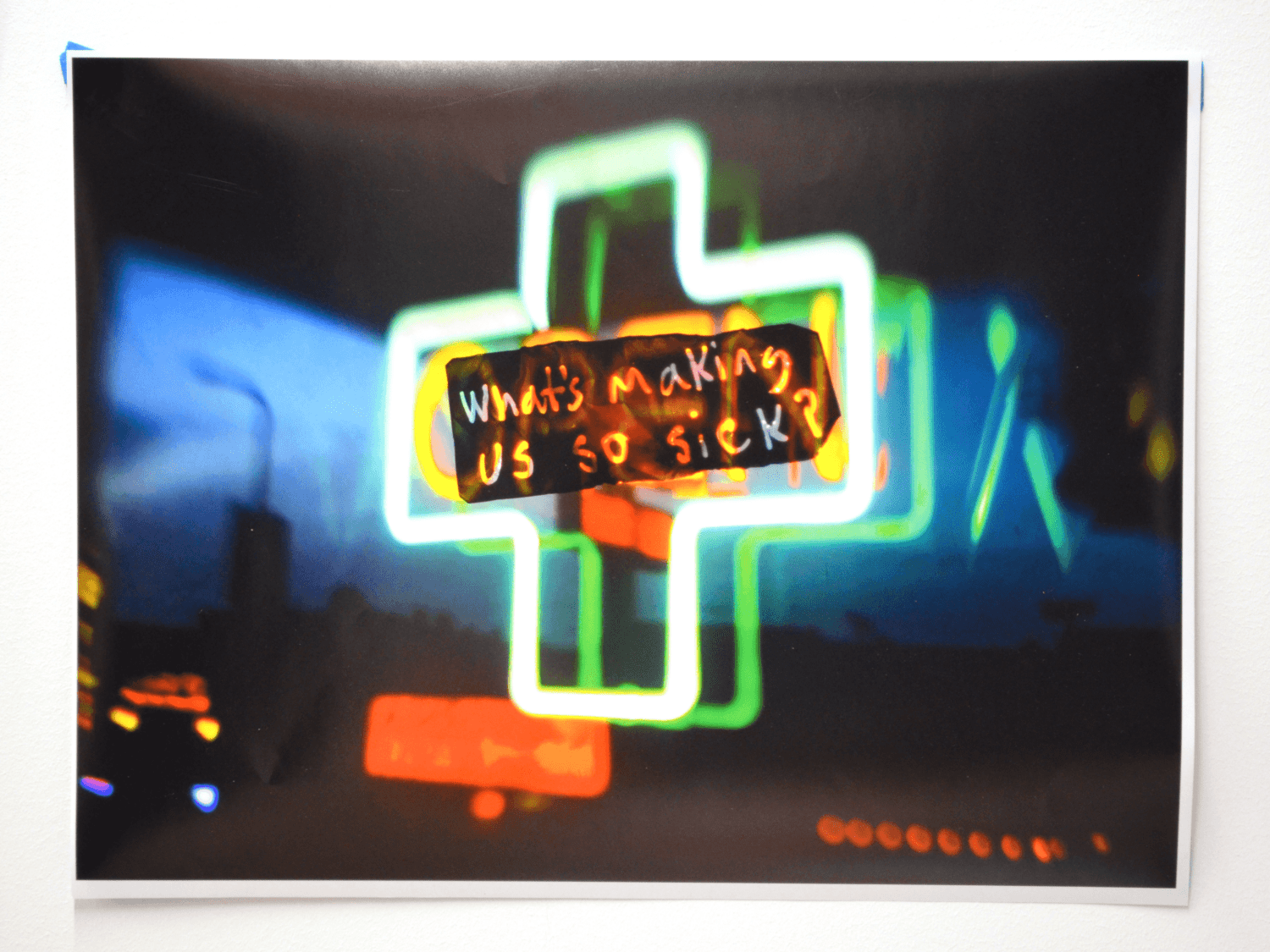 Micah Sykes (MFA Photography)
From floor to ceiling, colors ring out from Micah Sykes's studio. Messages scrawled in oil paint stick onto photographs conjured a certain playfulness, but on closer inspection, the surface brightness belies a darkness. While nothing keeps Sykes up at night, he often thinks about his home city, Los Angeles. As someone who experienced homelessness and grew up in a historical ghetto, Sykes is "interested in trying to diffuse gang violence and use these groups that are criminalized to build a better community that can support itself." In Sykes's work, the messages may be dark, but the colors suggest a positive, alternative reality, because Sykes believes that "anything is possible with careful planning."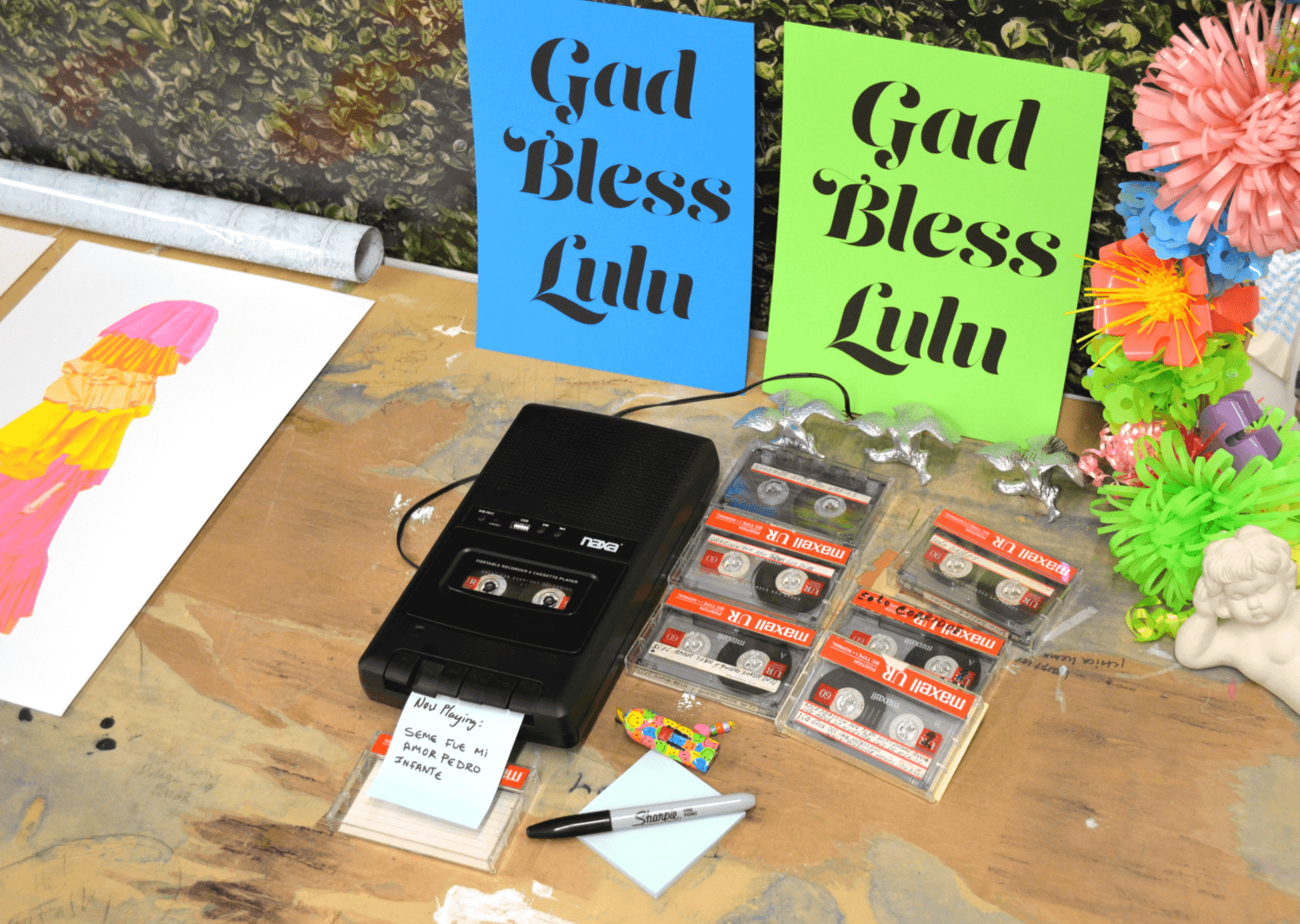 Marylu E. Herrera (MFA Printmedia)
Fifty-two cassette tapes from 1994-2004 are the archival materials with which Marylu E. Herrera, a Chicago native, presently works. Her grandfather recorded prayers, songs, and radio shows beamed in from Mexico. The most surprising content is when her grandfather "collages sound clips together to create a story." One called "LA INDEPENCIA-DE MEXICO" (2004) has a range of radio clips, voice recordings, and songs mixed into an hour-long tape. Herrera'a grandfather splices sounds from people chanting "Mexico" in La Villita (Little Village), sound clips of the bell "Campaña de Dolores" in Mexico, and Vicente Fox (62nd President of Mexico) speaking to Chicagoans about Mexican Independence Day. " The cozy studio space had artificial grass lining the wall opposite Hererra's work table, where she works to digitize these sounds.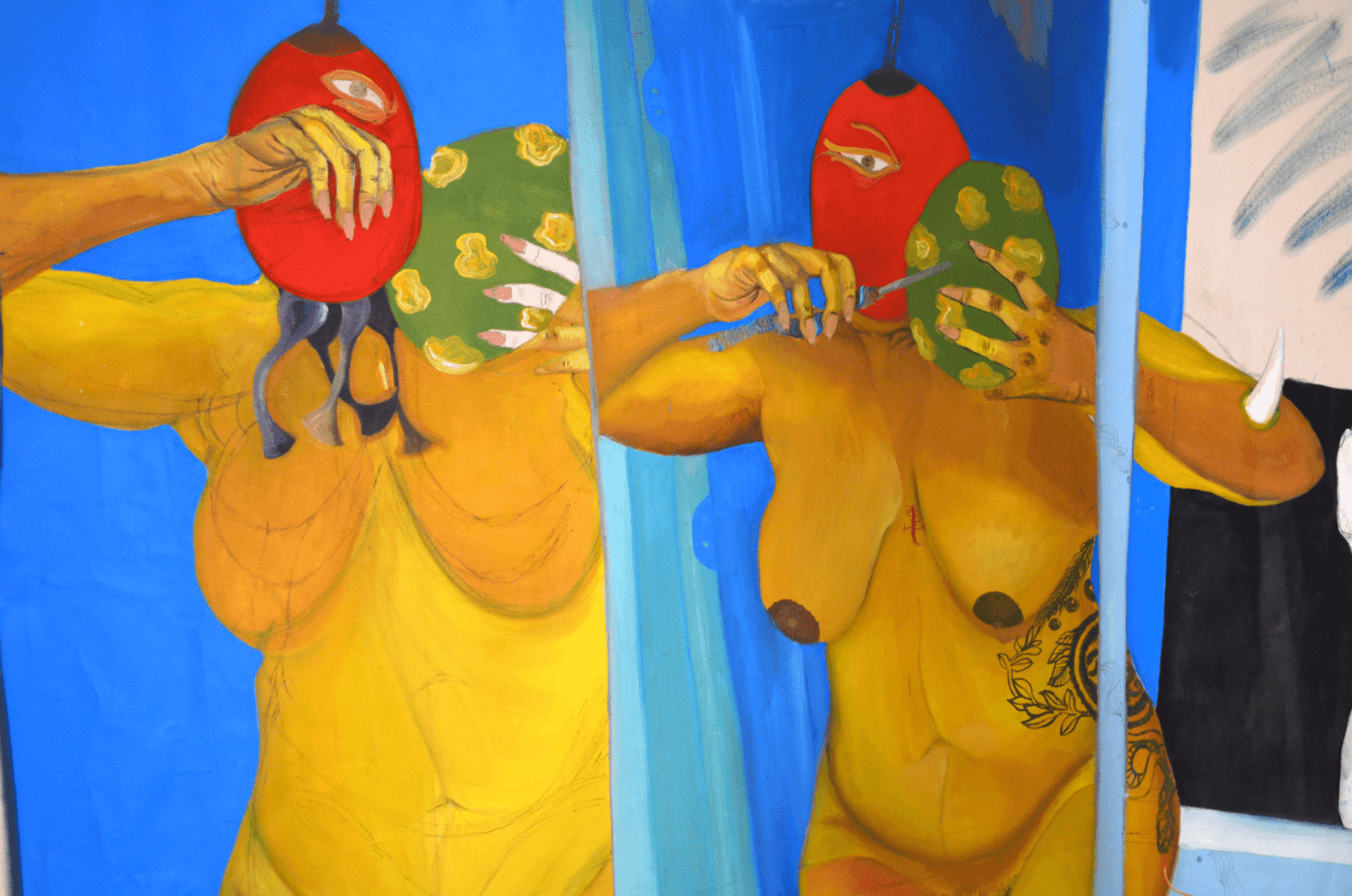 Payton Harris-Woodard (MFA Painting)
Payton Harris-Woodard's eight-foot-tall paintings deify regal women with statuesque gazes who seem totally unfazed by the mutations, aliens, and monsters that bubble at the edges of the canvas. "The bodies I create often do surprise me, they are so much more than my intentions, visually and metaphysically," Harris-Woodard says. Showing the best and worst parts of herself, Harris-Woodard is fascinated to see the subjects  "breathe through my hands, and onto the canvas fabric, and enter the physical realm." On a table in the middle of the studio, portraits in pen of these same sorts of women serve as collage material as well as complementary pieces to their colorful, monumental counterparts.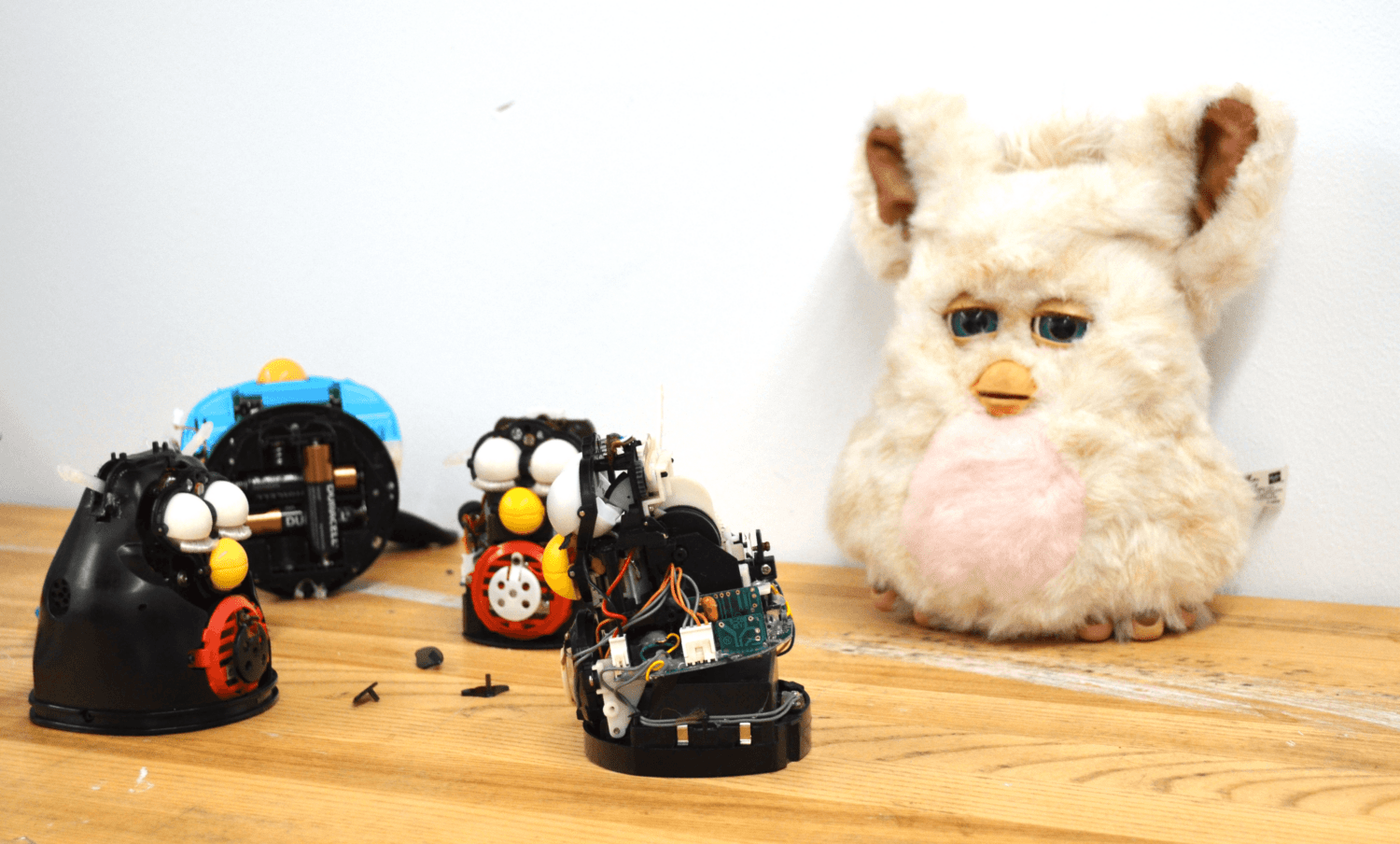 Sydney Gush (MFA Art and Technology Studies)
As I walked into Sydney Gush's studio, I hear the artist explain that she plans to "take its skin off today." Crowded on a worktable, indeed one Furby stands out for still having its fur. The rest were denuded and sleepy. About the most and least lovable Furby, Gush supplied an answer that speaks to the depth of her own affection for this sometimes scary and certainly dumb technology: "[F]rom a sales and design standpoint, 1999 Furby Babies were the most lovable Furbies produced…. 1998-2002 was the height of Furby popularity, most likely due to their short-lived monopoly on the 'robot-pet' market at the time." Personally, Gush is "most attached to the grotesque,'realistic' iteration of Furby from 2005." The plan for these animatronic creatures is a hive mind, in which they are hooked together and suspended as an object that interacts as one. Gush is kept up at night worrying that she'll accidentally make Furby too powerful.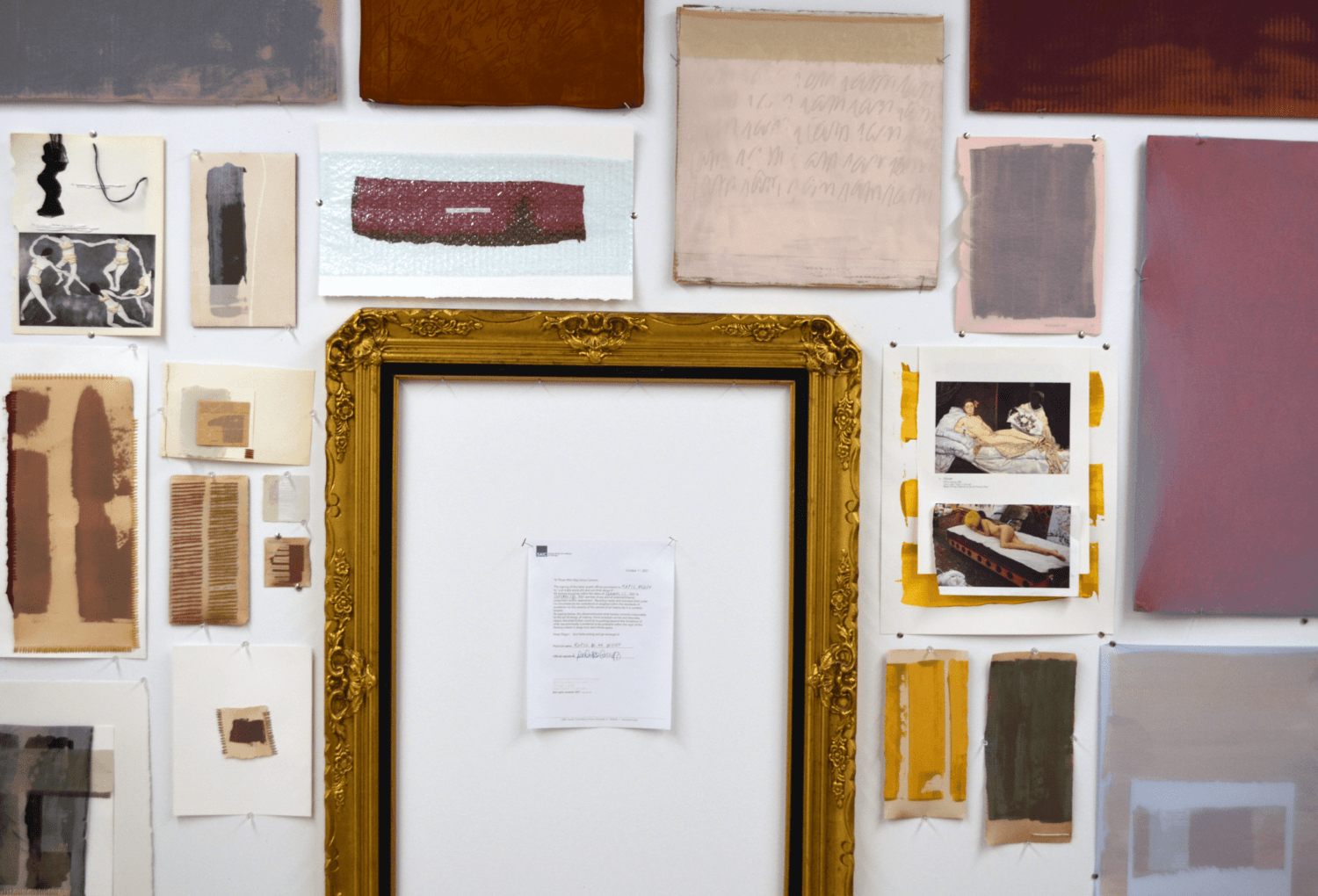 Katie BH Wolff (MFA Printmedia)
At SAIC, Katie BH Wolff has found permission to play. Echoes of her earlier work, primarily self portraits in oil paint, were not present among the pieces hanging in her studio. As she explores materials and nontraditional print methods, she tries to find "that place where flow and play meet and where time doesn't feel real anymore." As the first ritual of the morning, Wolff handwrites three pages of stream of consciousness writing. Ethereal and continuous, viewing Wolff's work felt like a meditative experience, or as one visitor to the studio put it, "like poetry."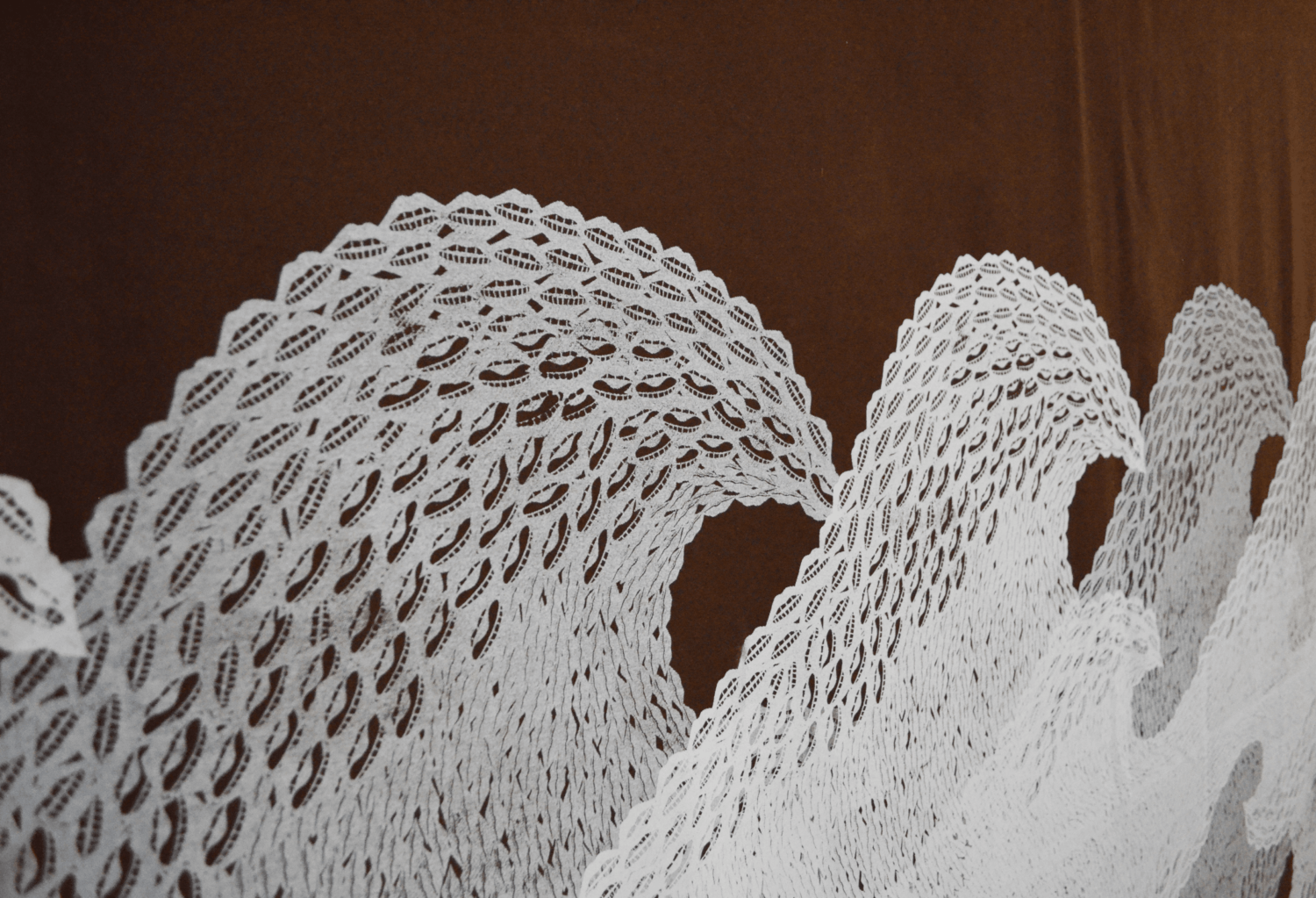 Janhavi Khemka (MFA Printmedia)
Suspended from the ceiling, vibrantly pink, large-format prints fill Janhavi Khemka's studio. The ornamental design is constructed by mouth in motion, a motif repeated in the waves of mouths on the opposite wall. As a deaf woman, Khemka's desire to sleep peacefully is postponed by the "warring" of thoughts such as: "Did you close your door? Otherwise, someone will kill you" and "Maybe you forget to close the taps of water in your bathroom? Otherwise, you will drop on the sea." Khemka wants impatient people to see her "visual voice," the crashing of muted mouths. Since the pandemic, masks have haunted and frustrated Khemka as her ability to lip-read is cut off. Her mother taught her how to lip read in Hindi, and Khemka recalls a memory of learning the technique: "We were sitting on the mat and touching our throats to each other for the vibration." Khemka's patience is apparent in her craft and communication.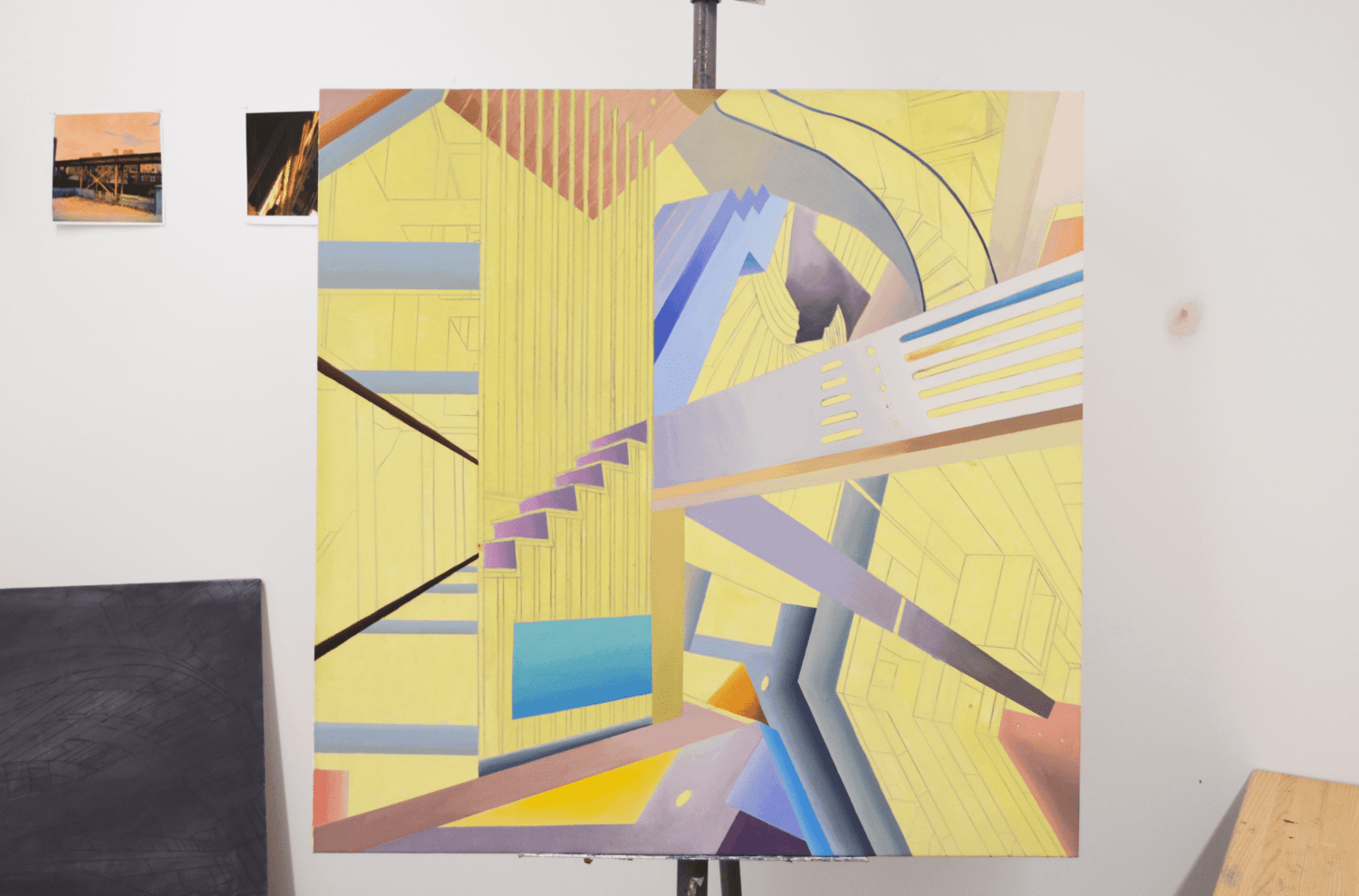 Edward Sin (MFA Painting)
Edward Sin's paintings exist between whimsy and structure. For each painting, Sin photographs curvilinear staircases, architectural spirals, and other fanciful structures, then builds a digital composition. He aims to show architecture and nature in tension. This ethos is apparent in his color palette, which draws influence from comic books, pop art, and album covers even while highlighting the muted colors found in an ocean. As a firm believer in snacks and sleep, Sin nonetheless finds himself working through the night on his paintings. He keeps in mind "one or two things to look forward to during the day, whether that be a good meal, talking to a classmate, or helping teach my peers in a class." Sin attended SAIC as an undergraduate, and he recalls the challenge of designing and printing a 3D object. He "stopped thinking about it too hard and focused on making something," and ended up with a curvilinear building structure and  the lesson to appreciate that "knowing how to do a variety of different things can help supplement your art practice so that you can have some different approaches to continue honing your craft."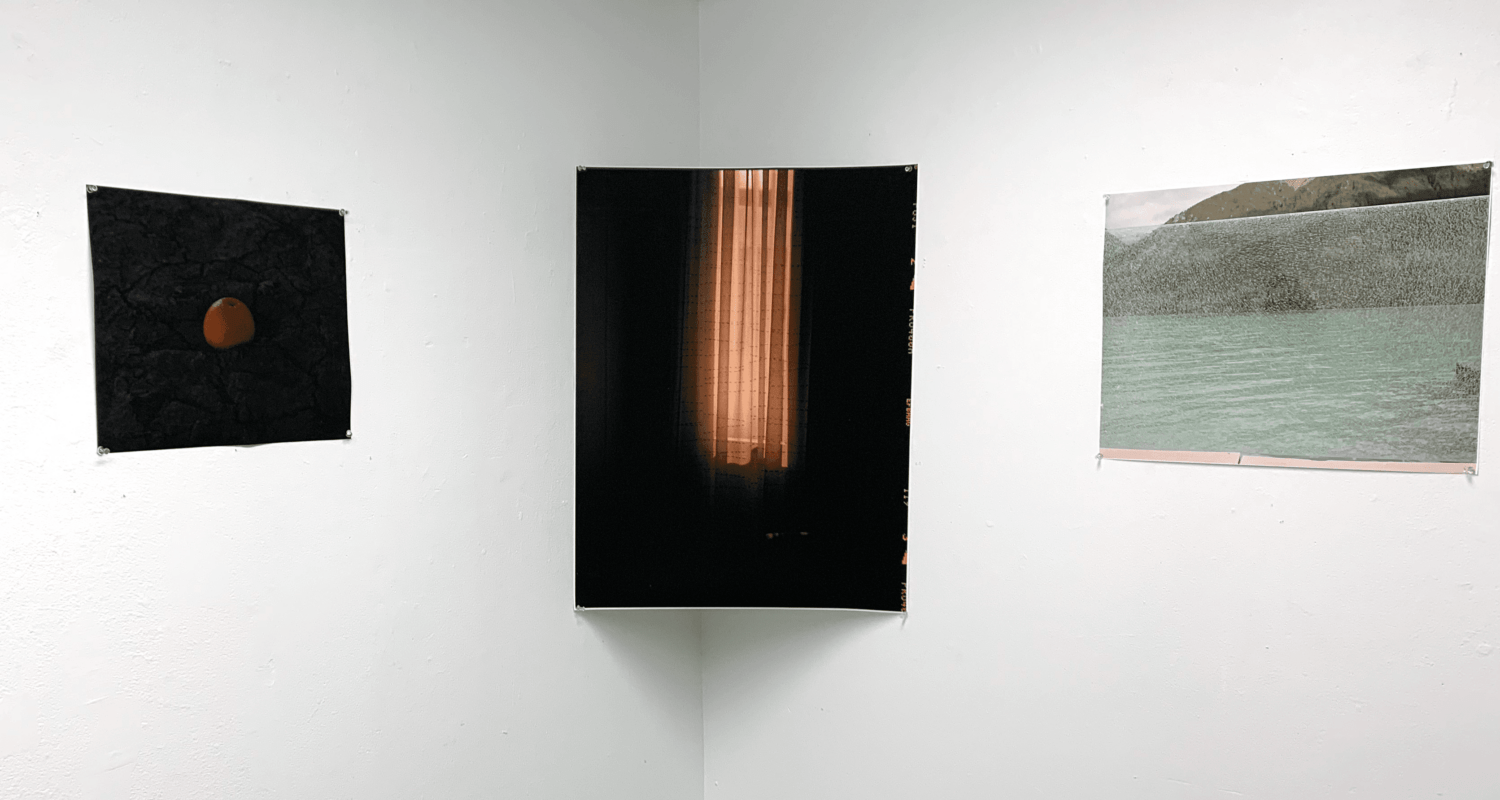 Linye Jiang (MFA Photography)
Linye Jiang's photographs are about her family, but you wouldn't know it just by looking. "I take all of my photographs with this sense of secret," Jiang says. Her studio is hung with misty Wuhan landscapes and glowing interior scenes. Her photos warmly seduce the viewer before dashing away in modesty, hiding behind a window or a wall or a curtain. Only one human figure makes it onto the wall, photographed at such a distance that they are nearly invisible, and completely anonymous. When Jiang decided to apply to study photography, she planned a trip so that she could take photos of her family and build a portfolio. She remembers the weather (it was rainy, perfect for photos). She remembers driving, hiking, and eating. She doesn't remember much conversation, though, and admits that her family probably got a little bored. "Maybe we talked about…" she says, and then drifts into silence. "I don't know. I don't remember." Then again, the way we communicate with family often bears little resemblance to talking.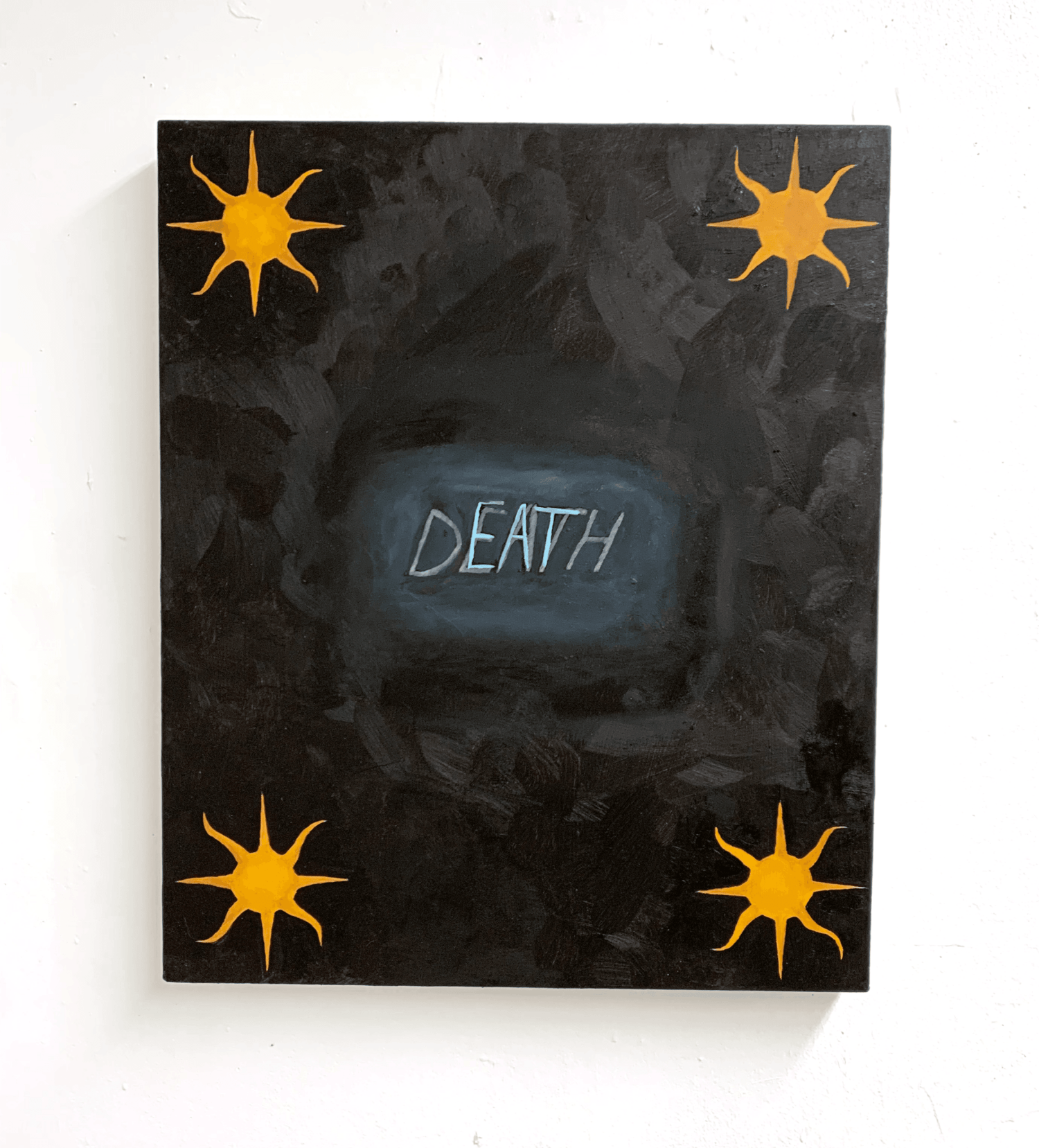 Tavin Davis (MFA Painting)
Tavin Davis is an exceptional painter, but it's Eddie Van Halen that draws me into his studio. On a TV screen, "Eruption" blares from a dusty yellow guitar amp, which faces a sparsely travelled road, lined by fields that stretch toward a looming mountain range. The piece is called "A High Octane Energy Spell" and it was filmed by Davis on a late Winter afternoon in Montana. He recalls putting on the show for no one as a jolt to life.  "It's like… pure energy. It's loud, fast, amplified, distorted magic," he says. "I realized after this piece that my whole practice has to do with magic. Charm making, magic spell casting, elixirs, conjurings, high drama, belief, overly optimistic actions, ya know?" His studio walls confirm this realization. A painting hung near the TV screen, "Sempiternal Charge," radiates the words "EAT DEATH" from the center of a brushy, black background. "The words eat death literally propose that one could just take death and gobble it all up, turning it into life giving energy through eating it, as to render it no longer a problem," he says, laughing. Davis describes this painting to another viewer as his most "optimistic" painting (though he later admits that all of his work is equally optimistic).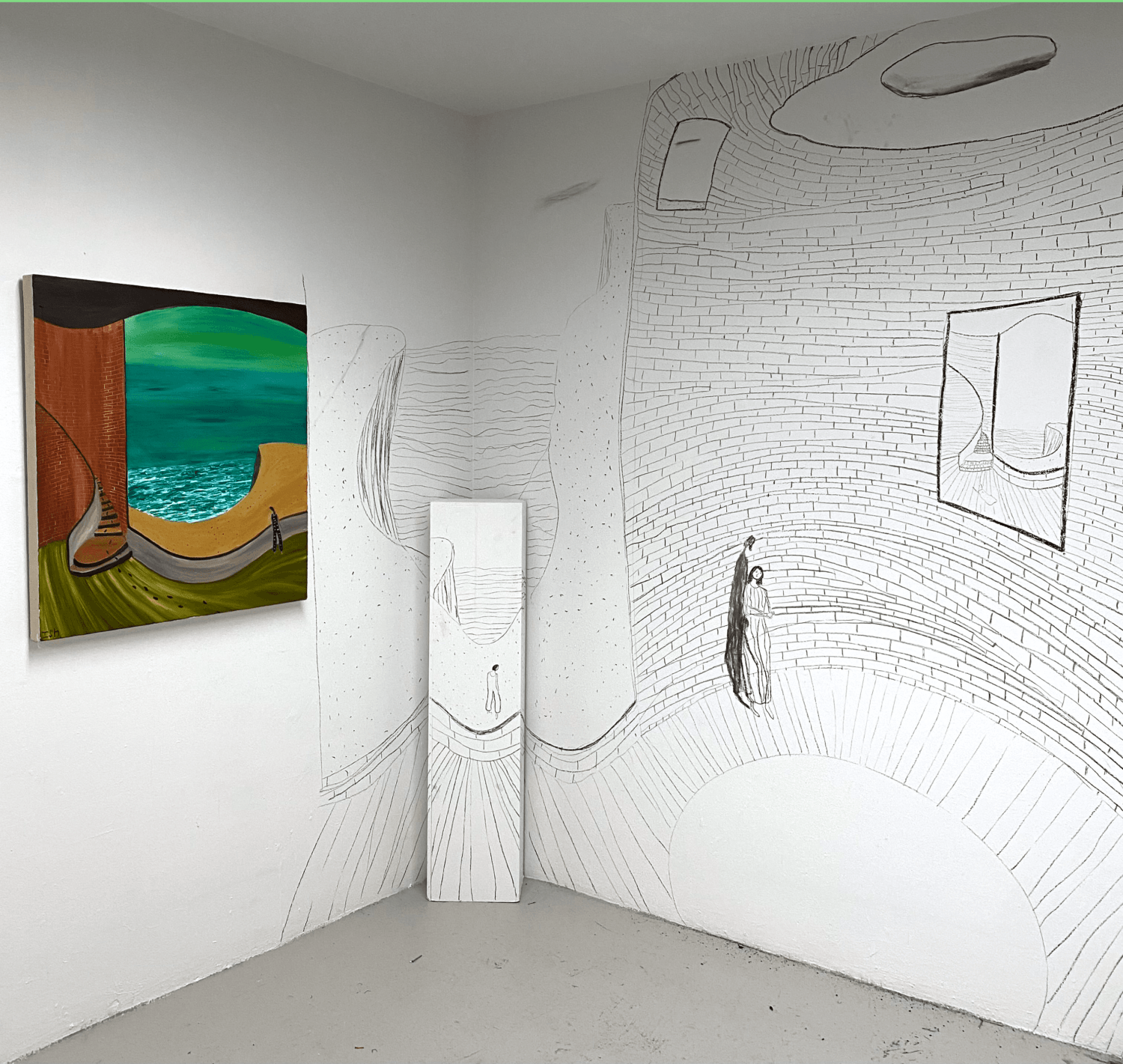 Ish Lipman (MFA Painting)
Ish Lipman was raised by two experimental filmmaker parents in Los Angeles, California, so naturally he wanted nothing to do with art. When he got to college, however, he found himself drifting toward photography before landing squarely in the realm of painting. As he puts it, painting allowed him to express his psychological interests in a physical way. "In photography I felt that my hand was too absent," Ish says, "but with painting I could feel how hard I was working in my body." His studio space is uniquely cohesive. Characters on one canvas appear around the corner on another; a decorative dotting spills off of a dress and onto the floor. And of course, there is the ocean. The mark on every West Coast life, an inescapable greeting and churning and taunting and soothing. He says that his color palette is California-inspired, though he uses paints with Italian names ("Venetian red" and "Naples yellow"). An earthy, gold glow throughout his studio nods to another vaguely Californian motif: the sunset. "Oftentimes I aim for my paintings to exist somewhere between dawn and dusk," Ish says, "the transitional time of day where the sun is either setting or rising, and […] the possibilities for renewal and mystery arise."