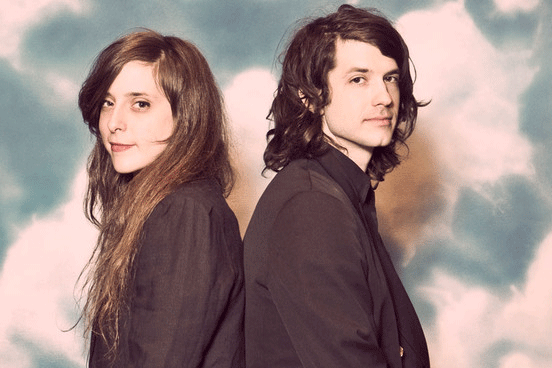 Now that the summer is officially over the restraining orders placed on your favorite bands by their Pitchfork and Lollapalooza contracts will begin to expire and soon we'll be seeing a lot of music coming through town. Ty Segall and Thee Oh Sees , for example, have already been back, and Flying Lotus and Grimes have upcoming shows. Beach House, a highlight of the Pitchfork Music Festival, returned to play the Riviera Theater Thursday, October 11.
A major difference between Beach House the festival band and Beach House the headlining band is their use of stage lighting. The band's narcotic dream pop lends itself to raised sensory awareness, and an active starry backdrop, and deeply colorful stage lights were used to effectively set the mood for their music. The same backlit towers that stood behind them at Pitchfork were actually visible in the dark theater, and the fog machines had previously been sabotaged by the breeze filled the Riviera's stage and first few rows.
The band consists of Victoria Legrand, the commanding voice behind the bangs-obscured face, and Alex Scally, the multi-instrumentalist. Legrand plays keys and stood center stage between Scally and their touring drummer. Scally spent most of the evening seated in order to control a pedal synth while simultaneously playing glassy guitar leads. The Multivox Basky II is a foot controlled analog synthesizer (this one, not this one) that he uses to build the dreamy wall of sound on songs like "10 Mile Stereo" while also keeping Beach House bassist free.
Legrand profusely thanked the audience for attending their largest Chicago show to date saying, "…because you never know." Her sincerity and awareness of fleeting fandom were charming, however it doesn't seem that she has much to worry about — the band filled the 2,500 seat venue with people willing to shell out $35 for a ticket.
Fans hoping for deep cuts were likely disappointed by the setlist that favored the band's more recent albums.Only three songs, "Master of None," "Gila," and "Turtle Island" were pre-Teen Dream (2010) material. Legrand's vocals were more aggressive and adventurous live than on the records, and touring the new album has put an elegant rasp on her voice when she strains for the higher notes. One can tell that she's sung "Gila" hundreds of times by now when her voice roamed to new melodies instead of sticking to the original recording.
Though Legrand and Scally are relaxed dream-pop purists, they went for heavy catharsis with the added power of their drummer. This was especially true of Bloom (2012) tracks "Myth," and "Wishes," two powerful songs miles away from the duo's hypnotic lo-fi beginnings. The show came to a strong finale with "Irene,"  as Legrand sleep-talked the mantra, "It's a strange paradise."