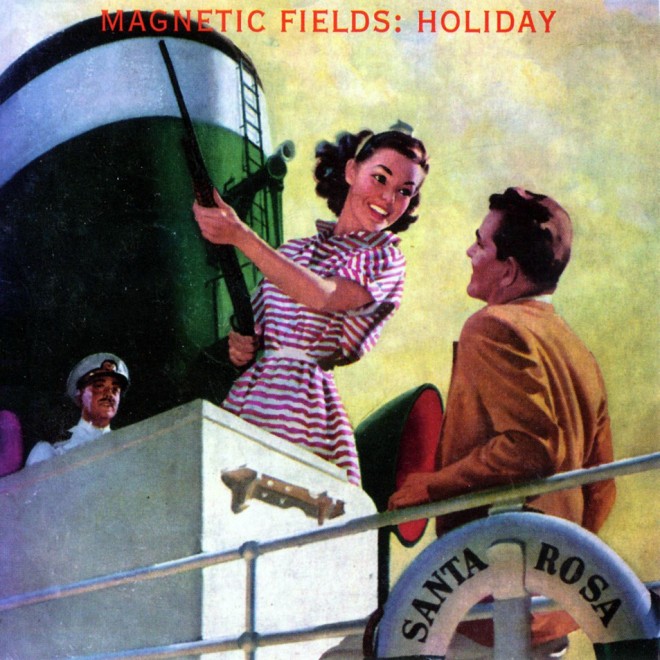 The Norman Rockwell aesthetic is one that gets exploited constantly — by 90s punk revivalists seeking campy irony, tragically sincere housewives seeking Christmas decorations, and virtually everyone in between. The Magnetic Fields places themselves firmly within that strange crowd with 1994's Holiday, in which lead songwriter Stephen Merritt and company establish a sound that would echo in their later albums: equal parts picture-perfect Rockwell and misogynistic De Kooning, filtered through a lovelorn baritone.
Front and center on the cover of the album is the image of a lovely young mid-century woman, beaming with the self-assurance that only youth begets. The man in the foreground is entranced by her charm, and even the naval officer in the background seems transfixed on something in her direction — my guess is the ambiguity is intentional. Her cherubic face and shining smile have so much gravity that it's hard to even notice the rifle she's brandishing. Then it becomes clear that despite the presupposition of the title and the optimistic yellow sky, something odd is going on here.
"Torn Green Velvet Eyes", a woozy album highlight, all the hooks are present and accounted for in gloriously full-tilt synthy instrumentation. The clearest lines of the track point to a traditional love poem set to music, but upon closer inspection, for every sweet statement of love there are just as many strange lines are present. "It just rains because it can / and you just cry until you can't," sings Merritt at the end of the first verse. Later in the second verse, he states with his trademark deadpan, "You know the night is gone when the sunlight burns your eyes." What a lovely statement?
The closer on the album, "Take Ecstasy With Me", does no better to cover its bizarre intentions, only flipping the roles of title and lyrics. The lines Merritt drawls illustrate idyllic experiences and persecuted love, not unlike the classic Romeo & Juliet circumstances that dot classic love songs. The title, however, gives a certain druggy pretext that's impossible to ignore, especially as it serves as chorus as well. Suddenly the lush colors of the front cover take on a whole new meaning.
At the end of the album, it becomes hard to look at the album art the same as when the instrumental intro track bounced along. In effect, the music shifts the artwork into a whole new context — something that the aforementioned Rockwell "enthusiasts" are always too overt to accomplish. As a musical illustration of the artwork, the album unites lush synth with young infatuation, and as a lyrical work, the words provide cleverly indirect satire — it's among the band's best, just based on how many layers it achieves from a seemingly flat cover image.
Artist: The Magnetic Fields
Album: Holiday
Year: 1994
Tracklist & Review (Allmusic)
For more album art reviews, visit Probably Just Hungry.