There are days when I find the winters in Chicago to be absolutely unbearable. Everyone is sluggish and draped in warm layers of funeral black, boring brown, naïve navy and senior citizen grey. If you are like me, you are a creature of environment. I crave sunlight even if it is below zero outside, and when the sun fails to shine during Chicago's typically grey winter, I rely on theaters and museums to get my fix. Typically, it takes a Hollywood blockbuster to get me out of my funk, but this year I have found something even better!
The Chicago History Museum is exhibiting "Chic Chicago": its one of a kind collection of historical costumes that date from 1861 to 2008, all worn by Chicago women. Curated by Timothy Long, the exhibit displays the most breathtakingly beautiful garments you will ever get the opportunity to see in this city.
What first struck me about this show was Tracy Gerladez's smart layout of mannequins in the calm gallery space, which immediately made me feel as though I had entered a safe place where my curiosities and need for inspiration were caringly fulfilled. The dresses are grouped by key eras of fashion, and the transitions between trends are cleverly placed along a runway. It is easy to navigate, with detailed literature provided about each garment, its creator and the person who wore it.
All of the costumes had interesting details, innovative shapes and illuminating textures. Roy Halston's orange off-the-shoulder silk jersey evening gown (made in 1970) bestowed the most beautiful draping techniques I have ever seen: the energy of the gown spirals into the left hip as the fabric gracefully falls to the floor. Visually, Halston's dress has a lot of movement while impressively maintaining a simple goddess silhouette.
Paul Poiret's 1913 "Sorbet Dress"—probably the most famous dress in the entire collection—is a black and white satin masterpiece. Noted for being the first of the modern era, the Japanese inspired garment did away with the notion that women should be in corsets. Instead, Poiret offers a comfortable and cute alternative, complete with chiffon and glass beads.
Another piece that would cause anyone's jaw to drop is Charles James's "Butterfly" ball gown. Ironically, if you look hard enough at it, you can see that James literally created a wrapped cocoon body for the main piece and completed it with a lavish cape of wings. The bone and tan color used for the 17 pound piece is stunning, but you are left concerned about the comfort of the lucky woman wearing it.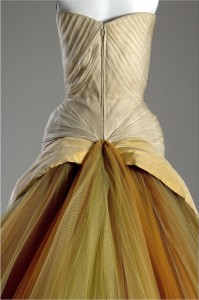 While you are not allowed to touch the garments, some exhibits offer miniature components so that you can see how the garment was technically crafted. The exhibition and catalogue designers managed to made everything look so…. sexy. Overall, "Chic Chicago" displays an unusual level of elegance, and it was very pleasing to know that in a non-fashion capital, the city still has highly sophisticated fashion etiquette.    "Chic Chicago" is on view through July 26 at the Chicago History Museum, 1601 N. Clark Street. Hours: Mon.–Wed. & Fri.-Sat. 9:30a.m.–4:30p.m., Thurs. 9:30a.m.–8p.m., Sun. 12–5p.m. General Admission is free on Mondays.