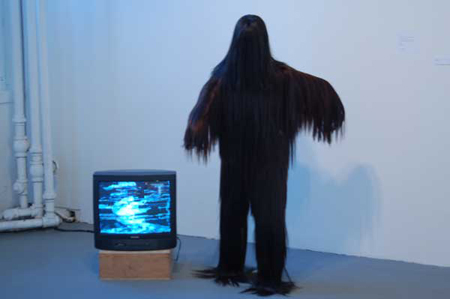 As a junior at SAIC, when I think about my participation in next year's BFA Show I am reminded of the sobering moment back in the eighth month of my pregnancy when I realized I was really going to HAVE this baby. Soon, it wasn't going to be about the hilarity I experienced when my fetal daughter went "alien" on me in a restaurant and cart-wheeled so much inside my belly that she freaked out the other diners. It wasn't going to be about having neighborhood parents giving me knowing smiles or even about kindly gang members offering me their seat on the "L." No, I realized; terrible pain plus blood, sweat and curse-laden screeching tirades would be required, and there was no reasonable way around it.
Throughout your first three years of undergrad at SAIC, the BFA Show looms in your future, a monolithic inevitability. You put it out of your mind. "It's a long way off," you tell yourself, and then, during your last semester, the BFA Show is suddenly upon you. E-mails about mandatory meetings and space claims prompt a fine sweat to bloom at the back of your neck.
Considering the level of pressure involved, as well as the fact that this show is the culmination of years of hard work, accomplishing a gallery-quality exhibition can be a daunting challenge. The widely held belief, says graduating senior Rich Greene, is "that this event will make or break you because of all the contacts."
Graduating painter Christina Sucgang suggested that one of the best ways that artists diminish BFA stress is to "show the work they've been doing during their time at school and not make work that is either specifically for the show or to get attention." She stated that being honest in this way gives artists the time required to try new things and to prepare and perfect their craft. Graduating artist Natalia Ivancovich agreed. In preparation for the BFA Show, she advised undergrads to "explore materials and experiment with disaster."
Long-time Chicago gallerist Carl Hammer, in an interview with F Newsmagazine, confirmed the wisdom in Sucgang's sentiment and Ivancovich's philosophy. Hammer stated that in past years he felt that the work shown at the BFA exhibition was "too slick, too polished" and that it didn't represent the artist's personal vision with enough heart. When asked what he looked for at the show, Hammer said, "I look for artists that are interpreting subjects in a new manner, one that's thoughtful and that exhibits craftsmanship." The gallery owner stressed how much he enjoyed seeing experimentation in student work and felt very pleased with a great deal of the work he saw at SAIC's undergraduate event.
Despite the fact that graduate Ben Cowan had pushed his limits and ultimately created work he was proud of, he admitted that he "felt stranded" while preparing for the exhibition. "Even after I made a painting, I still had to think about how I was going to display it," said Cowan. "Classes had not prepared me for how or if I should frame work, how to light it. Then I had to figure out where to get postcards made and how to get some publicity for the event. It was all very rushed and too exciting."
How does one surmount such a mammoth task of exhibiting without having a nervous breakdown? SAIC printmaker Michael Argyelan took a systematic, almost scientific, approach. By process of elimination, he boiled 100 prospective pieces down to ten and then e-mailed digital images of those finalists to his most trusted faculty members. "I made a log of who liked what," stated Argyelan, who eventually narrowed his display down to three works deemed strongest by his SAIC consultants.
Graduating senior Nate Wolf agreed with the idea of showing a limited number of works. "Keep it simple, don't overcrowd your space. It's not your last show, so don't do a salon-style hanging."
Most of the seniors that were polled by F Newsmagazine considered a few things necessary for BFA stress reduction: simplify everything as much as possible, think ahead, practice proper time management, and communicate promptly and effectively with the exhibitions staff.
"It is extremely helpful for participants to pre-plan, read all the guidelines and FAQ documents that are posted on the [SAIC] portal, talk to faculty members and staff about what they want to show and approach the installation with a spirit of 'creative problem-solving' to address the unexpected—as the unexpected will always occur," said SAIC Exhibitions Director Trevor Martin. "Putting up an exhibition is a time-intensive process. It takes as much planning and concentration as making art. And if the artwork may challenge the School's rules about safety and security, artists should speak with the exhibitions staff."
Sculptor Helga Dangel, whose set-up requirements were complicated by a sound bleed from a neighboring artist's installation, cautioned artists to "talk with the G2 organizing team right after space claim about the nature of their neighbor's art work." She stressed the importance of doing this "before starting to install because prior to installation, room rotations are still possible." Dangel also encouraged future seniors to "start as early as you can, because everything takes longer than you think."
But Cowan, a painter, disagreed on the usefulness of mandatory meetings and extraneous information. "Unless you are going to have a goat eat your painting in the gallery … attending meetings about how to check out media, getting instructions on not setting things on fire or on hanging stuff from the ceiling is time wasted. All I did was hang a painting and leave. I would tell painters not to go to all of the mandatory meetings."
Photographer Annette Martinez added that graduates should "try to stay focused, be organized and have a friend that can help."
Argyelan, who consulted with his wife about specific aspects of his exhibit, extolled the virtues of Photoshop. Argyelan used the program to decide what paint colors would look best on his section of wall. "We looked at all my work in Photoshop, assessing it against different colors." The printmaker, who ultimately chose a two-toned background, further recommended that artists use vinyl letters for their signs and make a self-published book prior to the show. "[The book] was only about $87," said Argyelan, who felt that the price was justified when the full-color publication enabled him to show more of his body of work to interested gallerists, collectors and curators.
Flatfile Gallery's Susan Aurinko, who brought her entire staff to the show, expressed her dislike of artists standing right beside their installations. When the art is good, "it jumps out at you," offered Aurinko. Having a book in the display space allows patrons to view more art with less pressure. Yet, Flatfile's Assistant Director, Aaron Ott, felt that this year's artists' statements "were far too derivative." He advised graduating artists to find fresher, more thoughtful ways to communicate their work.
Aurinko and Ott were especially impressed by the work of two artists: Sucgang and Ivancovich. Argyelan was also among the artists whose work received positive comment from the Flatfile staff. Aurinko asked the artist to participate in a group show at her prestigious West Loop venue. The best way for jittery seniors-to-be to prepare for the BFA Show and to get noticed by gallery representatives at the event, according to Argyelan, is to go to a gallery. In his opinion, graduating students should scrutinize the ways galleries present work and model their own exhibition on what they see in professional circles.
"There are standards out there about how to display and how to promote," noted the senior, who credits some of his pre-show savvy to a thorough reading of a book by David Bayles and Ted Orland, Art & Fear: Observations on the Perils (and Rewards) of Artmaking.
"Just make your work and don't worry about the show," Argyelan suggested. Despite the perception of the BFA Show's importance, he cautioned seniors against seeing it as their final exhibition. Again, I return to the metaphor of birth. Maybe the BFA Show is just the birth of an SAIC artist's vocation; perhaps nurturing a fledgling art career is a lot like nurturing an infant child. New art careers seem subject to something like colic—they squall and struggle, trying to fit into the world, but are not yet developed enough to be fully comfortable here. The profession requires commitment through tough times. Fragile in the beginning, the life of the artist involves many sleepless nights and hours of dirty and thankless effort. As Argyelan noted, "The BFA Show is not what opens doors for you. It is just the beginning of things."