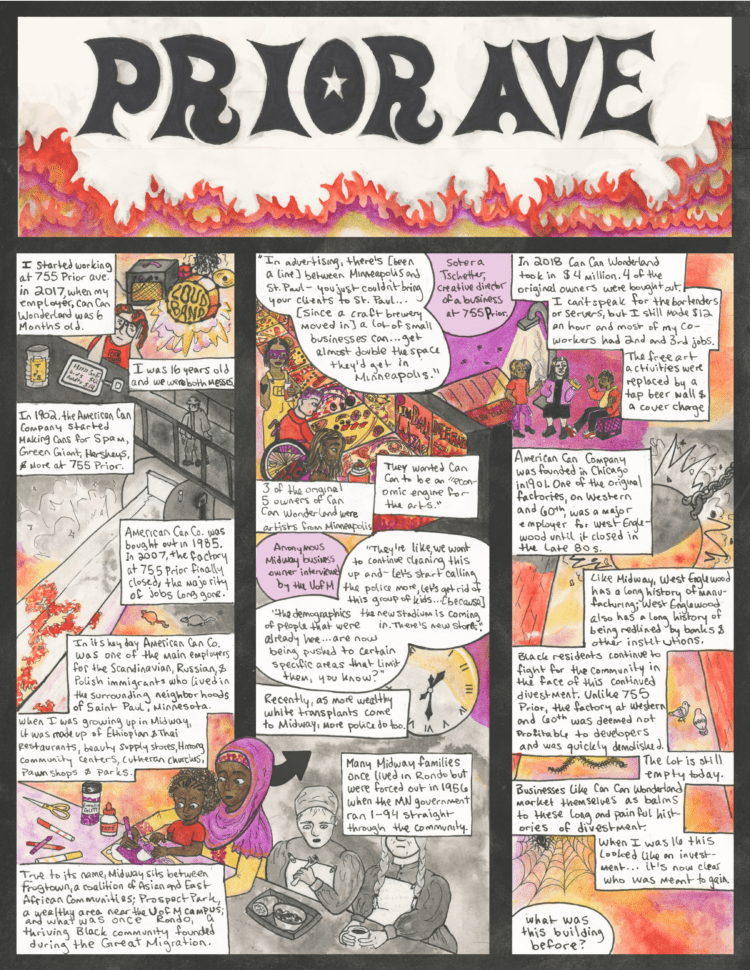 Transcript:
I started working at 755 Prior ave. in 2017, when my employer, Can Can Wonderland was 6 months old. I was 16 years old and we were both messes.
In 1902, the American Can Company started making cans for Spam, Green Giant, Hersheys, & more at 755 Prior. American Can Co. was bought out in 1985. In 2007, the factory at 755 Prior finally closed, the majority of jobs long gone. In its hey day American Can Co. was one of the main employers for the Scandinavian, Russian, & Polish immigrants who lived in the surrounding neighborhood, [Midway,] Saint Paul, Minnesota.
When I was growing up in Midway, it was made up of Ethiopian & Thai restaurants, beauty supply stores, Hmong community centers, Lutheran churches, pawn shops, & parks. True to its name, Midway sits between Frogtown, a coalition of Asian and East African communities; Prospect Park, a wealthy area near the U of M campus; and what was once Rondo, a thriving Black community founded during the Great Migration. Many Midway families once lived in Rondo but were forced out in 1956 when the MN government ran I-94 straight through the community.
Recently, as more wealthy transplants come to Midway, more police do too. "They're like, we want to continue cleaning this up and– let's start calling the police more, let's get rid of this group of kids…[because] the new stadium is coming in. There's new stores. The demographics of people that were already here…are now being pushed to certain areas that limit them, you know?" – Anonymous Midway business owner interviewed by the U of M.
3 of the original 5 owners of Can Can Wonderland were artists from Minneapolis. They wanted Can Can to be an "economic engine for the arts."
 "In advertising, there's [been a line] between Minneapolis and St. Paul – you just couldn't bring your clients to St. Paul…[since a craft brewery moved in] a lot of small businesses can…get almost double the space they'd get in Minneapolis" – Sotera Tschetter, creative director of a business at 755 Prior.
In 2018 Can Can Wonderland took in $4 million. 4 of the original owners were bought out. I can't speak for the bartenders or servers, but I still made $12 an hour and most of my co-workers had 2nd and 3rd jobs. The free art activities were replaced by a tap beer wall & a cover charge.
American Can Company was founded in Chicago in 1901. One of the original factories, on Western and 60th, was a major employer for West Englewood until it closed in the late 80's. Like Midway, West Englewood has a long history of manufacturing; West Englewood also has a long history of being redlined by banks and other institutions. Black residents continue to fight for the community in the face of this continued divestment. Unlike 755 Prior, the factory at Western and 60th was deemed not profitable to developers and was quickly demolished. The lot is still empty today.
Businesses like Can Can Wonderland market themselves as balms to these long and painful histories of divestment. When I was 16 this looked like an investment…it's now clear who was meant to gain.
What was this building before?
Sources: