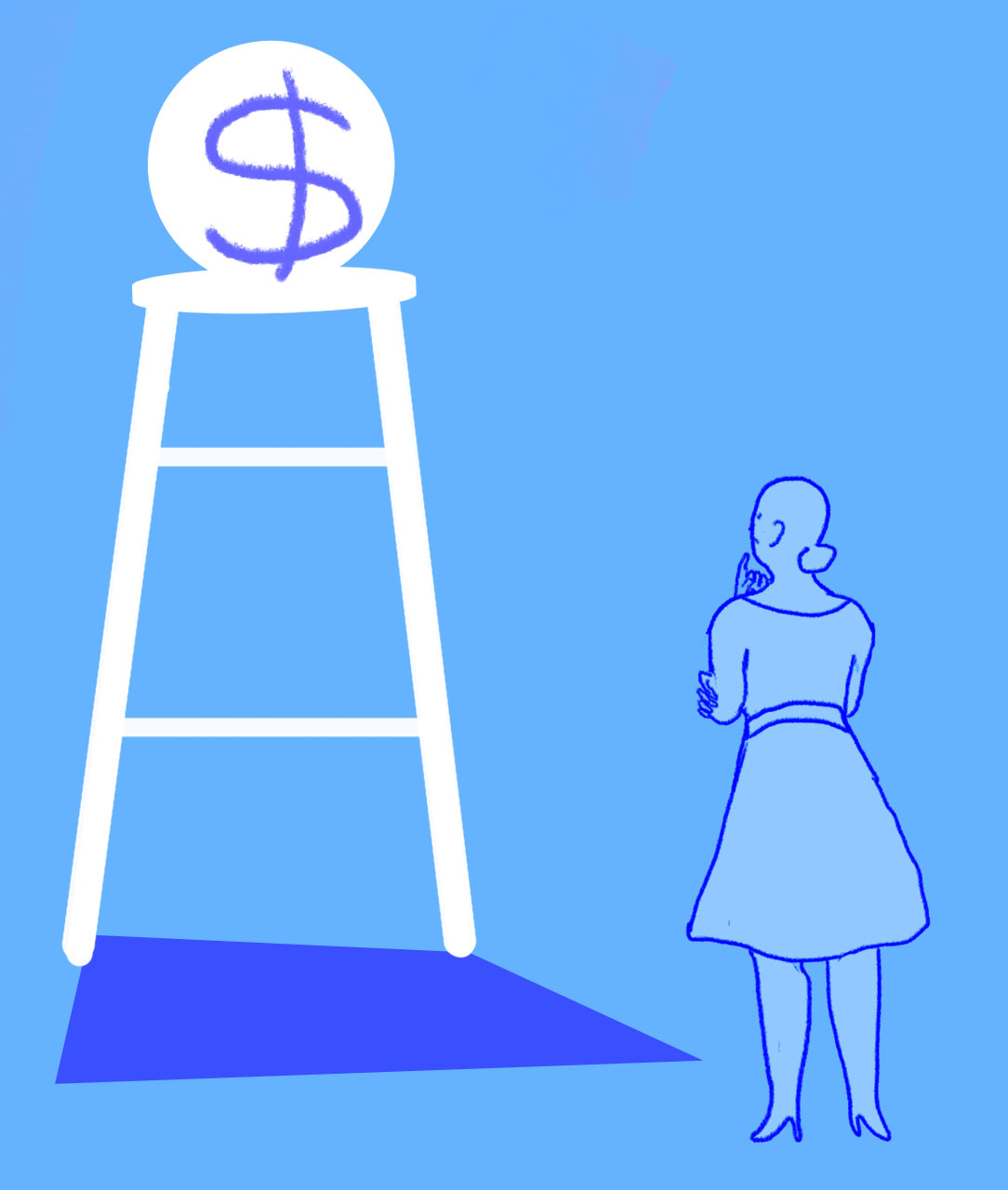 A blue glass ball on a stool worth precisely one million dollars — which students will never see — has been endowed to the School of the Art Institute of Chicago (SAIC). Jeff Koons, King of Kitsch, has donated his canonical "Gazing Ball" to be sold at auction and establish the Jeff Koons Scholarship Fund for undergraduate students.
"Gazing Ball," perhaps best known to the public as the blue orb between Lady Gaga's legs on her 2013 "Artpop" album cover, has been weaving itself into the fabric of art history. Koons has dutifully replicated 35 masterpieces in oil on canvas, from Leonardo da Vinci's "Mona Lisa," to Vincent van Gogh's "Wheatfield with Crows," except they now feature a blue glass orb on a small shelf, smack dab in the middle.
This gift has already amassed more than $46 million in donations from the public for Beautiful/Work, a campaign for the school that "ensures SAIC attracts the most talented students and faculty, continues to offer innovative and creative programming, and remains a world leader in art and design education throughout the 21st century and beyond." With an additional $10.5 million from alumni.
According to James Yood, an art history professor and Dean of the New Arts Journalism Department at SAIC, contributions of work from past alumni is conventional at SAIC. "They are aware that they will be tapped from time to time to contribute and support the school," said Yood. "They're happy to help." Yood is currently coordinating "Beautiful/Night", to be held March 2. "Beautiful Night" is an auction of artworks from twenty-five SAIC alumni. Each piece is valued at around $5,000 and will be sold for student funding.
While there is some contention on whether or not Koons even spent a full semester at SAIC, it was enough to establish a connection the artist has carried with him throughout his career. Most notably was his work with Ed Paschke, "Mr. Chicago" and a Chicago Imagist, who remained a friend until he passed in 2004.  Koons spoke at SAIC's 150th anniversary celebration, and received an honorary doctorate from the school in 2008.
Despite Koons' love affair with SAIC, there seems to be a consensus amongst the students who are aware of the acquisition of "Gazing Ball": it's odd that such a notable artwork — meant to fund student scholarship — will not be available for viewing at all.  What's causing such a ruckus is less about the endowment itself, and more focused on the dissociation of the artwork from the student body.
Hylee Won (MA '19), a graduate student in the New Arts Journalism program, who only discovered the acquisition because she overheard me quizzing the Art Institute's help desk, was confused by the lack of buzz surrounding the sculpture. "I didn't realize it wasn't made accessible to view! I don't understand why not. I would think that both Koons and SAIC would want the artwork to be recognized and publicized more, especially to the student body," said Won.
There are logistical reasons for this, says Yood. To put "Gazing Ball" up for viewing, SAIC would have to purchase more insurance, hire guards, and release information to the press. It's simply easier to keep it safe and locked away until the auction.
Budgie Birka-White (MA '19), a graduate student in Art History, worked at the Gagosian Gallery in California, who represented Jeff Koons, before moving to Chicago. Her personal interactions with him epitomize the general feeling of students.
"He basically runs an art factory," said Birka-White. "If you're making money, are grateful for your education, and are in a position to donate, I think that's the right thing to do. He's awkward but nice in person. People think he uses scripts because he talks in a such a controlled way which doesn't align with the art he's making."
It seems that the issues that the SAIC student body takes with Koons could be akin to that one uncle who hugs you for a little bit too long at parties. It's nice to see him at the family reunion, but you can't help but feel that there's an ulterior motive to his presence. It's no stretch to see that SAIC friends and family genuinely appreciate Koons' contribution to the institution's coffers. This is undoubtedly an image boost for Koons and SAIC because he is one of the most famous artists alive. 

In a press release from his traveling retrospective two years ago, Koons said that the gazing ball "represents the vastness of the universe and at the same time the intimacy of right here, right now." When looking at these objects the viewers see themselves reflected in the perfect surface, as well as the famous painting, imprinting the viewer into history.  "This experience is about you," said Koons. "Your desires, your interests, your participation, your relationship with this image."
It is unfortunate that the student body of SAIC will not have a chance to directly interact with neither Jeff Koons nor his gazing ball. Even so, we are benefiting from Koons' affection and admiration for our remarkable school. We should think of this acquisition less in terms of monetary value, and instead as a labor of love. Whether or not we find it genuine. The meaning behind this work, so entrenched in contemporary visual artistry as well as the deep well of history, makes us students feel that much closer to greatness.