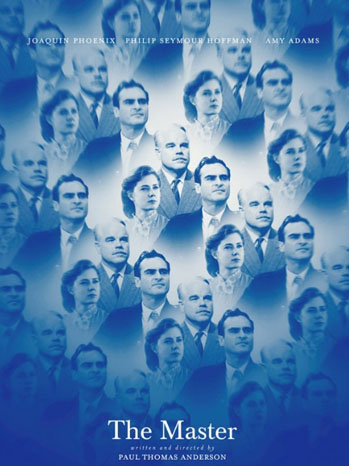 On Wednesday, August 15, cinephiles from all corners of the internet flooded my Twitter feed with breaking news about Chicago's Music Box Theatre. Tickets for a surprise screening of "The Master," director Paul Thomas Anderson's new film, had gone on sale. The surprise screening would take place that very next day – I bought my ticket. By midnight, the show had sold out.
Given Anderson's resumé, I'm not surprised. In 2007, he wrote and directed "There Will Be Blood," an epic that won an Academy Award for its lead, Daniel Day-Lewis. Anderson is also famous for "Punch Drunk Love," "Magnolia," and "Boogie Nights," films that rise far above the usual drivel coming out of Hollywood. It's been five years since "There Will Be Blood," and Anderson's fans are ready for something new.
The line at the Music Box stretched on for blocks. The buzz was that the screening would be in 70 mm – a film format popular in the forties and fifties – but I didn't know why this was important. How could a film format affect my experience? Before the curtain rose, the Music Box's general manager, Dave Jennings, introduced "The Master" by emphasizing the importance of showing it as Anderson intended, in 70 mm. His crew had spent days tweaking their projectors to accommodate the format, which has gone the way of the dodo. Most movies you see in the theater are shown in standard 35 mm, and even that's becoming obsolete in the digital age.
But the true difference still wasn't clear to me until the film's opening shot when, due to the larger format, a shot of water churning appeared as vibrant and blue as if looking at the ocean itself. A collective gasp rose from the audience – most of us hadn't seen anything like it – and I spent five minutes merely enjoying the resolution, the fidelity and detail. The Music Box Theatre is the only theater in Chicago capable of 70 mm, but we were told the public shouldn't expect screenings until winter, if at all.
In the theatrical release poster of "The Master," actors Joaquin Phoenix, Philip Seymour Hoffman, and Amy Adams are pictured as if seen through a kaleidoscope. The image is apt. During the course of the film, Anderson takes viewers across continents and through time. The main character, Freddie Quell (Phoenix), is a violent and tortured department store photographer, moonshine chemist, and Naval veteran. When he stumbles onto Lancaster Dodd's (Hoffman) boat and wakes up not knowing how he got there, Dodd takes him under his wing in an attempt to civilize him. Dodd is the leader and inventor of The Cause, a grassroots religion bearing similarities to Scientology. His civilizing techniques are unusual and sometimes cruel and cultish. He instructs Quell to walk back and forth across a room all day, leaving Quell in an angry and almost manic state, kicking walls and mumbling about his demons. A turning point in the film occurs when Dodd interrogates Quell about his childhood, his abusive parents and aunt. Quell evades Dodd at first, but by scene's end, he is weeping in Dodd's midst, fully converted to The Cause and ready to share its message.
The disjointed scenes culminate in a bizarre anti-climax, and though the finale jibes with Anderson's kaleidoscopic vision, I wanted closure. It seems the only way to get answers for my lingering questions is to see "The Master" again when it opens nationwide on September 14.