It's always exciting to see a collaboration between equally and talented and eccentric musicians, and within the realm of Talking Heads' founder David Byrne's solo career, this formula has become an institution. It would seem that some of the most interesting points of Byrne's exhaustive solo discography include work with other musicians. He created
My Life in the Bush of Ghosts
(1981) and
Everything That Will Happen Will Happen Today
(2008) with famed electronic composer and producer Brian Eno, and penned
a concept album
with DJ Fatboy Slim that featured an array of female vocalists including Cyndi Lauper, Santigold, and Florence Welch. Byrne's latest project,
Love This Giant
, is no exception to this tradition as it was written in tandem with the always-refreshing Polyphonic Spree veteran Annie Clark, otherwise known as St. Vincent. To top it off, the entire album is peppered with the rambunctious brass of funk/soul revivalists like the Dap Kings and the Antibalas Afrobeat Orchestra. Though it may sound like an indie-pop match made in heaven, the album often suffers from a tragic case of predictability and an unwillingness to experiment.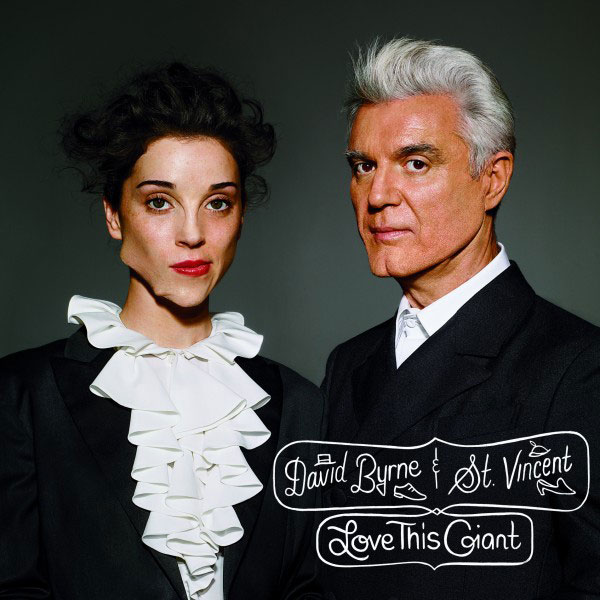 It's usually hard to place a clear-cut label on either Clark or Byrne's music due to their genre-hopping eclecticism, but this album feels content in mucking around in conquered territory. In contrast to many of their previous offerings, Love This Giant has one distinct flavor and it sticks to it. The content is decidedly upbeat and poppy with very few moments of true experimentation or darkness. Most of the songs are built around a looping electronic noise, a throbbing drum machine, and an omnipresent brass section. In fact, the brass instrumentation is the main culprit in the overall homogeny of the album. On early tracks like "Who" and "Weekend In The Dust," the instrumentation feels unprecedented and refreshing. But as the album progresses the sound becomes so one-sided and systemic that it taints the subtler moments. In songs like "Ice Age" and "The Forest Awakes" the plodding tuba baselines, trumpet fanfares, and rumbling trombones overpower Clark's melodic voice and the intricate guitar work. This renders the opening of "I Am An Ape" into something that sounds like stock music from a dated detective show. Though the album's lighthearted feel is endearing, throaty deliveries in Byrne-penned songs like "The Forest Awakes" become self-consciously goofy enough to elicit smirks. Clark exclaims:
The forest is true, I know for a fact / that the bigger the front, then the bigger the back / my heart beating still, through the perilous night / the bombs burst in air, but my hair is alright!
While its tongue-in-cheek presentation comes off as cute, it also comes off as a bit embarrassing, considering the depth and emotional breadth covered in her most recent work.
In spite of these faults, there are mellifluous and smart performances scattered throughout. Nestled in the middle of the album is one of the more interesting and well-implemented Byrne tracks: "I Should Watch T.V." The song opens with a rare moment of discord, a de-tuned and droning electronic arpeggio quickly augmented by some of the more subtly arranged brass on the album. Though it quickly dissolves into Byrne's familiar cadence, it offers stirring lyricism, commenting on mass media and the alienation it causes. Though this is not new ground for Byrne, the self-awareness is always appreciated.
Love This Giant showcases a good balance between the vocal work of these two artists, though Clark's style and presentation always feels more varied and stimulating. She shines on multi-layered tracks like "Optimist," but equally impressive are pensive songs like "Dinner for Two," where their individual styles bolster instead of overpower one another. Although the entire album would benefit from a more adventurous spirit and experimental bend that its artists usually create, it does manage to satisfy with some genuinely interesting and spunky pop compositions. Not everyone will Love This Giant, but there's a good chance that many will like it.