Keep your ears perked this weekend. You may catch the sound of 200 undesirable white males age 14-35 abandoning the X-Box in their mother's basement to attend the "Spaced out Saturday!" vintage sci-fi marathon at the Portage Theatre.
Tickets are only 10 bucks, which means that many of them will have enough cash left over for some Raisinettes.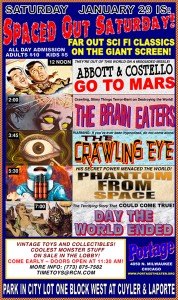 And If they don't like Raisinettes, there will likely be all sorts of other geeky shit for them to squander their allowance on, like collectible figurines, DVDs of obscure sci-fi/exploitation/horror titles, commercial copies of Woody Pecker cartoons or Gene Autry cowboy movies on 8 or 16 mm film, out of print magazines. T-shirts, probably.
It's a veritable dork smorgasbord.
Portage hosts screenings like this throughout the year. They also host live events from time to time, and every once in a while yo umight catch a silent film with live musical accompaniment.
Even if you can't stomach all of it in one sitting, It's a beautiful place to watch horrid films, the action in the lobby is interesting enough, and the admission price is always right.
You'll be surrounded by the friendliest group of people you'd never want to know.
—Brandon Kosters, Editor-in-Chief