An interview with Ruth Margraff, SAIC Associate Professor, playwright, opera writer and singer-songwriter
Story and photos by Anne Knight Weber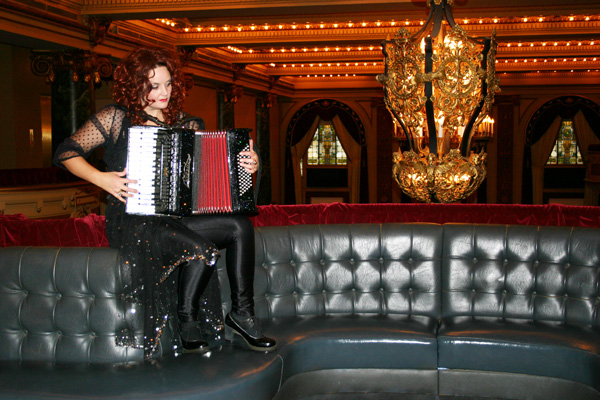 [audio:https://images.fnewsmagazine.com/2009/10/10-1000-times-ive-seen-your-ghost.mp3|titles=1000 Times Ive Seen Your Ghost|artists=Café Antarsia]
Ruth Margraff considers herself a gypsy, not only because of her zest for traveling all over the world, but also because she plays Roma gypsy music. Margraff learned gypsy music when she lived with the Gourbeti tribe in Serbia for a summer, She used her experience to form Café Antarsia, a world folk music band.
She has red hair that cascades around her face and colorful clothes. She's young, too, but not so young she will tell you her age. "In the music industry, we have to pretend to be teenagers," she said. Margraff is a writer of plays, song lyrics and opera librettos as well as a performer and SAIC writing professor.
In addition to being the lead singer of Café Antarsia, Ruth Margraff is also a playwright. Her play "All those Violent Sweaters" a piece that takes female high school friendship to the bone, has been produced five times and is anthologized in a book of monologues for women.
Thirty-five of Margraff's plays have been produced, and her list of publications is long.
"I love and relate to the gypsy aesthetic so much, because I am a kind of gypsy. I had to move a lot and travel and had to be on my own and independent." Her parents divorced when she was seventeen, catapulting her out on her own, she said. "It was rough."
Her father was a Baptist preacher. "We lost all of our churches…my father, his ordination was revoked. It was a climactic time," she said.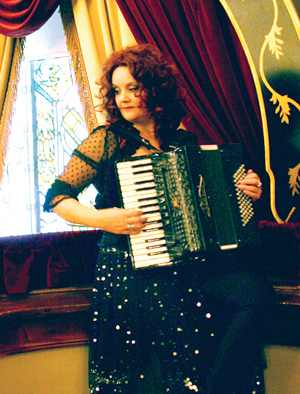 Though she is no longer a Baptist, that tradition is important to her work. "I think that the language that I write with has been called 'neo-Biblical' because I was raised with the King James Version of the Bible. I'm comfortable reading very dense and poetic language, because of being versed in the Bible."
She grew up memorizing the Bible and played music in her church from the time she was five until she was seventeen.
"I think there is a lot of similarity between the theater and the church, and it's shocking to me sometimes how much similarity, because when I deviated from the church, I just went to another church, which is the church of the theater."
For a time in her life, she said she "tried to quench any reference to my background and lost almost everybody from that time period because they believed, I went, I backslid and am going to hell. So a lot of them don't want to talk to me anymore," she said.
Margraff's martial arts choreographed operas have been produced over fifty times. Fred Ho wrote the music for the martial arts operas that have appeared at the Guggenheim and PBS' show "Eye on Dance" produced by Celia Ipiotis in New York, and the Chicago Theater. One of the operas, "Night Vision: A First to Thirds World Vampyre Opera," is about a singer who is corrupted by commercial success.
Margraff wants to "push the form of opera into a more working-class direction and make it more non-western because opera is a European tradition." She believes that working class music is not about being slick or high-tech, but about "having almost no budget, playing acoustically, rather than digitally, and celebrating characters who are folk or marginal, they are not important…and celebrating them as though they were as important as someone in an opera. I think you have to celebrate characters that have been forgotten and I think you do that by treating them with an emotional scale that is operatic."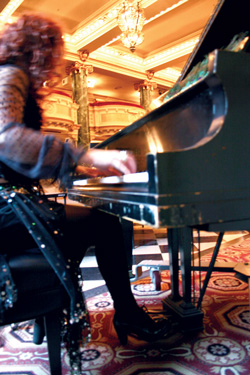 Margraff's mother was a United Nations peacekeeper for five years. Visiting her mother in Sarajevo changed her world view, Margraff said. "Its very disillusioning to be in a war torn country and see that at any moment people could start fighting again. Seeing that kind of violence and hatred is really alarming. That's why I feel strongly about the hatred speech that's happening right now in the Republican party… It's so frightening to see it happening in America, because this is what happened in Rwanda…The hate radio was what stirred up Rwandans to butcher each other with hand tools and farm tools…Language is very important. "
After their Sarajevo experience, Margraff and husband/bandmate/composer Nikos Brisco wrote a working class opera called "Wellspring" about a woman who looks for her United Nations Peace Keeping husband who is missing in Sarajevo.
She and Brisco also collaborated on a folk operetta about her Aunt Pearl who died at the age of 45. "She basically drank herself to death," Margraff said. Aunt Pearl "taught [her] a lot from her grave" about the hard life in the coal-mining country of West Virginia. When performing Judges 19 Margraff paints with beer.
How does she manage to have done so much? She said, "I am not a particularly lucky person, so I have to work harder. Some people are lucky, just everything falls in their lap. It's not like that for me, so I have to work for everything," she said.