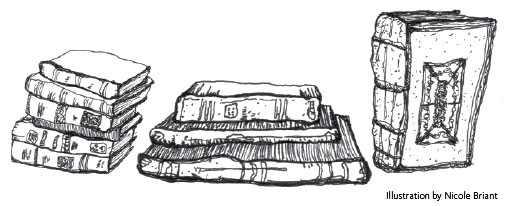 With the increasing irrelevancy of giant chains like Borders, which is closing its store on Michigan Ave, now is the time to familiarize yourself with Chicago's indepdendent bookstores. In fact, you should have done that yesterday. A quick look at the city's best:
Quimby's
1854 W North Ave
Chicago, IL 60622
(773) 342-0910
Specializes in comic books, fun readings, local presses, zines and some literotica. Go to this store now. No cellphones inside the store please. Makes for a pleasant browsing experience. For their mascot, they adapted a cartoon character (whose name happened to be Quimby) created by SAIC alum Chris Ware.
Women & Children First Bookstore
5233 N. Clark, (773)769-9299
Feminist bookstore that focuses on books for, well, women and children. They started a nonprofit: The Women's Voices Fund, which raises money to run feminist programming at the store. Go support them.
Bronzeville Gold
4655 South King, (773)924-3966
Afro-centric bookstore, creator of "Book It Black to Bronzeville," a book festival that celebrates literature and emphasizes 'the importance of literacy for all Chicagoans." Notable local figures have given readings/signings there, like Chris Gardner, the financial adviser whose life story was the inspiration for the film "Pursuit of Happyness."
Seminary Co-op Bookstore
5757 South University, (773)752-4381; the co-op also owns 57th St. Books, 1301 East 57th, (773)684-1300
You're not walking into a religious trap. The bookstore is located in the basement of the Chicago Theological Seminary, but it's got a wide variety of reading matierals, influenced by the nearby University of Chicago. The consumer-owned Co-op also owns 57th St Books, which also tends to be scholarly but with a large general interest and childrens' section. Both of these book stores are for serious readers.
Bookworks
3444 N. Clark, (773)871-5318
Bookworks has normal books, but it also offers rare and out-of-print books, also super-old records and vintage photographs. They have a severe dedication to beat poets. Plus, they buy books and parking is always available behind the shop.
Chicago Comics
3244 N. Clark, (773)528-1983
This store has been around for fifteen years, and offers a comprehensive collection of main stream comics, local comics, zines, and some underground lit. Owned by the Quimbys' guy, Eric Kirsammer.
Unabridged Bookstore
3251 N. Broadway, (773)883-9119
The best source in the city for gay and lesbian literature. Open and thriving in its current location since 1980, they also offer a good mix of general fiction, kid's books, travel books.
The Book Cellar
4736 N. Lincoln, (773)293-2665
Wine bar, cafe, and local author hangout and reading venue. They carry tons of Chicago authors and Chicago-related books. The late Studs Turkel read there a number of times, and you can catch Joe Meno there every now and again. They host readings typically once a month.
Prairie Avenue Books
418 S. Wabash, (800)474-2724
It's near the art schools for a reason: anything you could ever want about design and architecture in an inspiring space designed by co-owner and retired architect Wilbert R. Hasbrouck. If you have money to burn, you can pick up designy antiques and blueprints.
Barbara's Bookstore
1218 S. Halsted, (312)413-2665
This is the largest store of the independent Chicago chains. They've got a massive selection of books of every variety. Barbara's also has a built-in room for author appearances, so you know they're dedicated. They have four Chicago stores and one at O'Hare for when you forget to take something to read on the airplane.
After Words Books
23 E. Illinois, (312)464-1110
This place carries almost anything, with a pretty good used book selection at reasonable prices, even though it's right off Michigan Avenue. Also, they buy books for cash every Thursday starting at four p.m. Who doesn't dig cash?
Shake, Rattle, and Read
4812 N. Broadway,(773)334-5311
This place may carry a lot of porn, but it's also got some dusty vintage magazines at cheap prices. Some records and Star Trek stuff too. Disorganized and fascinating. Much like the people who frequent the store.
Myopic Books
1564 N. Milwaukee, (773)862-4882
Staff of knowledgeable bibliophiles to help you find the right book from its inventory of more than 80,000 used top floor also plays host to local poets, while experimental musicians make use of the unique acoustics of the main floor. A visit here is a great follow up to a seitan reuben from Earwax.
Revolution Books
1103 N. Ashland, (773)489-0930
Forums are held while Marx, Mao, Lenin and Avakian fill the shelves. Around since the 1970s this store is frequented by those in the neighborhood, students, professors and activists. Probably wise to only pay in cash. No paper trail, no Gitmo.