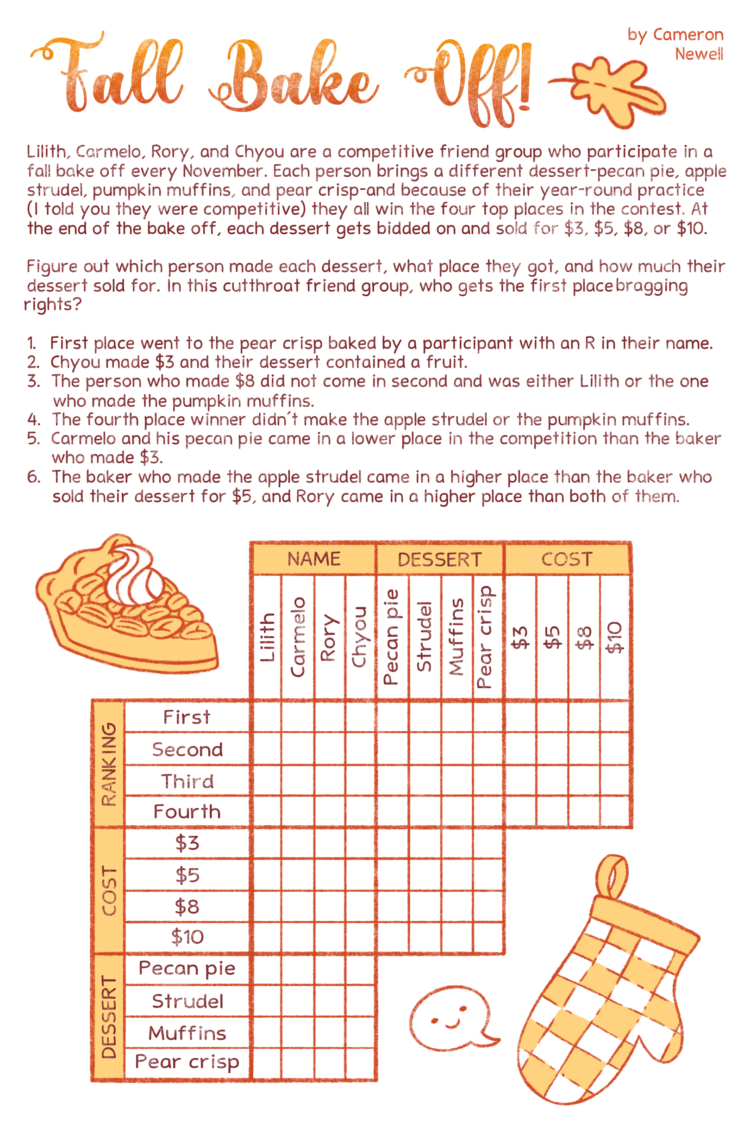 "Fall Bake Off!" by Cameron Newell
Lilth, Carmelo, Rory, and Chyou are a competitive friend group who participate in a fall bake off every November. Each person brings a different dessert (pecan pie, apple strudel, pumpkin muffins, and pear crisp) and because of their year-round practice (I told you they were competitive) they all win the four top places in the contest. At the end of the bake off, each dessert is bid on and sold for $3, $5, $8, or $10.
Figure out which person made each dessert, what place they got, and how much their dessert sold for. In this cutthroat friend group, who gets the bragging rights?
Clues:
1. First place went to the pear crisp baked by a participant with an R in their name.
2. Chyou made $3 and their dessert contained a fruit.
3. The person who made $8 did not come in second place and was either Lilith or someone who made the pumpkin muffins.
4. The fourth place winner didn't make the apple strudel or the pumpkin muffins.
5. Carmelo and his pecan pie came in a lower place in the competition than the baker who made $3.
6. The baker who made the apple strudel came in a higher place than the baker who sold their dessert for $5, and Rory came in a higher place than both of them.
Answers:
First place went to Rory's pear crisp, which sold for $10.
Second place went to Chyou's pumpkin muffins, which sold for $3.
Third place went to Lilith's apple strudel, which sold for $8.
Fourth place went to Carmelo's pecan pie, which sold for $5.