Spring break in Chicago has the city in a frolic. Mothers carry shopping bags from American Girl, the streets are covered in St. Patrick's confetti, and Izzy DiPietro has just joined the call from her New York City apartment, 800 miles away from the week-long celebration of the dyed-green river. Fresh out of English class, the late-afternoon street music hums its way through my window. As DiPietro greets me, softly lit by natural lighting and smiling brightly, I forget about all of the commotion occurring a few floors down. 
A few hours earlier, before we meet, DiPietro posted a story of her wearing the outfit coordinated for our talk: a vintage choker from Italy, formerly owned by her grandmother, and matching black pants to go with a black-button up halter top with ruffled doily straps. It's sort of a good luck charm, she said. Her roommate and best friend, model Chelsea Molina, had just worn it to a Mirror Palais casting. "This is her first really big gig, I'm so proud of her. So she borrowed this shirt to wear for it. I'm always like, 'What do you need to wear? I got you!'" It strikes me, but not for the first time, that Izzy DiPietro takes the "cool girl" to an infinitely desired standard.
Every designer can recall it: it being the moment they knew fashion was in their blood. For DiPietro, the granddaughter and great niece of two fashion designers, personal style and aesthetic is more than inherited — it's manifested. DiPietro's lux-goth, Hot Topic-savoir designs have often been compared to the costume designs of characters like Johnny Depp's Mad Hatter, Monster High's Draculara, and Helena from My Chemical Romance's eponymous music video. But there's no pre-production for DiPietro. There's no sketching, no moodboard, no intention to purposefully reference any designer or character. DiPietro's work is created intuitively — citing rather than incorporating motifs and accents from external sources; her work comes from images in her subconscious. "These are all things in my subconscious that I loved as a kid, but I'm not referencing anything. I don't try to reference stuff, but I just happen to reference stuff I like."
DiPietro is an intuitive designer. When she does her reworks, she'll choose a base, a few different fabrics, and just jump into a new garment. "Sometimes I'll pin up things and unpin and redesign it. Even if I'm pretty far into a project and I'm like 'Oh wait no I wanna redo that one part,' I do it. And that's how I do my work, and that's how I've always done my work."
Born into a family of fashion designers, the world of style had been at her fingertips since she could remember. Growing up in the woods of southern New Jersey, opportunities for aspiring designers are arguably more liminal than that of a big city. DiPietro doesn't claim any network-oriented nepotism, but does not deny that being surrounded by fashion at such a young age has benefitted her practice and skill set. "I was put on a sewing machine so young, I had a lot more advantages than most kids who aren't from the woods. I have nepotism in the way that I was very aware of fashion design, someone was able to teach me how to sew young." 
"There's a lot of resemblance in my work to this." DiPitero says. Standing up, she reaches above her and grabs the blouse hanging up. It's one of her grandmother's designs: creamy white and pink, doily-lace patchwork, long sleeve blouse with a sweetheart neckline, and crystal embellishments along the front. It was her grandmother who taught her how to sew when she was eight. Looking up, she counts in her head and rounds up the years; learning for 4-5 years, then hired by her grandmother to teach others.
Needless to say, DiPietro has always been keen on a career in fashion. At ten years old, she desired to attend the Fashion Institute of Technology (FIT) for school. She spent two years at the school, but left due to the exaggerated planning for a design, frustration with the beginner-skilled curriculum, and her dyspraxia diagnosis. It affects everyone differently, but DiPietro notes that dyspraxia affects the way she views lines, becoming a frustrating prospect when working with Adobe Illustrator in one of her tech classes. "It's to the point that I can't get a [software] license. Obviously design-technical school like that, it wasn't good for my brain and it made me feel like shit about myself, because I've been sewing and doing stuff much longer than most of my peers when I was at school." she laments. "'Guys, this is really important. These are probably stuff you're gonna do in your future fashion design classes.' That one sentence, I knew I had to figure something else out."
Miming decapitation when she first mentions her dropping out, the lighthearted poke assures me that DiPietro is no longer worried about this. But in the few months before launching her brand Izzy's World, she was "spiraling to hell." With no future plans beyond attending and graduating from FIT, she thought to herself "Fuck, what am I going to do next?" FIT was all she wanted for a decade, but now, a higher education in fashion had been completely taken off the sewing table. 
In those two years at FIT, she had hardly any time for herself, let alone to start and create her own designs that she was passionate about. During breaks and times she wasn't in school, she abhorred the idea of being behind a sewing machine, as that was all she did.
One day, while looking through her closet, she found a black corset that she hadn't worn very much. "I'm just gonna decorate this," she decided. Inheriting much of her grandmother's inventory — lace, embellishment, miscellaneous fabrics — DiPietro had created her first rework. 
It can be a dreadful experience to post your work on social media, but DiPietro said the feedback she received was overwhelmingly positive. Compared to projects she lamented in school, this "dumb little thing" that she estimates took only a few hours set off a new motivation.
Inspired by the new love, she made a few more reworks that week exclusively for Depop under the soon-to-be brand name Izzy's World, inspired by the verified meme page @patiasfantasyworld. Aside from sharing similar usernames, the two have a few things in common: a grounded relationship with the internet, and rock musician Maggie Lindemann's attention.
One of the first seven pieces she sold was to the singer, a custom pale blue silk top with white trim, contrasted by black lace and net loosely mixed with strands of lace fringing off the ends. DiPietro's eyes light up as she reminisces how hopeful it made her. "Oh my god, I can actually do this!" DiPietro expresses. With this newfound confidence, and more people all over the internet watching excitedly to see what she makes next, she watched her intentions materialize right before her. 
For someone working for as long as DiPietro has, an overnight success story is a rare credit. But it has only been about a year and a half since things began to take off. In the age of sustainability, image, and how they intersect with style, limited edition and investment pieces have become an arching factor in the fashion conversation. DiPietro's success lies in the focal point of this discussion, appealing to the one-of-a-kind garment market that fashion enthusiasts and environmentalists abstain from, and the push of the external matching the internal accepted by originality elitists. Her clothes feature pastel ribbons, crosses, and laces softening ominous written text among her clothes ("MADONNA WHORE COMPLEX VICTIM", "PAY ATTENTION TO ME", "LIFE STARTS AT BIMBOFICATION").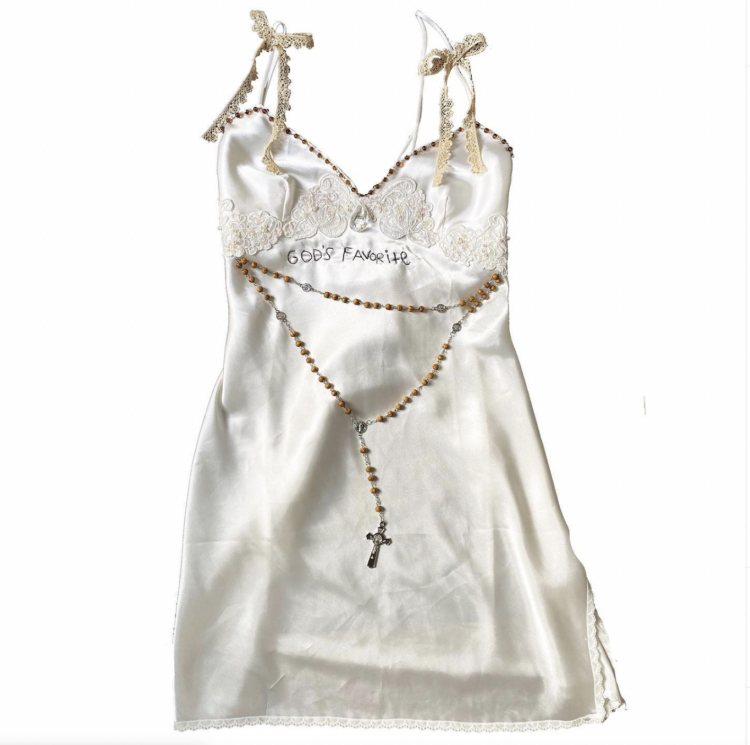 The first design that I saw by DiPietro was on a girl blogger spam account, in between photos of Bella Hadid and the Bible: a silk white slip, with rosary beads sewn to the front and the torso, "GOD'S FAVORITE" sewn across the chest. My favorite piece, however, is a soft pink lace-up mini dress with tattered black tulle and lace draping the skirt, the corset completed with black lace and bow under a smaller pink bow with a crystal heart. The odd nostalgia of the dress reminded me of a Monster High doll I had — celebrating Draculaura's sweet 1600. 
She laughs as I tell her this, showing me the wall of posters behind her. "Barbie: Magic of the Pegasus," "The Virgin Suicides," with a promotional poster of the Monster High dolls underneath the two. Setting the phone back, the mannequin behind her returns to the frame. A new project has already been started, the black corset beginning to beam with white zigzag accents and a cross on the sternum. Strangely enough, the scene looks like a school portrait from said doll line.
A few months ago, a friend of DiPietro's had been styling a music video for rapper Lil Uzi Vert. After requesting to use some of her pieces, DiPietro immediately accepted. "I was like, 'Yes, please!' That's huge for me. That's a huge deal and I'm super tiny." Arriving on set that day to see the clothes at work, she ended up accidentally going with the group of 150-ish kids casted to be in the video to shoot a scene. To her surprise, she ended up sitting right next to the artist in question about thirty seconds in. The video? "Demon High." 
"The way I feel like I manifested this shit since I was so young. Like, that's crazy!" And it's true. DiPietro has proved her ability to attract universal opportunity and fortune through hard work.
Last spring, DiPietro moved into her apartment with Molina, a desire that manifested four months before her goal. Her affirmation: "I can grind every day, I can move back to New York City if I work really hard by the end of the summer."
With her city girl status and fashion designer career, it's no shock that she's in the busiest moment of her life. How does she manage her time? "I go completely agoraphobic. It's not an exaggeration. My roommate will be like 'Have you left the apartment in four days?' I'll be like 'What do you mean? I took out the trash yesterday.'"
She tells me her plan to stay on track with organizing her brand, limiting herself to a hopeful two all-nighters a month. She keeps a smooth running operation on her brand, assuring that everything is up-to-the-minute on her website. She'll be taking product photos while her boyfriend helps trim fabrics.
With the formal season underway, one might wonder where they could find a dress or garment that just "speaks" to them. Many adored, albeit cliched characters have spun out from this proposition: the Mary Sue, the quiet girl, the girl who wears combat boots to prom, the girls DiPietro wants to make clothes for. "I've been that type of girl. That's the brand I wanted to be, something I wish I had now and in high school. Because it's so hard to find actual cool clothes."
I ask DiPietro to define what she likes to see in her own style, after years of interchanging different trends to fit in. More herself than ever, she humbly states "leather, lace, girly, goth, soft, hard… I just like juxtaposition a lot."