Chicago does not often come to mind as a prominent dance destination, and yet, there are a significant number of vibrant companies and initiatives around town. This past November, one of the greatest catalysts for the dance scene in Chicago, Dancemakers Forum, celebrated its 10th anniversary at the Museum of Contemporary Art (MCA) through a daylong program of festivities. The celebration included an impressive selection of Chicago-based contemporary dance artists who presented works around the museum during the day, and then in an evening on-stage performance in the MCA theatre. Presented by Ginger Farley (Consortium member of the Dancemakers Forum and member of the MCA's Performance Programs Committee), and Peter Taub (Director of Performance Programs at the MCA), the evening performance was composed of seven pieces, showing great diversity in style and content. Three of them particularly caught our attention:
Julia Rhoads / Lucky Plush Productions
Excerpt from Cinderbox 2.0
Extracted from a full seventy-five minute performance, this piece is an absolute delight of sarcasm, irony and outstanding dancing. As the dancers make an informal entry onto the stage, the audience is still very much inattentive and distracted. Dancer Benjamin Wardell starts what appears to be a casual warm-up, but his exceptional dance skills transpire through his moves and the audience finally pays full attention. The piece is essentially comical, yet the performers' technicality and versatility is beautifully mind-blowing; not only are they gifted dancers and talented comics, but they also sing!
This excerpt of Cinderbox 2.0 is a critique of the ever-distracted audience members; for example, those people who are always sitting right behind you in the theatre who like to comment on every little detail and make irrelevant connections with what is happening on stage to try and prove that they are somewhat educated about what they are seeing. Cinderbox 2.0 is a harmonious alloy of dance and comedy, and a thoughtful exploration of the relations and oppositions between observer and observed, performer and audience. It also mocks choreographic clichés, such as the chair as a prop, although the choreographer uses one of these clichés at one point as dancers form a diagonal and perform moves in canon. This excerpt of Cinderbox 2.0 was refreshing, funny and thoughtful.
Erica Mott/Erica Mott Productions
Excerpt from Five Gaits, Four Walls, Fourteen Knots
The piece opens up with a comical dance duet between two men dressed up as cowboys. They perform, face-to-face, a set of sensual moves and effeminate attitudes, while a third dancer, upstage, loudly pronounces the set of instructions to a more traditional duel: "blink, squint, step."
In this incongruous scene, the cowboys' guns are replaced by paper fans, which they dramatically spread open in the blink of an eye, shooting at their opponent, who either jumps and strikes poses avoiding the imaginary bullets, or collapses in slow-motion as he is being shot. Later in the excerpt, the cowboys grab white helium-filled balloons, each one eight feet in diameter, and start drawing circles with the oversized spheres over their heads, as a cowboy would with a lasso. Images of confused, working cattle horses projected on a screen are reflected on the white balloons as they circle around in the air.
Part of Erica Mott's Cowboys and Vikings Project,this excerpt of Five Gaits, Four Walls, Fourteen Knots appears as a Tarantino-esque dance piece, exploring the essence and stereotypes of the masculine identity in the cowboy culture. Like the topic it addresses, the work is full of paradoxes; it is amusing and dramatic, serious and comical, light and heavy.
Nicole LeGette / Blushing Poppy Productions
Extracted Enrapture
Extracted from an evening-length piece entitled disRuptureEnrapture, this performance is a skillful illustration of Blushing Poppy Productions' focus on Butoh dance. An avant-garde, Japanese performance art, Butoh fuses elements of dance and theatre into characteristically slow and poetic choreography.
The 4 minute-extract shown at the MCA instantly placed the audience into a parallel world. All five dancers wear a wild, crazed look on their face, and act like small creatures of a creepy wonderland whose energy seems to be gradually sucked out of them by some supernatural force. Their exquisite costumes are an interesting mash-up of Marie Antoinette, geisha and traveling elf, in autumnal tones; added to matching lights and smoke, this successfully creates an ethereal atmosphere.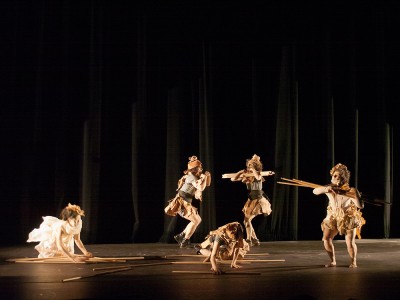 The creatures attempt to cross the stage, their arms carrying long wooden sticks which they unpredictably drop in what seems to be a feeling caught between sweet abandonment and intense exhaustion. The audience is fully captivated, holding their breath, as they follow the slow movements of these creatures leading to their inexorable fall.