Hello, SAIC!  The holidays are upon us, so now seems like the perfect time to take a look at some of this season's big campaigns.  Happy shopping!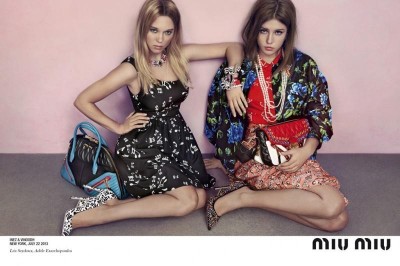 Miu Miu Resort 2014, Inez and Vinoodh:
Inez and Vinoodh shooting Blue is the Warmest Color's Adèle Exarchopolous and Léa Seydoux for Miu Miu's new resort line sounds great on paper, but this campaign is nothing but boring.  The duo similarly moved away from their trademark studio style for their last Miu Miu shoot, and once again the result is just lacking … something.  The hair, makeup, and styling are spot-on, and yet I just cannot bring myself to care about this shoot.  Too dull!  Sorry 🙁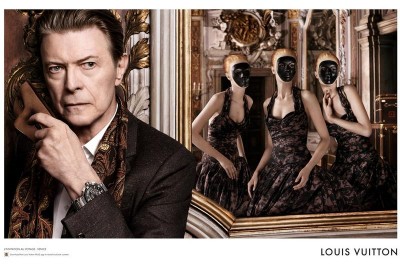 Louis Vuitton L'Invitation au Voyage (F/W 2013), David Sims:
Poor David Sims.  He gets two huge Vuitton jobs in the same season and both shoots end up embarrassing.  I won't bother going on about the men's shoot (simple summary: Tony Bryan, Blue Steel), but this David Bowie campaign is just weak.  Obviously Sims is dealing with creative constraints due to the shoot's monstrous budget and the casting of a 66-year-old musician, but the fact remains that these images are overcooked and silly.  A masquerade theme?  A hot air balloon?  Arizona Muse, what are you doing?  Hopefully now that Marc Jacobs has left the label can rebrand itself visually over the next few seasons.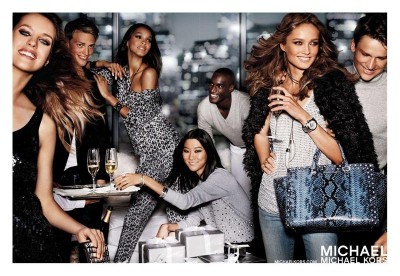 Michael Kors Holiday 2013, Mario Testino:
Michael Kors brings trashiness to a new level this holiday season, employing the aesthetic of a high school junior's faux-H&M Tumblr spread to announce its plans to brighten up next year's Nordstrom Rack clearance section.  Mario Testino apparently took a day between creating fantastic Vogue editorials to churn out this lifeless shoot, and the pages of Redbook couldn't be more thrilled.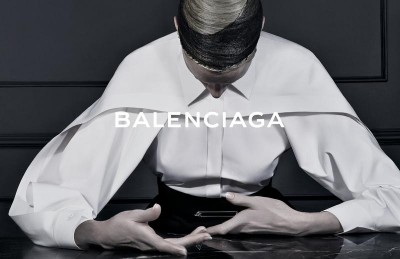 Balenciaga F/W 2013, Steven Klein:
Balenciaga has been switching things up a bit lately, possibly due to the lukewarm reception to Alexander Wang's first few collections as designer.  The brand has ditched Steven Meisel for the first time in several seasons, and the decision to go with Klein seems to be working well for them.  They're clearly trying to creep toward "edginess" to appease some of Wang's longtime fans, but the result is surprisingly fresh in comparison to their last several campaigns.  Diane Kendal's makeup works well on McMenamy, and the hair and styling are subtle without being understated.  Great job!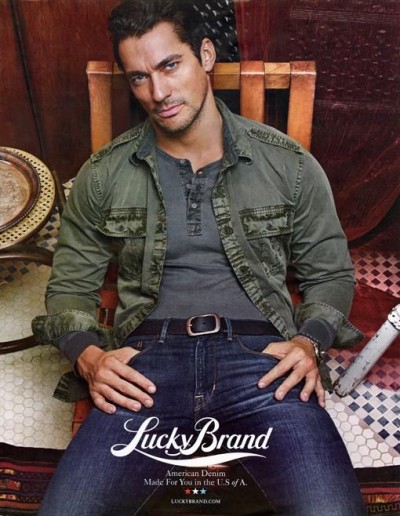 Lucky Brand Jeans F/W 2013, Mario Sorrenti:
This campaign seems uninspired on first glance, but I'd like to think that Mario Sorrenti is actually just using it in an attempt to visually illustrate the massive size of David Gandy's insufferable ego (his ABC interview, "David Gandy, Life as a Mega-Successful Male Model" is a thing of true beauty).  Sorrenti, displaying his expertise, shoots Gandy from an awkward top-down perspective, foreshortening the arms and cropping the legs.  The result is a precisely-executed composition that magnifies the head while downplaying the importance of the actual product being sold.  I, for one, applaud this subversive and defiant act: it is not often that a mega-successful male fashion photographer is willing break the mold and criticize the hubris of a mega-successful male model.  Bravo, Mario!