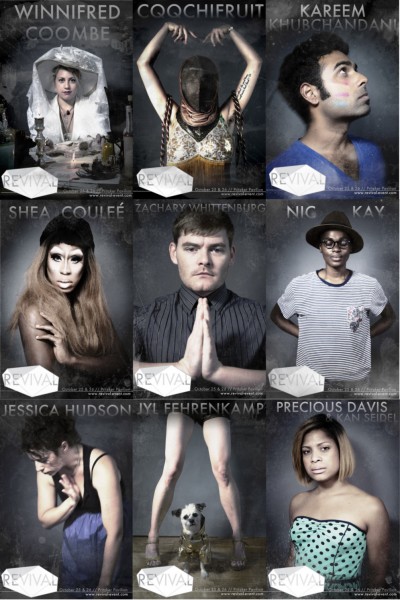 Artists in residence for DCASE's "In The Works"  (Jesse Morgan Young, Salonathon, and Eric Hoff) are putting on a performance art/dance party/spectacle mashup for FREE.
Doors open at 10pm sharp. Final entry is at 11pm. Come at 10p for a free beer courtesy of Goose Island and get the dance party throbbing. Event concludes at Midnight.
I asked them what we could expect:
REVIVAL takes place inside the Jay Pritzker Pavilion building: on the stage, backstage, hallways, practice rooms, in the freight elevator, in stairwells, and where you least expect it. When people arrive at the Jay Pritzker Pavilion, they will be ushered through the back hallways, past storage rooms and dressing rooms and down concrete hallways. They'll emerge into a fully designed dance environment  by (space designers David Andora and Sean Michael Hunt) where Smirk will be DJ'ing and amping up the dance party. Goose Island is providing beer, for free, for 21+ guests. Guests will notice strange occurrences: is this just a dance party? Is something else going on? What are we Reviving tonight? As the music swells, the sentinels will gather. And then something unexpected occurs: guests will be whisked into the belly of the Pritzker building and will embark on a choose-your-own-adventure performance art experience. 9 performance art premieres (see list of artists below) will occur throughout the space, in hallways, stairwells, practice rooms, storage facilities, and exterior spaces just beyond the walls of the Pritzker. As midnight approaches, Smirk will summon us all to the dance floor for the final moment: a theatrical sacrifice. REVIVAL occurs at the stroke of midnight, leaving us to question: What are we praying for? What are we willing to sacrifice?
sounds by
Smirk (Wolf+Lamb; Clown & Parade, Woodshed Collective)

featuring original performance by
Winnifred Coombe
Shea Couleé
CQQCHIFRUIT
Precious Davis & Kan Seidel
Jyl Fehrenkamp
Jessica Hudson
NIC Kay
Kareem Khubchandani

Zachary Whittenburg