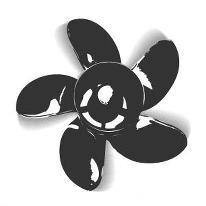 Propeller Fund, which is jointly organized by UIC's Gallery 400 and Chicago arts advocacy group threewalls, annually provides grants to fifteen selected applicants from Cook County.  The $50,000 in grant money, which is provided by The Andy Warhol Foundation for the Visual Arts, is broken down into five $6,000 awards and ten $2,000 awards; its purpose is to lend support to individuals and organizations that serve Chicago's art community through alternative and nontraditional contributions.  Propeller Fund's website explains, "This informal and self-organized creative activity is abundant in Chicago. Propeller Fund is conceptualized to stimulate its further growth; to encourage more varied models; to spread the activities into more diverse areas; to promote the public's interaction with, and public recognition of such activities; and to spark ambitions beyond current formats."
Propeller Fund's stated goal is to provide emerging groups and individuals with funds to assist in basic operating costs in order to ensure that they have the resources necessary to fully realize their various artistic pursuits.  The award winners are chosen based not only on their existing contributions to Chicago's art community, but also for their plans for the future.  This year's Propeller Fund winners were announced late last week.  The selected grant recipients include organizations, publications, festivals, and fairs that encompass a multitude of media and arts practices.
The full list of grant recipients can be found on Propeller Fund's website.  You should definitely keep an eye on these groups, as each of them has exciting plans in store for late 2013 and early 2014.  For more information on Propeller Fund, including previous winners, be sure to check out their Projects page.  The award winners will be tonight at a reception at Gallery 400 – if you're in the area, you can stop by to learn more about the projects.
This year's call for applications started in May, with applications due by August 1.  If you're feeling ambitious, it's never too early to start thinking about 2014.