Having recently joined Instagram, I spent (maybe too much) time browsing through other users' snaps under the "explore" tab. Among the myriad "seflfies," "throwbacks" and other random food-related shots, I had the pleasure to encounter the work of Murad Osmann.
Born in Russia and a civil engineer graduate from Imperial College in London, Murad Osmann is a self-taught photographer whose work on Instagram has been followed by over 400,000 people. His series of photographs "Follow Me To" represent his girlfriend leading him by the hand around the globe's most iconic landmarks.
Osmann's photographs are rich in movement, full of details and bursting with vivid, saturated colours. His girlfriend's outfits change with each shot, matching the country they find themselves in.
Here is a personal favourite: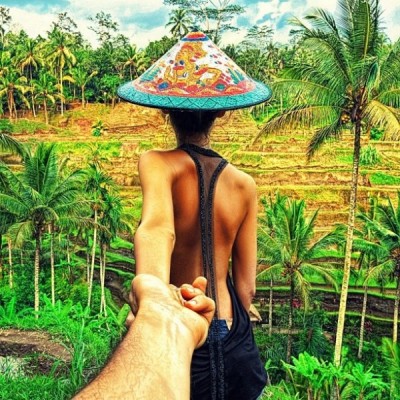 Now followed by 406,768 instagramers, Murad Osmann also produces videos on Hypepro.tv , and has a professional website.