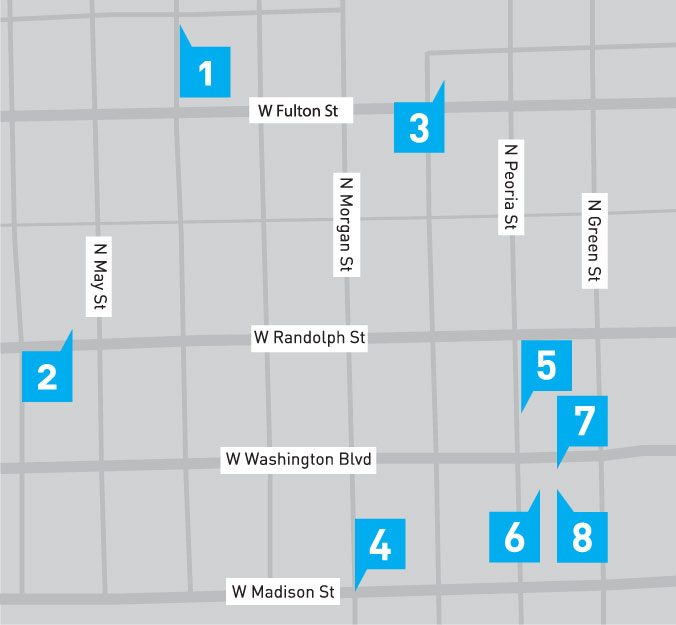 1. BRENDA MOORE
"Between Tragedy and Frivolity"
Linda Warren Projects
September 7- October 20
Artist Brenda Moore invites the viewer into her lucid equestrian fantasia. The forty-one-piece exhibition features horses acting in scenes of decadence and maritime peril. Alongside the complete works is a collection of compositional studies with drafting notes and sketch lines left like breadcrumbs through her creative process. Diverse mediums – oil, watercolor, photo, and graphite – highlight the transience of "meaning" and its reliance on form. "Debutante and Her Attendants," in particular, resonates with tense awareness and fable-like delicacy. While Moore has drawn a parallel between animals and human folly, the work is perhaps too whimsical to foster coherent dialogue. Like a rocking horse, it is entertaining but unlikely to take the viewer anywhere.
– Simone Thompkins
2. JOEL DEAN
"The Real Problem"
Alderman Exhibitions
September 7 – October 21
The popping color in Joel Dean's bubblegum hodgepodge of images attempts to foster dialogue between art, reality and possibility. While "Untitled," a wall-to-wall series of abstract Pokeys (from Gumby), openly engages the subject of simulacrum, the rest of the exhibition isn't as articulate. "Room Temperature Water," a Crate and Barrel pitcher priced at $1200, looks more like a dated joke than a serious contemplation on space and presence. There's an interesting proposal in "The Truth Cuts Both Ways," neon-painted contractor's levels balanced on katana stands, but the gaudy paint job distracts from intent. While the juxtaposition of what could be and what is holds potential weight, the real problem is that Dean's thoughtfulness unravels before the knot reveals itself.
– Simone Thompkins
3. RORY COYNE
"Marked by Myth"
FM*Gallery and Artist Studios
September 14 – October 5
Nightmarish creatures plucked from ancient mythology – and perhaps the corner of Ashland and Lake – stand defiantly in Coyne's solo exhibition. Captured in lurid detail, Coyne creates "therianthropic" figures that combine human bodies with elements of mythic bestiary. The painted oil canvases tower over viewers, relating the desperate ur-narrative of human drama. Simultaneously, contemporary subjects clue viewers into the artist's personal investment in the allegorical tellings. Coyne's renderings are exquisitely detailed figurative paintings, but when an artist chooses to go toe-to-toe with such an entrenched tradition, the challenger is likely to be found wanting.
– Kris Lenz
4. NOELLE MASON
"Blue Skies/Black Death"
Thomas Robertello Gallery
September 7 – November 3
You will gasp for breath upon recognizing the subject. Using an archaic pinhole camera — a camera that has no lens and requires a three second exposure — artist Noelle Mason captured 500 feet of skydivers' free-fall and compressed that moment of adrenaline into one fluid frame. The show's title, "Blue Skies/Black Death," references the direct juxtaposition between the calmness of blue sky and the momentary closeness of death. Without the prior knowledge of the subject, these photographs resemble abstract paintings that conjure magic and mystique.
– Dijana Kadic
5. CAULEEN SMITH
"The Journeyman"
threewalls
September 7 – October 20
This exhibition is an absorbing multimedia experience based on the life and work of experimental jazz composer Sun Ra. Included are paper sketches of African-American marching band members, a large slideshow installation and a re-constructed library culled from books that belonged to Sun Ra himself. The library is accompanied by a recording mixed by Smith that includes the composer's music as well as spoken word material. It is a personal and multi-faceted homage to the complexity of a unique creative mind.
– Sam Ramos
6.GEOFFREY TODD SMITH
"Looker"
Western Exhibitions
September 7 – October 20
The pieces on display in Geoffrey Todd Smith's "Looker" show share formal themes, yet each panel manages to dominate its own space. One panel, "Phantom Liminal," is a kaleidoscopic assembly of circles, some vibrating with color, others blank, yet they work together in a vigorous action — an effect that appeals on a primal level. Smith avoids off-key notes throughout, and one is consistently rewarded with the simple pleasure of looking. This could be perceived as an effort to put visual pleasure to the task of justifying itself. Even the possibility that such a critique exists is testament to the complexity of Smith's work.
– Sam Ramos
7. ANNE LINDBERG
"sustaining pedal"
Carrie Secrist Gallery
September 7 – October 20
Lindberg's site-specific "Zip Drawing, 2012," composed of parallel cotton threads, is on view alongside wall-hanging pieces in graphite and colored pencil. Her room-sized floating drawing crosses beyond peripheral vision by oscillating between 3-D space and 2-D imagery. The show reflects upon drawing as a noun, through organic optical illusions of varying hues; while as a verb, it performs the line in its physical objecthood. Exercises on spatial phenomenon, however, succumb to high craft; wanting to enter into Lindberg's "Parallels" series, one feels nervously detached. While a rich feast for the gazing eye, the show fails to inspire an affective reaction beyond optical illusion.
– Elçin Marasli
8. ROLU
"Everything is Always Changing
All of the Time"
Volume Gallery
September 7 – October 13
Experience a strong case for allowing functional objects into the realm of "capital A" Art. Volume Gallery presents pigment-filled drawers made for storing secrets, suspended walls that direct gallery traffic, benches-cum-sculptures and a mirrored table for reflection (pun intended). All are surprisingly inviting despite their unfinished, minimal appearance. Maybe it's because the materials — including raw wood and tarp — are tactile and familiar, or because interaction is implied by the works' utilitarian characteristics. This must be the advantage of exhibiting "capital D" Design: concept and use are indistinguishable, thus empowering the objects to do the work of initiating a dialog with the viewer. No explanatory gallery text needed.
– Katherine Waddell