Justin Long continues the tradition of Chicago House music
DJ, artist and Chicago native Justin Long, not to be confused with the actor of the same name, has been at the forefront of the Chicago House music scene since its proliferation in the late 1980s. The Chicago House style is one that is quite unique to the genre. There's a rawness specific to its sound which stems from the use of drum machines and a strong "do-it-yourself" aesthetic. Pulling a strong influence from Disco, early techno such as Kraftwerk, italo and Post Punk, Justin found himself enthralled by this newly emerging musical art form. He developed a lifelong obsession with collaging sounds from two records together. When Long was getting his start, the city of Chicago was a hotbed of racism and gang-related violence, and for him, making music was a way of escaping the grittiness of the city.
"During that time," Long says, "I was often occupied with feelings of confusion and insecurity, and it was the music that provided rapture."
Long, a veteran DJ of 22 years, has developed a practice of exclusively spinning vinyl records. According to him, not only is the sound quality better, but he also enjoys the physicality of the vinyl and the challenge of being limited by the amount of music he is able to draw from when performing. In an increasingly digital age, as with many art forms, there is a separation between the analog and someone who steps in front of a crowd and hits play on their iPad.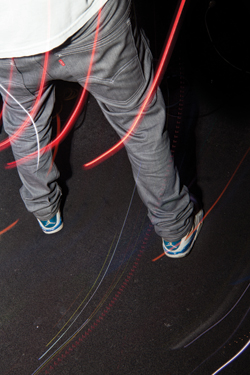 I was often occupied with feelings of confusion and insecurity, and it was the music that provided rapture.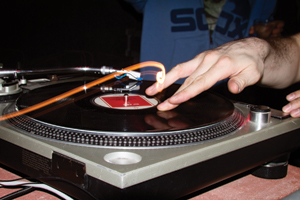 After years of perfecting his craft, Long is now the longest running resident DJ – 11 years this July – with his monthly "Dotbleep" party every third Saturday at one of Chicago's foremost nightclubs, Smartbar. "After all this time there is an excitement in creating something new every night. You put yourself into it and give a piece of yourself to the crowd and become a singular interlocked organism. … It's like creating a full conversation with someone using only a limited vocabulary."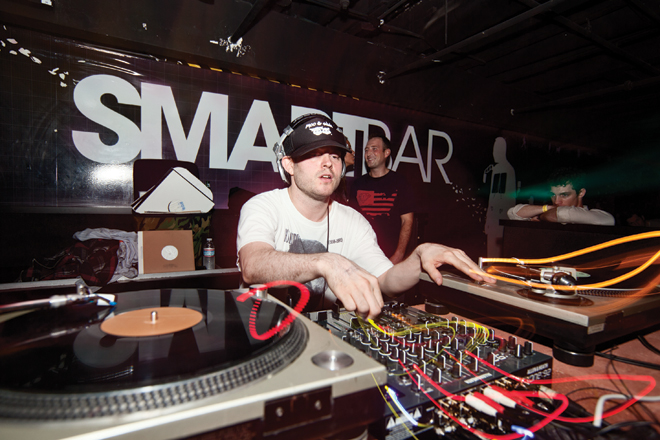 Long's journey as an artist has progressed past the realm of just turntables, needles and vinyl. He now attends the School of The Art Institute of Chicago and is heavily invested in his studies in the Painting and Drawing department. Long recounts the beginning of his lasting interests in art and music with regard to the visual elements of alternative culture: "As maturity began to override my body, skateboard culture, punk rock music, comic books and weekly outings to Medusa's [a teenage, long lost, all-ages dance club on School and Sheffield] would become the centers of curiosity. It was these elements that provided me with the spectacles to see through the garbage that oozes out of the pores of commercial popular culture and molded my visual interest." Trips to museums, Saturday morning cartoons, his mom's Conan the Barbarian comics and coloring books laid the foundation for not only his musical creations, but his visual language as well.