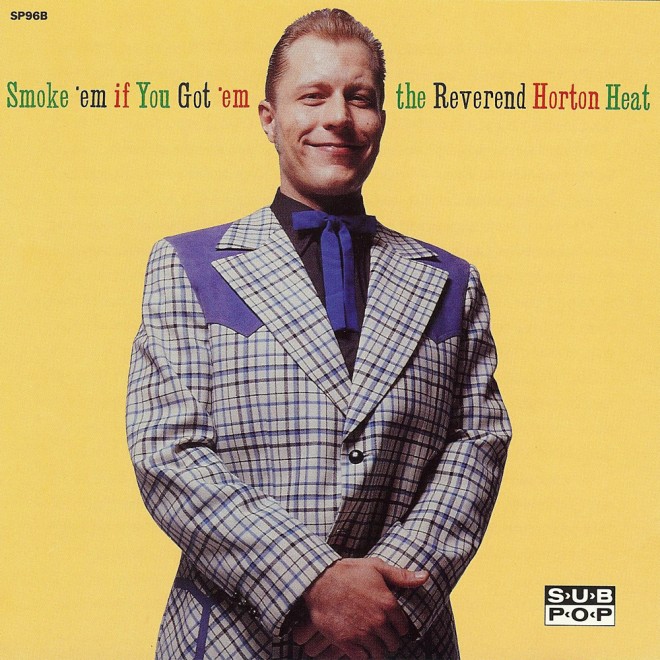 Would you buy a car from this man?  What about life insurance?  Snake oil?
All seem viable options with a suit and smile like those.  That greasy salesman on the cover is Jim Heath, otherwise known as the Reverend Horton Heat, whose album Smoke 'Em If You Got 'Em, combines the things that the psychobilly genre blends best: genuine skill and craftsmanship & a twisted sense of humor.
In terms of showcasing their prowess, this album's star track, the genre-defining "Psychobilly Freakout", takes the cake.  But the rest of this album is littered with amazingly high-quality instrumental tracks the strange twist on "Apache" that is "Marijuana" to the blazing intro track "Bullet", which tones down the "freakout" level just slightly, to let through a little more of the songwriting.  Heath's intermittent wail in the latter falls perfectly in place during the song's breaks.  This is the part of the band's pitch where a "random" member of the audience offers their unsolicited testimonials.
"Bad Reputation" catches the band at an early moment where their true sleaze level boils up to the surface, above all the guitar solos and technical expertise.  The track itself is a decent, catchy tune, about a topic that isn't uncommon to contemporary music: ill-fated love.  Of course, the Reverend's got his punchline, and it's a fairly raunchy one.  About a minute and a half through the song, you hear him say (extra clearly), "You're the kind of girl I'd like to eat."  It's a line that takes you by surprise the first time you're listening, and one that sets the tone for later, even more irreverent tracks like "Big Dwarf Rodeo" and "Eat Steak".
I've narrowed it down to either the plaid or the smile.  The placket is tacky (and even more tacky that it matches the ribbon of his tie), but it's not sleazy as much as it's just out of fashion.  The yellow background is a little tasteless, but not enough to discredit anyone.  The hair is a bit greasy, but not even close to the sopping-wet comb-overs I've seen before.
Now, the plaid suit jacket — that's like putting wallpaper on the outside of your house instead of the inside.  And the smile is perfect for the record.  It's hard to listen through any of the tracks from this album without imagining the good Reverend constantly smirking out of the corners of his mouth.
Artist: Reverend Horton Heat
Album: Smoke 'Em If You Got 'Em
Year: 1990
Tracklist & Review (Allmusic)
For more album art reviews, visit Probably Just Hungry.