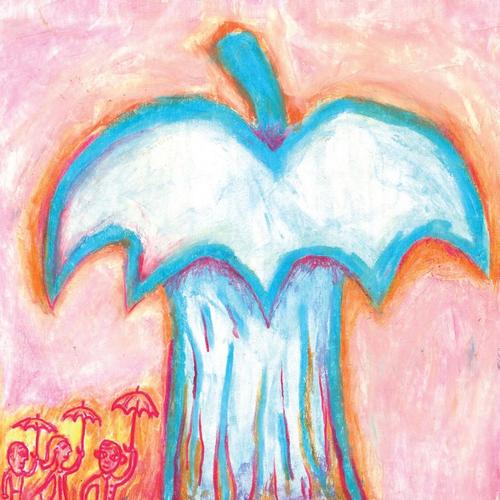 "Kidsploitation" sounds like something that could get you shivved in the big house, but sonically speaking, it's not an uncommon practice in our times.  From bubblegum pop to the latest volume of "Kidz Bop" adaptations, attempting to see the world through childrens' eyes has become a multi-million dollar business.
On Apple O, Deerhoof follows the same type of gimmick, attempting to morph the jagged sound of early '00s indie towards a sweetness that only youth can embody.  Their efforts, however, are substantially more bizarre, switching back and forth constantly between sugary melodies and palpable chaos.  In the artwork, we see the traditional look of a preschool painting, bleeding with watercolors and idiosyncratic figures, which, when put against the music itself, brings the classic strangeness of your standard "on the fridge" drawing to life.
Though they mesh together almost seamlessly, the biggest assets in Deerhoof's arsenal are opposing forces.  Satomi Matsuzaki provides lead vocals, tinged both with childlike simplicity and a thick Japanese accent, while Greg Saunier drums in his signature style — complex, brash and off-kilter.  You can hear the differences start to settle in the stew of "Flower", which features Matsuzaki singing a mixture of English and Japanese phrases over and over again, while Saunier's drumming rolls and fills between jabbing guitar lines.
Although recalling childhood through song often hooks the listener in with nostalgia, its ultimate downfall lies in the fact that we just aren't children anymore.  These repetitive, nonsensical vocal and musical phrases, which entertained us endless in youth, can often get kind of boring and/or annoying (see early Animal Collective).  If the title wasn't enough of a hint, "Panda Panda Panda" comes bearing some of these stigmas.  The song takes a handful of syllables and four notes, and blasts them through your brain for 2 1/2 minutes, hoping to latch onto something.  Usually it does.  I've heard people say that this is song is the closest you'll ever get to a glimpse into the mind of an infant, and I would believe them.  To become wholly enchanted by an animal and representing it with inane repetition is right up there with representing a banal object like an apple core with the flat brilliance of pastels.
Albums like Apple O can potentially embody a lifetime's worth of rewarding listens, if anything because it taps into a vein that nearly everyone had in common at one point or another — the pure innocence of childlike wonder.  The dangers of channeling your artistic practice through such a medium are apparent, if anything through numbers like "Panda Panda Panda," but the success of the work often trumps all complications.  Like finding an old fridge painting in a dusty attic shoebox.
Artist: Deerhoof
Album: Apple O
Year: 2003
Tracklist & Review (Allmusic)
For more album art reviews, visit Probably Just Hungry.