I have a love/hate relationship with blogs. I've had a couple (I've finally embraced Tumblr, whose functions like" reblogging" allow lazier bloggers like myself to enjoy blogging without having to make a career out of it) and I have a pretty substantive blog roll that I check throughout the week. But I really hate shitty blogs, and I loathe that they severely outweigh blogs with interesting content. My interest in blogs re-piqued upon beginning my thesis, which initially was going to be about lambasting fashion blogs as the germination of contemporary fashion critics, but, through my research, developed a softer side for blogs that were done really well. This has ultimately re-shaped itself into a new exploration of how bloggers can really make an impact on fashion criticism, or just commentary on sartorialism, in general (in case you were wondering: they can, they just have to be really freaking good).
We're busy people, we don't have time for shit blogs. Check out this list of fashun blogz that are definitely worth your time:
Leandra Medine is the genius behind both this blog and a new critique of fashion that judges styling based on its ability to repel men. What is a man repeller, you ask? According to Medine it is: (n) "outfitting oneself in a sartorially offensive way that will result in repelling members of the opposite sex. Such garments include but are not limited to harem pants, boyfriend jeans, overalls (see: human repelling), shoulder pads, full length jumpsuits, jewelry that resembles violent weaponry and clogs." Saying things like, "puff sleeves make the peen go down," Medine justifies and exhibits eccentric fashion by presenting it all in line with the goal of making men run really far away. Whether she's wearing 27 pieces of denim, or camouflage harem pants with sequins, she always looks pretty fantastic. She also has the capacity to be remarkably offensive: my very favorite quality in a blogger.
I find most personal style blogs to be…"eh (excepting those that comprise this list)." Unless it's the Olsen twins or Medine (all three of which are man repellers, actually) my interest wanes pretty quickly. But then I found What Katie Wore, a daily blog about the hyper-eccentric style of Katie, photographed and commented on by her husband, Joe. They're British and lovely and it's hard to imagine that Katie could have such an endless array of colored and patterned pieces in her closet. But, oh, she does.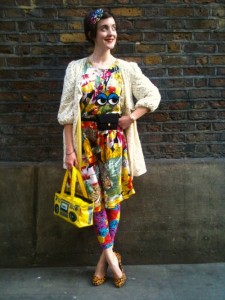 Old people…they're crazy. Especially the sartorial ones. They walk around all day in magical costumes plastered with various patterns and dripping in bangles, hats, and oversized sunglasses. Here, three astute photographers with an eye for gold travel the streets scoping out what I consider the most inspired style niche in the world (YES. The World.). I'm currently archiving every image for inspiration for when I'm 65+, as all I want is to grow up to be Iris Apfel.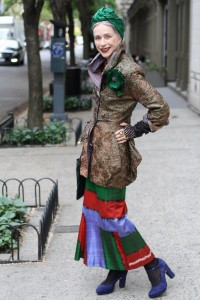 I have a big old girl crush on Audrey Rogers, a USA born fashion blogger who grew up in Europe. She blogs from Paris, where she also shops for the vintage boutique she has attached to her site — everything of which is under 25£ and available for international shipping. I love her irreverent photography, playful proprotions and witty approach to style. Plus she has the mouth of a truck driver, chain smokes, and lives on red wine: a girl after my own heart.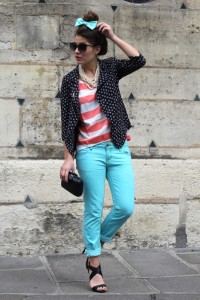 *each image is credited to its respective website.