This past weekend, Brandon and I had the distinct pleasure of attending the opening night performance of Noble Fool Theatrical's "It's A Wonderful Life: A Live Radio Play" at Pheasant Run Resort in St. Charles, IL.
For those of you who've not heard of this particular production, it works exactly as it sounds: "A Prairie Home Companion" meets the holiday classic "It's A Wonderful Life," with the production centered around watching the crew of a local Chicago radio company doing a "live radio performance" of the film in 1946, complete with incredible sound effects (orchestrated brilliantly by the show's stage manager, Charlie Howard, played by the delightful Jack Sweeney). Under Rachel Rockwell's award-winning direction, this heartwarming production puts a fresh spin on the iconic film.
Dev Kennedy plays surly (but lovable) Freddie Filmore, the radio show's crochety director who executes multiple roles throughout the evening's performance, include George Bailey's arch nemesis, the greedy banker Henry F. Potter. George Keating is spot-on in the role of Jake Laurents, who plays George Bailey in the radio show. Keating's characterization of Bailey is impeccable, simultaneously reinventing the role, while also paying a heartwarming homage to the show's iconic and timeless protagonist.  The two ladies of the cast, Jessie Fisher (Lana Sherwood) and Anna Hammonds (Sally Applewhite, and George Bailey's wife, Mary) both have gorgeous voices, and imbue the production with seduction and sweetness, respectively, exuding a welcome sense of warmth in this primarily male cast.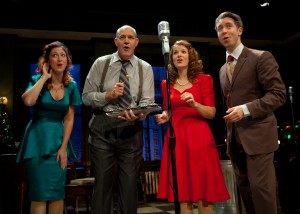 Other than its "live" facade, this production differs from the original in its inclusion of a children's cast,  who simultaneously play a children's choir brought on to sing on the radio show, as well as the roles of  George and Mary's children. Hilarious is the schtick between Howard (Sweeney) and his nephew,  Stanley Howard (Stirling Joyner), who is constantly disrupting Howard's meticulous execution of the show's many sound effects.  The duo bring welcome comic relief to a story that often welcomes such a reprieve, and Sweeney is a joy to watch as the stressed-out stage manager who has been forced to play the role of George Bailey's  brother, Harry (much to his chagrin), after one of the radio show's actors has a bit too much to drink.
The set, designed by Kevin Depinet, is a charming rendition of a 1940s office decked out for the holidays, and Brenda Winstead's sharply styled period costumes perfectly punctuate the show's magical world.
All in all, the show is a complete delight, and a wonderful success. Not only is it well-produced, but who doesn't love a re-telling of "It's A Wonderful Life"    over the holiday seaso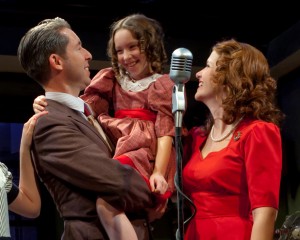 n?
Definitely check it out:
Noble Fool Theatricals at Pheasant Run Resort, 4051 E. Main St., St. Charles, IL. For tickets, call the  Pheasant Run box office at 630.584.6342. The show runs through December 26, with no performances  on December 25.
Images: Noble Fool Theatricals
–Amanda Aldinger