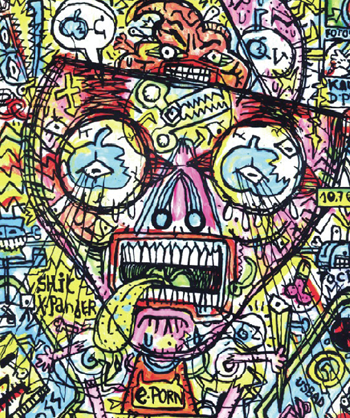 Le Dernier Cri
The Hills Esthetic Center
128 N Campbell Unit 6
Oct. 29 – Nov. 20
Organized with Co-Prosperity Sphere, Reuben Kincaid and the Hills Esthetic Center, this self-proclaimed lascivious exhibition of prints produced by the Marseilles-based Le Dernier Cri publishing house promises to be awesome! Included artists are described as schizophrenic, paranoid, and freakish, and their works include "extreme, grotesque and scatological subject matter." Just in time for Halloween!
Curtis Mann: everything after
Kavi Gupta Gallery
835 W Washington
Oct. 23 – Dec. 4
This is Chicago-based Mann's first solo show since being chosen to participate in the 2010 Whitney Biennial. Not quite sure why that's such a big deal, since that wasn't so long ago, but the Kavi Gupta press people seem to think it's significant. Regardless, Mann is one of Chicago's finest, and it's always worthwhile to give his photos a perusal. His images, manipulated with varnish, bleach, and paint, dramatically alter the source material (lately, images of conflict zones) to create dreamy, surrealistic worlds.
Chicago-Scope: The Films of Tom Palazzolo
Art Institute of Chicago
111 S Michigan
Nov. 4 – Jan. 9
SAIC dual degree student Kelly Shindler (MA '11) curated this museum exhibition of SAIC alum Tom Palazzolo's experimental films. The four films range in date from 1967 to 1976 and explore uniquely Chicago subject matter with diverse filmic techniques.
Polish Film Festival
Various locations
www.pffamerica.com
Nov. 5-21
The press release promises that this is the largest annual Polish cultural event in the world (except for those that actually happen in Poland, of course). The 22nd iteration includes a bevy of films ranging from costume dramas to thrillers and moody art films from 2009 and 2010, as well as a series of documentaries, a mini program of films devoted to Chopin, and of course, a short program of animations, a genre in which Poles have historically excelled.