Paying tribute to the folks at SAIC who produce visual and sonic art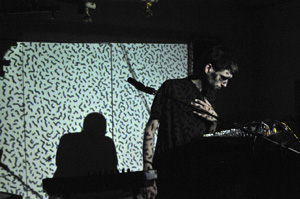 This month we speak with with Elon M Katz, a senior in the Sound Department. Katz performs with White Car and Streetwalker at local venues and non-commercial art spaces in Chicago. White Car has also played in L.A., San Francisco, New York City, Detroit and Baltimore.
Brandon Kosters: What was your inspiration to start producing sound art and music?
Elon M Katz: When I was very young, I used to record songs and stories on this SONY tape deck that had a built-in microphone — this was my real first experience with audio and sound as a medium. I have been playing and studying music since I was six or seven. I took my first lessons from this frail Francophile woman. I didn't like how her home smelled. Her skin was like worn leather and my enemy (who later became one of my best friends and band mate) took lessons right before me.
It was not my ideal situation. I really wanted to play drums, but my resources were slim and I was too obsessed with basketball at the time to really care. I rented an electric bass when I was 11 and eventually bought it, then I got a guitar when I was 13 and some drums when I was 14. I took lessons on all of them and played the bass in street punk and art metal bands in middle and high school.  
I have been recording music solo since I was 14 and making electronic music since I was 15. There was never one initial inspiration to make work. That is my life and always has been; I have always been investigating and creating music and art.
BK: For you, is there a distinction to be made between music and sound art? Where do they differ, and where are they the same?
EMK: Sound art is a confusing term because music is clearly art, but we are never going to refer to a rock song as "sound art." "Sound art" or "sonic art" most often describes sound or audio work that is concerned with conceptual art, rather than traditional western compositional techniques or commercial pop music. "Experimental music" might be considered the marriage of these two strains of thought — compositional concerns tied into ideas of intention, content, process, material and aesthetics.
My interest in "sound art" is pretty nil; I find a lot of it to be just straight lazy. A good idea that sounds horrible. I personally like music that can be felt viscerally, and draws on clear reference as much as it can be contemplated and dissected.
BK: What or who inspires you?
EMK: Electronic Body Music and The Memphis Group.
BK: What projects are you involved with, and how are you involved with each?
EMK: My main project is called White Car. I have described it as Industrial Space Funk. It is mainly informed by seminal electronic dance music of the '80s, like EBM, Chicago House, Detroit Techno, Wax Trax, New Beat, etc. … I also work with my friend Beau Wanzer on a similar project called Streetwalker. One unique difference between the two projects is that White Car is composed via the recording process and computer interface, and Streetwalker is composed and played on limited pieces of gear in real time — in performance, there are no playback systems involved in Streetwalker, whereas White Car's sound would be nearly impossible without them.
BK: What are you working with in terms of equipment?
EMK: Right now my home studio is my bedroom, and I live in the living room space of my apartment. I have a 16 channel mixer, monitors, a midi interface and an eight-input sound card. I use vintage synths and drum machines, mostly stuff that predates 1995.
Vintage gear is really unique, each piece had its own character and life, it feels full of history — the object itself, and its cultural enigma as an instrument and a tool. Vintage digital synths and samplers were often employed to "replace" or imitate acoustic instruments, but were never successful in doing so. They just sound like themselves — a wonky electric piano, a flat digital saxophone, a hilarious string pad — this failure ultimately sounds really appealing to me and displays such a beautifully rudimentary version of our culture's obsession with virtual reality.
BK: Do you produce visual work as well? If so, what? What are your thoughts about the interplay of sound and imagery, and what does this mean to you, in terms of your artistic practice?
EMK: I make some visual work. I loved to paint and draw all throughout my childhood and I came to art school very much wanting to study painting, but SAIC has turned me off of pursuing or making visual art for the time being. I do not have the discipline or resources to create the kind of visual work that would really stimulate me and other people, so I gave it up. The visual world is very important to me though, and just because I don't make visual art right now does not mean I will not be inspired to do so in the future; I just don't have any ideas right now. In terms of their interplay, I think the fundamentals that make any work interesting to me are often the same, so yes, there is cross- over between the aural and the visual world.
BK: What are the differences between constructing work in the studio and constructing work in real time in front of an audience?
EMK: White Car is ultimately a recording project. Streetwalker is a live project, but I use the same instruments in both projects.  My instrument is the studio; I am not a classically-trained musician and I don't really care about musicianship, so playing the keyboard like an amazing jazz man is not my concern at the moment — I've got midi programming for that! When I first started recording a lot of solo music, I was very intrigued by the idea of recorded sound capturing a unique moment in time, and with overdubbing and multi-tracking I saw a plethora of possibilities in creating something unique from layers of documented moments.
White Car played our first show because someone asked us, and people have been asking us ever since. I haven't gotten it to the place I'd like to see it in yet and I think it could take some time, as I would need a lot more resources and synth nerds and time. Playing live has become a way of getting inside the songs with other people; my recording process is hermetic, so the live show can be reassuring that I am not yelling in the dark or simply playing with myself at home.
BK: Five favorite albums?
EMK: Ten albums I REALLY like, I don't play favorites …
Vangelis – Opera Sauvage
Cock Sparrer – Shock Troops
Autechre – LP5
Cabaret Voltaire – Code
Controlled Bleeding – Music for Guilded Chambers
Skinny Puppy – Remission
D.A.F – First Step to Heaven
D'Angelo – Brown Sugar
Pere Ubu – The Modern Dance
Colin Newman – A-Z
BK: What are things you try to avoid in your work?
EMK: A few things I try to avoid: being vague, naive, over confident, literal, humorless, derivative, boring, lazy, too bright and bouncy.
BK: If you had to summarize your entire practice in two or three sentences, what would you say?
EMK: I am a prisoner of the Techno Dungeon, a slave to the sync, lashed by the beat.