Fashion designer Carmen Marc Valvo talks with F about being a non-traditional coutourier, and his sartorial role in colon cancer awareness.
By Amanda Aldinger
Photos by Jack Sweeney
Fashion Designer Carmen Marc Valvo recently showed a collection of his here in Chicago, at a fundraiser for the Joffrey Ballet. Traveling all over the country for his various philanthropic efforts, the ballet isn't the only thing on Valvo's mind.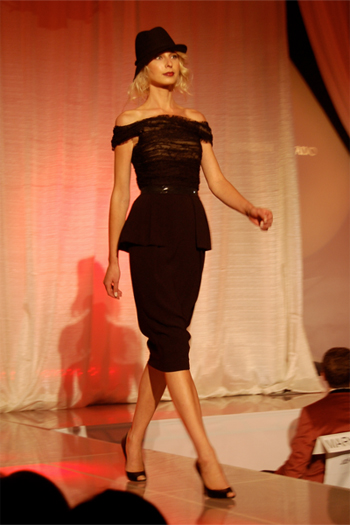 AA: Are the designs we're going to see tonight from your spring collection?
CMV: No. What we're showing tonight is actually from the fall holiday collection. Some of [the looks] are in stores now, and others will be coming in the next couple of months.
AA: You haven't been showing at New York Fashion Week since 2008, so where did you show this collection?
CMV: We started in smaller venues, probably — I think you're right, it was in 2008…
AA: You went to Citrine, first…
CMV: We went to Citrine first, and after Citrine we discovered NASDAQ, and that's been a lot of fun. When the banking industry went into turmoil and took half the world with it, and then the tidal wave went into Europe, I just didn't think the timing for a large presentation for fashion was appropriate.
AA: You and a lot of people.
CMV: It was a little insensitive I think. And that's why we did Citrine, but I didn't like that format at all. Some of the buyers liked it, and the press liked it because you were able to have a conversation with the designer, and you could touch the clothes, could touch the model — you could actually see something. But there's something about the drama and the excitement of a fashion show — the music, and the impending spectacle, that I kind of missed.
AA: So do you plan on going back to the tents?
CMV: I don't know. We're doing NASDAQ now, and we need a larger venue, let's put it that way. Citrine was too small. With NASDAQ we did a faux fashion show, we called it. We videotaped the fashion show two weeks in advance, had a cocktail party with informal modeling, and basically there were three showings within the course of the three hours. We also had the entire pre-recorded show run on the jumbo-trons during the presentation. We were in Times Square and we had eleven jumbo-trons — it was amazing.
AA: It sounds amazing. After taking over Times Square, what did you do next?
CMV: The next year we decided that an informal show with three showings didn't work. It was like a big cocktail party and no one really cared — they were just getting drunk, to be honest. So we did a sit-down show the next time, and we just had an image. We did the jumbo-trons, but not the fashion show, just the imagery. This year was crazy because we actually did a live show. So while the people were watching the show, the girls were simultaneously broadcast onto Times Square, onto the jumbo-trons, onto Reuters, onto NASDAQ, a well as a live feed to Facebook and my website. It went international.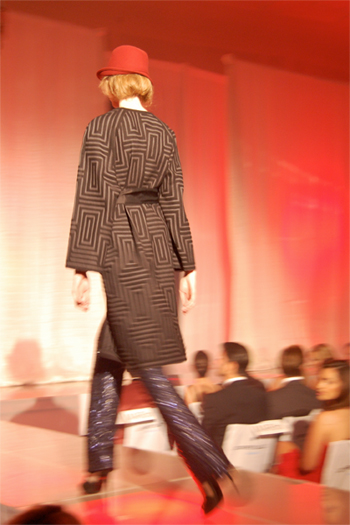 AA: I want to talk to you about your being a "couture" designer. Many people say that true, traditional couture doesn't exist in the United States, and therefore, that there are no American coutouriers — save Ralph Rucci. Why do you define yourself as a couturier?
CMV: It's not untrue. The true sense of couture, or French couture, is "made to measure." So, we do couture products, and so does Ralph Rucci, where you have a client and you actually make something specifically to their body measurements. But it's generally conceived that couture lines entail a lot of handwork, higher and more expensive fabrication, are a lot more labor intensive, and therefore fewer items are produced. There is a certain clout, or certain inaccessibility, setting it apart from ready-to-wear. It's difficult because real French couture is in the Syndicale Francais, which you need to hire something like 25 patternmakers, you have to have "x" amount of seamstresses, and each garment has to take around 125 hours of hand labor.
AA: And the Syndicale just recently dropped the amount of garments you have to produce in each collection.
CMV: Yes, so you know what I'm talking about. Therefore, that allows you to be a couture house and to show in Paris. In the U.S., I say if you have a penny, a pair of scissors, and an idea you can show. I mean, anyone can show. There's no criteria as to how many pieces, where you show, or your educational background or ability. I don't know if that's a good thing or a bad thing. I think there should be stronger control to that, other than the CFDA, which, unfortunately, I don't think has enough control. This last fashion week, every hour there were a minimum of 4, if not 5, people showing at the same time. So how do you decide what to see?
AA: It's been worse since they started to do these presentations, because now they're spreading out everything and you've got people who aren't showing, and that's a whole separate issue. Now, your collections aren't even shown on Style.com
CMV: No, someone took us off of Style.com a couple years ago and we don't know why. We haven't figured out why we're not on there. I don't know if we antagonized someone, or I really don't know how that process works. It's so funny, I've been doing this for so many years, and people say, "You're not on Style.com," and I say, "I really don't care." Something happened, there's some bad blood somewhere I think to be honest.
AA: I'm interested in your work with colon cancer. Do you feel that in luxury industries, like fashion, that there is a responsibility to give back? Do you separate your philanthropy from your design work, or do you use the one to influence the other?
CMV: All of the above. I think the fashion industry as a whole is a very philanthropic group. The CFDA [Council of Fashion Designers of America] has been involved through Saks primarily, with Susan B. Komen, and it's something that members of the CFDA have been involved with for at least fifteen years. I remember meeting Carolina Herrera for the first time in Boston because people from Saks flew many designers from all over the country to support women's breast concerns.
I think that it is part of the fiber of what a fashion designer is, and who they are in giving back. For me, I was always involved with it, and then when I had my own bout with cancer, which I think was about 7 years ago, I was like, "You know what? We need to do more of it." So I think it was the impetus for me to become more and more involved.
I say it all the time, and I do use fashion as a platform to bring awareness to colon cancer, but not only colon cancer. I try to make it fashionable to talk about it. And that's the whole point. I've used my minor celebrity, and the fact that I'm a fashion designer, to give it a certain glamour aspect that it normally would not.
AA: Did your battle with cancer affect your design process at all?
CMV: Two things did happen. You go through the whole roller coaster of emotions obviously. You're alive, you're dead, you're going to live, it's okay, it's not okay, sorry, you have seventeen spots, what does that mean? So you kind of separate yourself from people who aren't necessary, in a sense. You don't want any anger around you, and you separate yourself from that negativity. You just want to look at things very positively. I loved my garden, and so I built a whole new garden on my property, and that was part of my healing process. For me, that next collection was an ode to my garden. There were no program notes, and everyone was like, "What the hell is this?" And I thought, "This makes sense." Everyone was riding me on it, and I forgot about it, but when I came back and thought about it, it was all about the garden of good and evil and temptation and snakes, and life and death, and it was all imagery that was very subliminal. It was interesting, a very interesting thing. But my design, after that, did not change. Except, I don't care what they say any longer, if they criticize it, if they love or hate the collection. I don't do it for anyone but me.