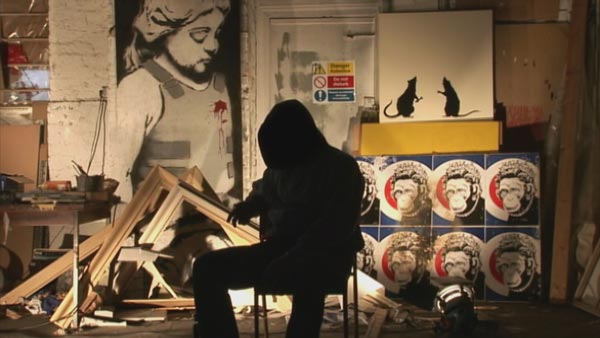 Film Review by Alli Berry
Banksy is the elusive, yet familiar British graffiti artist, best known for his playful political statements. A street-art pioneer, Banksy's work was first seen in the late 1980s. In his new documentary, Exit Through the Gift Shop, we meet Thierry Guetta, a Frenchman who carries a video camera at all times. Through family connections, Guetta finds himself a witness to the street art scene at its early beginnings.
A large portion of the documentary consists of Guetta's raw footage as he encounters well-known members of the street art scene, both in France and abroad. Famous names like Space Invader, Monsieur Andre, Neckface, Swoon, Ron English, Shepard Fairey, and eventually Banksy.
The film takes a turn when Guetta tries to emulate the world he has become immersed in. He adopts a new name ("Mister Brainwash") and puts the camera aside—passing all his footage on to Banksy. Eventually, Guetta decides to stage a gallery exhibition of his "art" and calls the show "Life Is Beautful."
The result is a multi-million dollar mash-up of Andy Warhol, street art, and celebrity endorsed hype. "I'm playing chess. I don't know how to play chess, but life is a chess game." Guetta compares himself to Damien Hirst, claiming that, as an artist, he doesn't need to make any art—only have a vision. He commissions hundreds of talented designers, sculptors, and managers to fill an entire warehouse with bright colors and pop-art appropriation. "It's a triumph, I will go down to history, I'm glad my friends turned me onto this," says Guetta.
Though it is dubbed a "Banksy Film" the hooded artist is rarely seen. When he realizes the "monster" he's created, he severs all ties with Guetta. "I don't know who the joke's on," says Banksy. A disclaimer even appeared as the credits began to roll, Banksy will never again help anyone make a film about street art.
Overall, the film brings to question the nature of street art—and the repercussions of replicating it in a gallery setting. It hints that the radical intention of graffiti in the late 80s has potentially evolved into another pop culture commodity, and Guetta exemplifies this. Banksy says, "It's not about the hype, it's not about the money." But Guetta's success says otherwise.
Perhaps the documentary is all one big con, perhaps it's meant to question the nature of artistic success, and perhaps it does none of these things. Regardless, it substantiates a very ephemeral, subversive craft—its greatest moments are in the first half, the rare live footage of the artists at work on the streets. It's as Banksy says in the opening interview, "It's not Gone With the Wind, but there's a moral in there somewhere."
Exit Through the Gift Shop premiered at the Sundance Film Festival in January 2010. It is now playing in Chicago at the Landmark Century Theater.