Brandon Kosters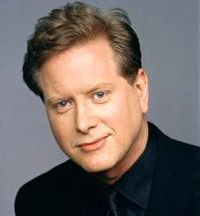 He wasn't just America's premiere Bill Clinton impersonator.
He also did a pretty good Sean Connery.
But beyond the countless celebrity impersonations he's done on Saturday Night Live, Darrell Hammond is also an accomplished stand-up who gets his kicks touring nowadays. You can catch him at the Improv in Schaumburg this weekend.
I had the pleasure of speaking with Mr. Hammond this morning. While he says the is thankful to have had "the great experience to be associated with a lot of talented, great people," the SNL gig wasn't all shits and giggles.
"I felt a lot of anxiety all the time," Hammond said. "Live TV, you only get it to do it one time. There's always that drama. You're on the air only having tried something once, during the dress rehearsal. There were nights that I'd go home feeling like I'd disgraced myself, thinking 'if I'd had a few more hours to prepare'…"
However nerve racking the experiences may have been, you'd be hard pressed to challenge Hammond's stamina. He was an official Saturday Night Live cast member from 1995 until 2009. He's made 6 appearances on the show since leaving the cast. He's also appeared on episodes of Law and Order and Damages, and in a number of feature length films including Epic Movie and Secret Agent Cody Banks.
For up and comers, he says "try to make small improvements each week. By the end of the year, you've made 52 improvements. Think of your career as a marathon rather than a sprint."
While he's entertained the idea of doing more stage work, perhaps a Broadway play, for now he's content doing stand-up. "I'm feeling a lot of gratitude."
April 16th – 17th
The Improv
5 Woodfield Rd., Schaumburg IL 60173 (inside the Woodfield Mall).
Showtimes: Fri. 8:00PM & 10:15PM / Sat. 7:00PM & 9:15PM Tickets: $32.00