Reviews by Ania Szremski and Brandon Kosters
DISENGAGEMENT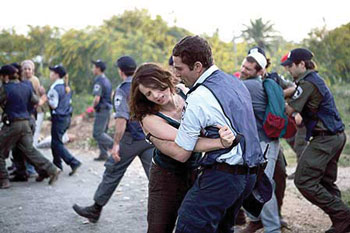 (Directed by Amos Gitai. France/Israel, 2007)
With dialogue in English, French and Hebrew, this film addresses the complexity of national identity as it pertains to geopolitics. Ana (played by Juliette Binoche) learns that the daughter she was forced to abandon in her youth is working as a teacher in Israel. The will of Ana's recently deceased father stipulates that for her daughter to receive her inheritance, Ana must travel to Israel to personally speak with her.
With the assistance of her stepbrother Uli (played by Liron Levo) who works for the Israeli police force, Ana meets her daughter during the evacuation of Israeli settlers in the Gaza Strip. Gitai makes effective use of sustained silent shots, and gives us a glimpse into the macro using the micro, with the issues in the Middle East set as a backdrop for the stories of Ana's personal struggles.Actress Jeanne Moreau, star of Truffaut's "Jules and Jim" (1962), plays a noteable cameo.
—BK
DOGTOOTH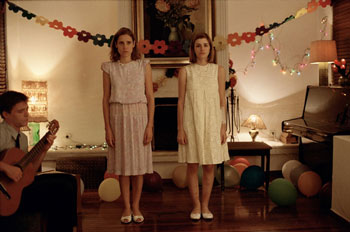 (Directed by Yorgos Lanthimos. Greece, 2009)
Released in Greece as "Kynodontas," "Dogtooth" won the Prix Un Certain Regard at the 2009 Cannes Film Festival, and proved to be a success among viewing audiences at the Siskel. In this film, three adolescents are unknowingly held captive in their own home by their ambiguously intentioned father. The children are told that if they leave their front yard, they will be torn apart by house-cats. There is only one working telephone in the house that only the parents use, and the children are told that "telephone" means saltshaker, lest they catch on.
The father asserts that only when a child loses either the left or right incisor (known as dogteeth), is he or she ready to go out into the world alone. The dysfunctional family is represented in a unique way that is neither morally overbearing nor overly polite to the viewer. Lanthimos has also managed to successfully alternate between zany slapstick and profoundly disturbing violence.It may not bear repeated viewings, but I definitely recommend seeing it once.
—BK
HELSINKI, FOREVER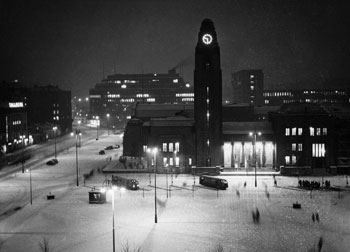 (Directed by Peter von Bagh. Finland, 2008)
"Helsinki, Forever" is a filmic love letter to Finland's capital constructed entirely out of found footage by renowned director, writer, archivist and film curator Peter von Bagh.
Film critic Jonathan Rosenbaum was on hand at the March 24 screening to emphasize the fact that this was a rare treat. "Helsinki" has been largely excluded from the film festival circuit (mainly, according to Rosenbaum, due to the fact that Helsinki doesn't have quite the sex appeal of, say, Berlin or Paris).
It will also probably never be released on DVD, given the enormous difficulty of obtaining the reproduction rights for each of the source materials used by the director. The film was included in the Siskel's line-up thanks to Rosenbaum himself, who had received a copy in the mail from von Bagh. Even without the glamour surrounding the knowledge that one was getting the chance to view something that most other people might never see, the film would have still been a pleasure to watch. Clips culled from documentaries, travelogues, film noir and contemporary fiction films were juxtaposed with paintings and quotations from literary sources.
Drifting back and forth between past and present Helsinki, the film created a poetic, dream-like and loving portrait of both the city itself and Finland's own history of film. A certain investment in attentiveness must be made, but the beautiful and melancholic portrayal of a city that is always permeated by its past is well worth the price.
—AS
THE MISFORTUNATES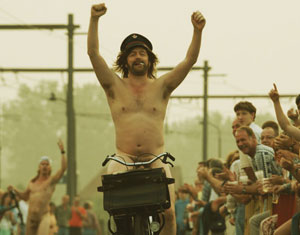 (Directed by Felix Van Groeningen. Belgium, 2009)
In many ways, this comedy (perhaps tragic-comedy?) was an entire universe apart from the meditative quietness of "Helsinki Forever." Felix Van Groeningen's film is unapologetically and even hyperbolically raunchy, bawdy and lewd. It is an unflinching depiction of the intertwined lives of four larger-than-life alcoholic (and extremely hairy) brothers and the protagonist, Guenther, the teenage son of the heaviest drinker of the clan.
Amazingly, these baroque buffoons have real-life antecedents — the film is based on a semi-autobiographical novel by Dimitri Verhulst. And the film is really about the writing of that novel, tracing the beginnings of 13-year-old Guenther's interest in writing as born out of his troubled environment, and then jumping ahead to adult Guenther's struggles trying to get published as he juggles an unwanted girlfriend with an unwanted pregnancy.
There are quiet, melancholic moments in the film as the adult protagonist reflects on his childhood and the small village where he grew up that are, somehow, almost reminiscent of "Helsinki, Forever" — both films deal with nostalgic evocations of a specific urban environment, haunted by memories.
In some ways, this film has many of the sappy ingredients of a traditional coming-of-age tale, complete with unrequited lust, traitorous friends and the apparently required scene of a tortured soul alone in the street screaming into the night (a trope that, in this reviewer's humble opinion, should herewith be permanently banned from the film industry).
Fortunately, Van Groeningen manages to transcend the genre, and in so doing creates an engrossing and moving tale that is equal parts outrageous and hilarious, and sentimental and moving. We can only hope that, unlike "Helsinki, Forever," "The Misfortunates" will enjoy a healthy distribution.
—AS