Alumni Pick up a Brush to Support the Next Generation
By Nicole Nelson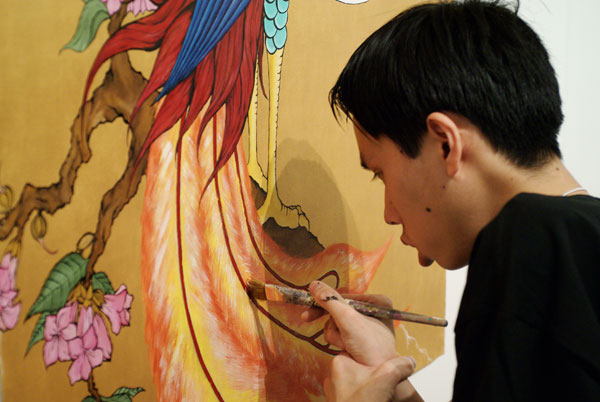 The School of the Art Institute of Chicago will be hosting their 15th annual BareWalls Benefit for Student Scholarship on October 10. Curators, collectors, and art enthusiasts can watch as distinguished SAIC alumni paint live in the School's Sullivan Galleries. These on-the-spot creations, along with donated finished works, will be sold in a silent auction to raise money for the BareWalls Scholarship Fund.
Over 100 SAIC faculty and alumni have been selected by a jury of artists and critics to participate in this year's event. The chosen artists include a mix of age, gender, style, and celebrity. "We want a full representation of amazing work," said Meg Duguid, the BareWalls Coordinator.
Angel Otero has been selected as the 2009 BareWalls Honored Guest Artist. He earned both his BFA (2007) and MFA (2009) from SAIC. This decision in favor of a young new artist demonstrates a shift in policy. Past Honored Guests have been well-established artists like Cynthia Rowley, LeRoy Neiman, and Ed Paschke.
The choice was deliberate. "We decided to celebrate the emerging artist this year," said Duguid. "We felt really comfortable selecting him (Otero) as an emerging artist that will have a long-standing relationship with the art world."
The art world has been more than happy to accept Otero. In 2007, the Union League Club of Chicago presented him with a Member's Choice Award. He sold out in one day at both the International Contemporary Art Fair of Madrid (ARCO) and the Circa Puerto Rico Art Fair this year. Chicago Tribune Magazine named him one of "4 under 40 artists to watch" in April. In addition, his painting "Exquisite" is currently on display as part of the Museum of Contemporary Art's exhibit "Constellations."
Otero credits both the faculty and students at SAIC for inspiring him to incorporate his cultural and family heritage into his art. He will be donating a finished work to be sold in the silent auction.
Angel Otero and other generous alumni directly support the next generation of artists through the sale of their art. All of the pieces sold as a part of the BareWalls event start bidding at $100; pieces by popular and established artists can reach anywhere from $10,000 to $15,000 dollars. The money put towards scholarships has become more critical due to the current economic crisis.
"We're in a recession, there's a not a lot of money going around and everyone is feeling it," noted Duguid, when asked about challenges to making BareWalls a success this year. But despite the economic downturn, nearly $50,000 was raised in 2008 to support SAIC students. Additionally, since it was established in 1999, the endowed BareWalls Scholarship Fund has given aid to over 300 students.
"SAIC has provided me with an environment rich with artistic experimentation, critical examination, and the ability to work alongside fellow artists and faculty," stated Eman Akram Nader, a BareWalls scholarship recipient, on the BareWalls website. "I truly appreciate being among those SAIC students who have the privilege to receive your scholarship."