SAIC students and alumni share stories about their summer breaks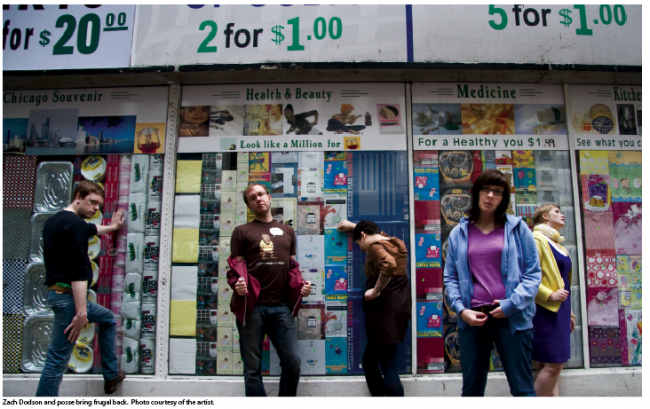 Zach Dodson
This summer, seven featherproof authors packed themselves into a van and hit the road for The Dollar Store Super Summer Tour. Each writer was given an item purchased at a local dollar store (mundane to insane) and five minutes of stage time to tell a story that involved the item as directly or obliquely as the performer wished. After all was said and done, we covered 5153 miles, 59 dollar store items, 28 guest readers, 14 days, 11 cities and uncountable bottles of whiskey. Here's one thing that happened in each city:
Nashville: We went to a real live honky tonk and met an Abraham Lincoln impersonator.
Austin: We ate at a roadside BBQ that proudly displayed the Republic of Texas declaration of Independence.
Houston: We drank absinthe and argued about the Kool Aid man at a birthday party for bicycles.
New Orleans: We drove around the 9th Ward in the rain. It was heavy.
Atlanta: We destroyed multiple copies of Blake's book, Scorch Atlas, in the street.
Baltimore: Mary hung from a trapeze and plucked a dollar out of the air with her teeth.
New York: We read in a burlesque theater and Aaron took his shirt off. He was wearing suspenders underneath.
Philadelphia: We walked six drunk miles for a cheesesteak.
Boston: MC Mr.Napkins rapped about State mottos.
Albany: Amelia tried to scald Patrick with a burning stick while we watched a live performance of High School Musical.
Ann Arbor: I ate two corn dogs at once. Then we went home.
www.featherproof.com
www.Dollarstoreshow.com
Beau and Lily Sage
My niece is sitting in the window of our new storefront on one of the seat boxes we built to look like gallery pedestals as part of our experiments in art and life. Whenever someone walks by, she freezes her position: chip halfway up to her mouth, bite partially chewed. She's twelve.
"You know," she says, "This is actually pretty cool."
It's like living inside a TV. People can't help but look. They're not sure you want them to look, but they just can't not. So they laugh. That's the way we've been living for the past three years. A totally mediated existence. Life as a conscious, 24/7 experiment in identity, object and space. Life as perpetual performance.
For our last year as grad students at SAIC, we lived in our 200 square-foot studio on the 10th floor of the Michigan Building. We didn't have an address or a door that locked or windows that opened. The lights never went off completely. We got our picture taken every night at the security desk. We did our dishes in a big metal sink in the hallway.
At the same time, we were living as two characters we imagined and decided to incarnate: Beauregard and Lily Mae Sage, country music stars. We bought cowboy hats and boots, picked up a guitar and a fiddle and waited to see what would happen. Ambling the city streets, people had a lot of ideas about what it was that we were doing. And so we decided to let other people's preconceived notions about what it means to be a cowboy dictate how we acted, the forms of our work, the conversations we had. And we started doing the unthinkable: We started making art about being American. Our work started to have lots of flags in it. We sang"America the Beautiful" in the Sullivan Gallery in front of a rowdy art crowd.
That became our graduate thesis: Identity as Document, Beau and Lily as Documentation. And when it came time to move out of the studio we found it impossible to entirely return to private living space. So now we're living in another fishbowl. A little storefront off Taylor and Western that we have turned into our new experimental project space.
And my niece is thinking about art, and performance, and life. Sitting in the window on Taylor Street, eating a bag of chips.
www.theorganicartfactory.com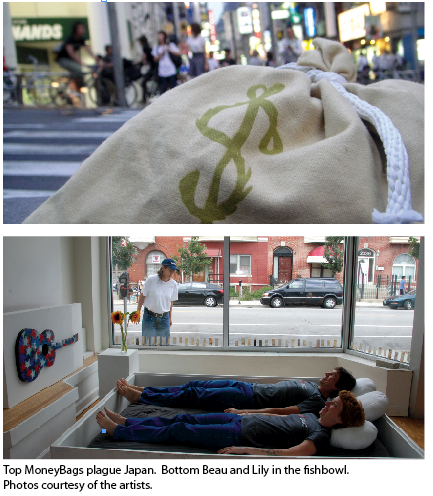 Randi Black
Besides my glamorous library job, I spent the first few weeks of my summer vacation advising with Jim McManus. Last year, his suggestions would've sounded like compromise because I aspired to be the filthiest Asian-American female author alive, but this past spring, I realized I just wanted to fucking write what I love and that title no longer meant anything. So I took my newfound experience and began the process of editing my 419 page/105,000 word novel. I'd do it after dinner, during my lunch break or when I thought no one was looking at work. Certain scenes were cut out because I discovered that what's unsaid can be scarier than what's laid out on the table. I also made the heroine more in control of her life, making more choices for herself instead of being a victim of circumstance. And after the extraneous was brutally cut, I found details that made the plot even better, and ran with them. It's now slimmed down to 290 pages/73,000 words, but with my favorite dirty parts intact.
Alex Ulichny
This summer, I interned at a high-end luxury fashion boutique on Michigan Avenue. At J. Mendel I helped prepare looks and lineups for charity fashion shows. Changing the window display was not always an easy task. Mannequin Tipsy Tammi is the life of the party, but she often needs a wall to support her balance. Some of our clients are quite bizarre. One lady wears a bad wig and keeps her Chanel purse in a plastic bag while showing off her multicolored toenails. My summer was filled with running gowns across town and assessing wear on a salsa dancer's furs. I've kept a blog nevermundaneatmendel.blogspot.com with daily details. Being surrounded with beautiful things made my internship an incredibly positive experience.
Stan Chisholm
Summer, Summer, Summer! Relaxing, traveling, going for broke and making MoneyBags! I spent my summer globe trotting and venturing into new approaches for my art. After graduation I went back to my home in St. Louis, MO to install my first museum show at Laumeier Sculpture Park. Almost immediately after the opening I took off to Japan for Christa Donner and Andy Yang's Graphic Narratives and Cultural Context course. Hitting Osaka, Kyoto, Hiroshima and Tokyo, we took in as many museums, national treasures and temples as we could. After Japan I hung out in San Francisco during pride weekend—so the city was on ten the whole time I was there. Next stop was NYC where I was too poor to do any of the touristy stuff, so I spent my time walking around and dropping MoneyBags. I then spent 18 hours of the 4th of July in Chicago BBQing and blowing things up with my SAIC homies. I then dipped off to beautiful OxBow for Shinique Smith and Kym Pinder's text-based course. Then back to Chicago to work on a mural at Suder Montessori. Then back to St. Louis to play camp counselor at SCOSAG. I'm now building up a hoard of public made MoneyBags for my October show through The Hyde Park Art Center and Art On Track in October, where I will fill a CTA train with MoneyBags.