By Quintin Xavier Roper
Mayor Daley initiated his Fashion Advisory Council in 2006.  Before this venture, Chicago's fashion scene was a struggling harbor of fancy boats with little wind to cast them to bay.  To be a fashion designer in Chicago required advanced business knowledge and skill, because the city did not offer any resources to nurture design professionals. A few years later, the city's rubbery exterior has been infiltrated by the likes of major fashion shows, an overwhelming number of networking opportunities for Chicago's fashion community and common knowledge (or, at least buzz) about the happenings with designers in the city. When you mix these ingredients with a personality, talent, and a deep understanding of the female form, you get Maria Pinto.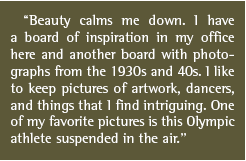 Pinto graduated from SAIC in 1990 and has been sending shock-waves through the country with her impeccable clothing, which has graced the bodies of women of all varieties—but most notably, Michelle Obama. Pinto's work has become famous for her ingenious use of texture treatments, experimentation with color and her undeniably keen eye for luxury. Women who wear Pinto's unleash the goddess within, in part thanks to the effect her genius for fabric–who could help but feel divine in her beautifully crafted clothes?
Pinto recently donated a sheer pink dress from her archives to SAIC's Fashion Resource Center.  I saw it and immediately needed to be next it. Her talent is an enigma; her creations are perfect in their balance of pure art and wearability. It is approachable high fashion, which makes the Maria Pinto brand successful. Typically, big shiny things, odd shapes and non-traditional patterns intimidate Americans. But not even the dullest Judd could deny the gorgeous complexity of a Maria Pinto garment.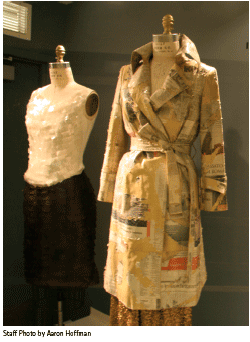 Because of her genius and her recent accomplishments, Pinto was honored as this year's SAIC Legend of Fashion Award recipient. This followed the launch of her Spring 2009 collection, which is sexy, feisty, and unlike anything you have seen before. The shapes alone are enough to make your jaw drop.
While interviewing Maria, I noticed that she is not only one of the most inspiring figures in Chicago but she is also genuinely nice, charismatic and still retains the street smarts of a strong woman in a cold city. A business woman, an innovator, an artist, a revolutionary in Chicago fashion, Maria Pinto is a trailblazer whose fashions everyone should 
indulge in.
QXR: What was your first big break?
MP: During the early '80s and '90s, Joan Weinstein 
included some of my pieces in her boutique, which was a very big deal at the time. If she bought your collection, it was a testimony. It opened up many, many doors for me. After that I started selling at Barney's, Sacks Fifth and Neimans.
QXR: What is your day like?
MP: It is so crazy. And I try to schedule in time for myself regularly. I love what I do. I want to get in the office and work. In the morning I try to have time for myself and I go to the gym to do yoga. And I have to designate design time within my work day. Some designers will design at home or after work. I put it into my work day so that I can use my free time to recover and relax.
QXR: Everybody seems to agree that Michelle Obama is gorgeous, but why? What exactly is it that makes Michelle Obama gorgeous?
MP: Well, with any woman, it is self-confidence and that comes through in anything. It's about movement and physical expression. It doesn't matter if you spend 200 dollars on a pair of jeans. It's about how comfortable you are with yourself. There was an article a while back that asked one of my clients why she enjoyed wearing my clothing, and she said "Maria's clothing makes me a better version of myself." But she was already a fabulous person to start with, and my clothing just helped to bring that out. Beauty first comes through you. That's why it's good to be in good health. What's most important is that you still have that foundation. Knowing yourself and knowing who you are. And what you have to remember is to find that beautiful part of you.
QXR: Could you offer any words of wisdom to college students who aspire to be like you in a few years?
MP: Be patient. And be committed to your studies. A lot of the time we think, "Ah, I just want to get through this!" But it's not much different when you get out of school. School is the one time where you get to experiment. And when you do finish you have to think twice about what you are doing. You should use this time in school to embrace the opportunities. The reason I am so grateful about my experience at SAIC is that it taught me to work as an artist first.