Cultural institutions in crisis…so what else is new?
If Chicago's 10.5% sales tax and the constantly unfilled potholes didn't clue you in on the economic collapse, then the demise of cultural institutions should tip you off. Early reports of the recession pointed towards a sustainable, resilient art market, with the economically street-wise talking heads projecting that the wealthiest would continue to act like the wealthiest, doing what the wealthiest do: buy, sell and trade commodities (like big ticket art that most people can't touch).
But, the wealthiest aren't acting like the wealthiest after all, affecting everything from museums, university galleries, orchestras and even arboretums and aquariums. Prominent institutions like the Getty in Los Angeles are among the many suffering from declining ticket sales, dwindling endowments, hiring freezes, disappearing board members and dips in donations. Doors are closing, buildings are stopped mid-construction. There are layoffs, and fine art yard sales.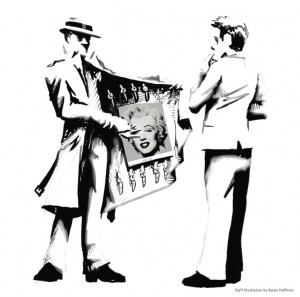 Some cultural organizations are being priced out of their homes, prompting unconventional partnerships. In St. Louis, a prominent arts organization is using a mall food court as a gallery. Hundreds of people came out for the first open house, held in the glow of a Panda Express.
Some museums are renting their collections out to museums and hotels. The Museum of Contemporary Art San Diego is currently renting art from its collection to Las Vegas' Bellagio Hotel and Casino at a bargain price. The museum will receive a flat fee based on revenue received by the Casino, which charges $15 to view the exhibit.
The Art Institute of Chicago, which can't be moved to a food court, has raised prices (from $12 to $18 for general admission and $5 to $12 for students and seniors) to make up for rising operating costs and to accommodate the costs of the new Modern Wing; AIC hasn't increased prices in five years—although they did eliminate the suggested donation admission several years ago.
Even The Metropolitan Museum of Art in New York City, a seemingly untouchable institution, is in trouble. The museum is firing 74 retail workers and closing seven of its shops nationwide. They have already closed eight stores and fired another 53 retail employees in recent months. These are the first lay-offs since NYC's financial crunch in the '70s. While the Met's chairman, James Houghton, says their budget, which has projected a 25% decrease in their endowment, is not set in stone, layoffs are permitted to continue throughout June (although no more are scheduled).
Many university and major museums are so desperate for money they are selling portions of their collection. The Museum of Modern Art is also gearing up to auction off a chunk of its American art collection.
The National Academy Museum in New York decided to sell two Hudson River School paintings for $15 million dollars to help keep their doors open, and Brandeis University, expecting a budget deficit of around $10 million dollars over the next five years, closed its 49 year-old art museum, The Rose, and will sell their collection, which includes Warhols and de Koonings. The collection was appraised at about $350 million in 2007. The Rose Art Museum situation is particularly complicated, because it was not only affected by the general economic crisis, but their most important donor was substantially hit by the Madoff scandal.
Locally, I Space, which is associated with the University of Illinois, will be closing its doors by the end of the summer, and the Terra Foundation, a Chicago-based source of funding for artists and art institutions, has pulled out of their Paris museum to reallocate their resources and focus their interests more closely to home.
And, after 43 years in business, New Yorker Films, an independent distributor that owned the rights to a vast collection of foreign and art-house works, closed its doors on February 23 2009. Its collection remains in the hands of Technicolor, the company that forced New Yorker Films to cease operations due to an outstanding debt.
Somehow, according to the New York Times, "cultural professionals" remain optimistic. Many hold out hope that President Obama will be "The Arts President"—following in Roosevelt's footsteps. He has dedicated a good $60 million dollars to the National Endowment for the Arts and has also  (unofficially) chosen Chicagoan Karem Dale to head his newly created Cultural Ambassador-ish post—a position that artists and organizations have lobbied for years to introduce. Baby steps.
Illustrations by Aaron Hoffman