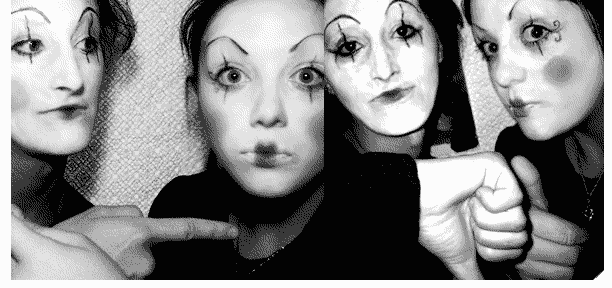 by Laura Miller
SAIC will host world renowned art critics and historians during a fall symposium titled States of Art Criticism, including James Elkins, Helene Cixous, James Panero, Dave Hickey, Ariella Budick, Stephen Melville, and Michael Newman. The events are designed with the intent of exposing and examining art history, theory, and criticism, as well as the people who study and write about these topics regularly, and will begin October 10.
Widely-published art critic and professor in the Department of Visual and Critical Studies, James Elkins, will kick things off on October 10th from 12-1 p.m. in the SAIC auditorium, 280 S. Columbus Drive, with a presentation on the conditions of art criticism. Elkins is a chair in the Department of Art History, and is enthusiastic about this year's guests in the States of Art Criticism roundtable, referring to it as "the centerpiece of the program." He added that this is "potentially a very important event" and describes the panel as having "a couple of poststructuralist types, but also a journalist [Ariella Budick], a conservative voice [James Panero, from The New Criterion], and an unclassifiable element [Dave Hickey]. It will be interesting to see if they can even talk to one another. For me, this follows in a great tradition at SAIC of unlimited inclusivity." For more information, visit Elkins' weblog at www.jimelkins.blogspot.com.
Helene Cixous will follow James Elkins on October 10th, at 6 p.m. in the MacLean Ballroom at 112 S. Michigan Ave. with her presentation titled "Arts of Escaping: Simon Hantal, Roni Horn and Other Writers". Cixous is Algerian-born, and has broken traditional boundaries by becoming recognizable as a central figure for her works in fiction and playwriting, as well as her role as professor, theorist, and critic. James Elkins describes her work as "intensely and unpredictably personal; she is interested in disrupting the normal relation between reader, writer, and subject. It's wonderful that we have her here at the same time as the art criticism events, because she could easily be said to be at some limit of what counts as art criticism. She is certainly at a limit of nonfiction writing and memoir."
The first speaker on October 11th, James Panero, will present Why Critics Are Not Your Friends from 10:30-11:30 a.m. in room 1307 in the MacLean Ballroom. James Panero was born in New York in 1975, where he grew up and presently lives. In addition to his widely-given lectures on art, politics, and education at different learning establishments throughout the country, Panero is the Associate Editor of The New Criterion. He writes on art and culture, serving as the magazine's gallery critic. He joined The New Criterion in 2001, and was a graduate student at Brown University, where he studied the history of art and architecture, and was awarded the University Scholarship. He received a BA from Dartmouth College where he majored in Classics, and gained editorial experience as the editor-in-chief of The Dartmouth Review. Mr. Panero was former editor of National Review, and worked in Switzerland as a writing assistant to William F. Buckley Jr. for his novel Spytime: The Undoing of James Jesus Angleton.
The second event scheduled for Tuesday, and perhaps the most anticipated, is the public roundtable discussion between James Elkins, Dave Hickey, Ariella Budick, Stephen Melville, Michael Newman, and James Panero. Don't miss this opportunity to see such a range of speakers and opinions, from 1-4 p.m. in the Morton Auditorium, 111 S. Michigan. This conversation between writers, critics, and audience will be taped, transcribed, and published. With contributions by over 50 critics from around the world, this transcription will prove a significant contribution to the study of art criticism.
The last event on Tuesday, at 6 p.m. in the Fullerton Auditorium at 111 S. Michigan Avenue, is Dave Hickey's presentation Art after Criticism. Known as a critic, curator, gallery owner, musician, freelance reporter, editor, writer, and theorist, Dave Hickey will no doubt bring quite a range of offerings to the roundtable discussion, in addition to his own presentation. A native Texan, Hickey has gained a wide reputation through his works and contributions as an important part of American thinking and writing. He was the recipient of the MacArthur Foundation's Genius Grant in 2001, and has previously written for several major publications including Rolling Stone, Art News, Art in America, Artforum, Interview, Harper's Magazine, Vanity Fair, Nest, The New York Times, and The Los Angeles Times. His published writing includes The Invisible Dragon: Four Essays on Beauty, Air Guitar, Essays on Art and Democracy, and Stardumb, and he continues to lecture extensively at universities and institutions around the world.
Later in the month, there will be a panel discussion titled Reaction, in response to the States of Criticism roundtable and contributors, scheduled for October 31st at 4:15 p.m. in the SAIC auditorium in the Columbus building. The panelists will include Lane Relyea, Hamza Walker, Michelle Grabner, and Kathryn Hixson.
Listen and learn about the roles art critics play and the differences between the specialized fields of our speakers. If you are familiar with the visiting writers, this will be a fantastic opportunity for you to experience them live. If you are not familiar with them, this will be an even more fantastic opportunity for you to expose yourself to their ideas and works. Find out who you agree with and who you don't. See you at the symposium.
October 2005