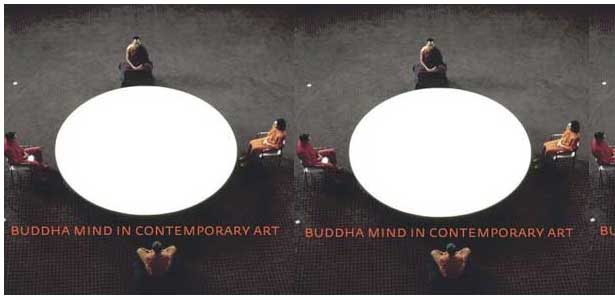 by Michelle Zis
Just when I couldn't take it anymore, my friend and F News editor Manda, like a ray of hope, says to me the other day, Michelle, I forgot to tell you: your book came months ago. Ahhhh, Buddha Mind in Contemporary Art. After being overwhelmed by issues of power, censorship, hierarchy and terrorism, I crawled into bed with my Buddha book. The cover image is captivating, Ulay and Abramovic's Nightsea Crossing Conjunction has made me think about an illuminating white oval more than I ever thought I would. Edited by Jacquelynn Baas, Director Emeritus of the University of California, Berkeley Art Museum, and Pacific Film Archive and SAIC Chair of Sculpture and Professor, Mary Jane Jacob, Buddha Mind posits that this Eastern influence is creeping its way into our lives and focuses in on how it effects contemporary art-making.
Buddha Mind features essays from various thinkers including SAIC Dean of Faculty Carol Becker, and philosopher and art critic Arthur C. Danto. There is also a series of interviews with various contemporary artists. Installation/performance artist Ann Hamilton, who will be receiving an honorary degree from SAIC and speaking at this year's graduation, is interviewed, along with Sanford Biggers, Bill Viola and others.
Jacob, who interviews Hamilton, says, The experience of Ann Hamilton's work is often overwhelming: how did all this stuff get here? How did she make this happen? But more importantly – and remarkably in our own experience – is the profound presence of a human spirit, the true drama of our lives that comes emerges from the materiality and making that is her signature now the world over.
May 2005