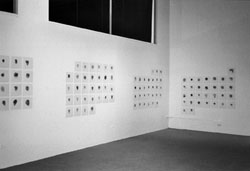 By Beverly Rauenberg
Down Time, the title of Stephanie Brook's recent solo exhibition of new sculptures and paintings at Rhona Hoffman Gallery, is a direct reference to her approach to making art since the birth of her two-year-old twins. "Quite literally," she says, "I make my art in my downtime from caring for my children."
As the title suggests, Brooks' new work projects an overall sense of hypnotic tranquility, while it simultaneously maintains her signature intellectual and conceptual wit. New York Times art critic Ken Johnson has described Brooks' work as "conceptually funny and formally clever." And the work in this show was no exception.
In viewing this show, an underlying premise appeared to prevail throughout the work–although Brooks clearly invites us to experience her world through her work, she is careful to limit the amount of information she reveals to the viewer. This method of "concealing and revealing" was particularly evident in her sculpture. In "My Idealized Library of Feminism," Brooks reveals only the dimensions of several books in her collection, while concealing the actual titles from the viewer. Another work, "A Book That Changed My Life," does the same.
Although Brooks considers her practice to be sculpture, for this show she successfully included paintings from her "Daydream" series. The painted monochrome aluminum panels referenced the dimensions of windowpanes from personal, private spaces the artists occupies: her studio, bedroom, a friend's dining room and the Metra train. I found myself trying to look through these works, hoping to experience the artist's private daydreams, which is ultimately impossible.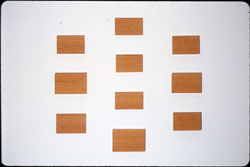 I had the pleasure of interviewing Stephanie Brooks to talk abou her work and the preparations for her show.
Beverly Rauenberg: I see that you were originally trained as a painter. When and why did you change your focus to sculpture?
Stephanie Brooks: I felt that I couldn't communicate effectively enough using paint and a stretcher. I also felt that the history of painting was getting in the way of my ideas. Although, I'm gearing up to have some paintings made soon.
BR: What artists have influenced your work and what is it about their work that interests you?
SB: Jenny Holzer and Barbara Kruger were very early influences. Their work engages in a dialogue between public and private with a serious feminist agenda, all things that I've been interested in working out in my art for the past ten years. Gabriel Orozco and Bas Han Ader are interesting to me because of the poetics of space and objectness. I'm also interested in Minimalism, and drawn to its formal properties, as well as the writings of many of its practitioners.
BR: You have described your work as 'conceptual formalism.' Can you explain what you mean by this? Do you consider the main emphasis of your work to be on the conceptual or on the formal aspect, or are they equally important to you?
SB: They're both very important to me. I'm as concerned with the formal properties of the work, scale especially, that I have to insist that they are both formally and conceptually driven. Formalism is the vehicle that drives the idea home, pardon the auto metaphor. In the academy, there seems to be this notion that the two terms, formal and conceptual, are oppositional. I've been discouraging this way of thinking for years, but recently in my work I've begun to recognize just how important the formal aspects of my work are and I'm trying to pay more attention to them in studio practice and discourse.
BR: Earlier you mentioned that you are planning to do some paintings soon. I am curious to know what prompted you to think about painting again?
SB: Scale, I never understand why a painting is the size that it is. I look at a painting and I think, those dimensions mean nothing to me." The size of most paintings seem very arbitrary and contrived, 30 x 36 inches seems ridiculous. I understand 8 x 11, 3 x 5, etcetera. I'm making paintings that are the size of windowpanes. The series are industrially painted monochromes and aluminum sheets. They embrace the cliché of "painting as a window" and explore intimacy via Minimalism.
BR: What direction do you see your future work going?
SB: I've used literary references in my work lately and I plan to dive into that more. I'm also working on a series that, through language, explores the erotic via Minimalism. I'm also writing a novel.
BR: The idea of the novel sounds interesting and I guess I'm not surprised to hear you say that you are working on that project, since you seem to have a strong interest in text. What is your novel about?
SB: The novel is about a woman trying to write a novel. In it, I will explore narrative, descriptive writing, such as, "she paused, turned her head slightly to the left and sighed." I'm interested in exploring how writers use language to descriptively write novels. I want to exploit that, bring a self-awareness to the medium and expand notions of narrative in the everyday. For me, it's just another piece, this one with very low overhead and a much longer production time.
Image courtesy of Stephanie Brooks
November 2004