July 7th, 2011
Conversations with four SAIC Fashion, Body and Garment graduate students about the nature of their work, and the differences between art and fashion.
< previous
Yiwei Xu
|
KC Winter
|
Justin LeBlanc
|
Aaron Zarychta
next >
Yiwei Xu
Yiwei Xu graduated from the Fashion, Body and Garment program at SAIC in May, and holds a BA in Fashion Design from the Academy of Art and Design at Tsinghua University in Beijing, China. Before moving to Chicago, Yiwei worked more in commercial design — including a stint at Anna Sui — but her time at SAIC has allowed her to enrich her new body of work with contemporary shapes and concepts that philosophize on individuals and the world around them.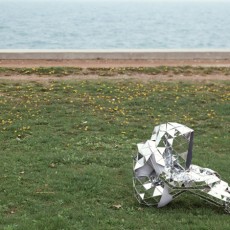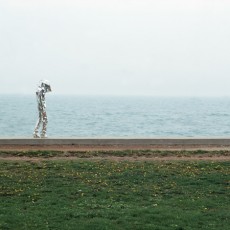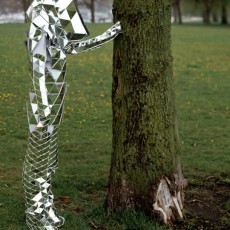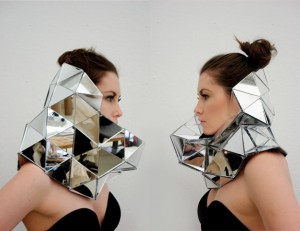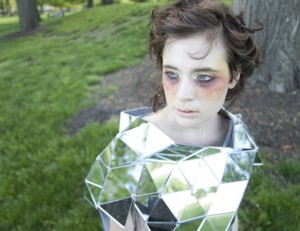 Amanda Aldinger: Can you talk about the graduate program, and how you've developed into a designer within this program?
Yiwei Xu: My undergrad program was pretty commercial. It's similar to regular ready-to-wear design, so I actually got a design job right after I graduated from undergrad. I had two years of part-time designing jobs when I started college, and I just felt like it wasn't what I wanted to do in the future. I felt like my life would be totally set up if [I] just sketched and produced garments, and that's it. Grad school allowed me to open my mind and make something really different. I had a lot of concerns when I started making things that [weren't] fashion. I had never done things like installations, or video art — I had only sketched and made garments. Anke [Loh], one of my instructors, told me: "It's your luxury to spend two years here, to do anything you want." So I started to do things that were experimental, and not based on a perfect approach or with a clear goal of what it was going to be — I just tried to do something, and make it work.
AA: Now that you've graduated, was Anke right?
YX: I was very confused the first couple of months I was in the program, but now, I totally appreciate that I've spent these two years here and have received so much knowledge and advice from the faculty. It's so different, and I don't think there will be another time in my life that I'll have so much freedom in making something I want.
AA: More than just creating clothes that are fashionable and trendy, is this program about creating works of art that move?
YX: I would say that our initial ideas all come from the body. We do have a title for every project. Our first project was "Granny Where's Your Pants?" and no one did pants that time. Our second one was called "Intimacy," and the third one was called "Self Portrait," and that's where I got the idea for the mirror piece. You can do something really related to the body from the initial idea, but then you restrict the artistry of what you're doing.
AA: Do you enjoy this kind of designing better than the commercial approach?
YX: As a person, I definitely like this design better, because it's me. It's what I want to do, and then I just make it. But I also agree that you are not the only one in the world. You need to work and you need to get something for the work and get something out of it. That's why I try to balance the artistry and the fashion work in my design, since I have a fashion background. Not everyone in this program has an undergrad in fashion, and a couple of my classmates will go directly to [visual art] in the future. Not everyone wants to work directly in the fashion industry.
AA: Do you think there exists a level of fashion design that merges creative, more artistic design in a commercial sphere? Or do you see them as remaining separate?
YX: I think there is a way to merge it, actually. If you look at some European designers — American design here is pretty conceptual — but if you look at Hussein Chalayan, for example, he is pretty avant-garde, and has a lot of artistry and high technique. Luxury brands, like Prada, will sometimes [sponsor] an art project with artists. I don't really see it [in the U.S.] honestly, but I feel like with the top brands, those kind of people who are really into art and not just a market brand, they really want to have something that relates [art] to fashion.
AA: What do you think this kind of fashion says about the body, or the way it interprets the body?
YX: I believe that commercial fashion has more research from the body than art. What we're doing — we research from the body, but not with the purpose of making the body look better, or to make beautiful clothing. It's just a different approach. I cannot say which one is better. It's just different.