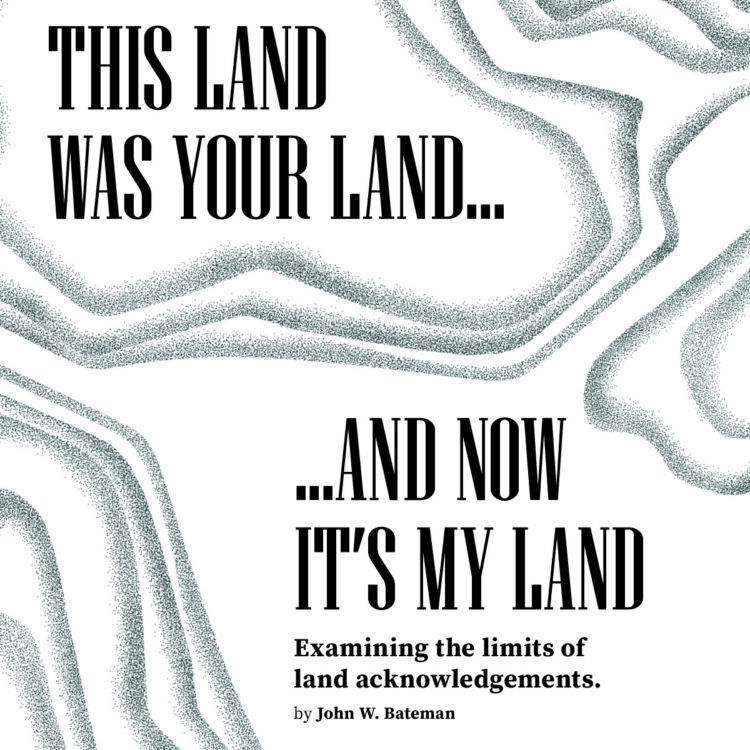 Land acknowledgements are curious creatures. Quite simply, they recognize indigenous populations as the original inhabitants of an area, displaced as the result of colonization. Yet, something always feels… off, particularly when the land is never offered back.
Although they can create partial awareness of history, even that risks harm if historic atrocities are not acknowledged, says Melodi Serna (Turtle Mountain Band of Chippewa/Oneida Nation), Executive Director of the American Indian Center of Chicago. These statements sometimes include sweeping gestures about decolonization and indigenious rights… but, are they more than eloquent essays that placate white guilt? 
What's the point? Serna frames the issue succinctly: "What are you going to do with land acknowledgments?" The Center looks for a sincere community investment: "How can institutions highlight and educate about indigenous folx AND the culturally-enriched aspects we contribute?" Otherwise, Serna states, "we become props for a checkbox" and raises a serious question: "Are institutions doing this to anyone else? They want our knowledge and data and history but don't want to help our community. Take fellowships, for instance. These mean nothing if the community is still starving." 
Critics agree. Land acknowledgements are often oversimplified and become performative and hollow political gestures, says writer Harmeet Kaur in a CNN article from November 2021.  These statements frequently use terms like "stewards," "custodians," and "caretakers," when many indigenious nations were sovereign entities with political and cultural authority. As Kaur notes, even the phrase "stolen land" oversimplifies beliefs that people belong to land — not the other way around.
What about this land? Like many other museums and nonprofits, The Art Institute of Chicago has developed a land acknowledgment statement, written in collaboration with the American Indian Center of Chicago and then-director Heather Miller (Wyandotte), who also co-planned a land acknowledgment ceremony on September 17, 2019. 
The Art Institute of Chicago is located on the traditional unceded homelands of the Council of the Three Fires: the Ojibwe, Odawa, and Potawatomi Nations. Many other tribes such as the Miami, Ho-Chunk, Menominee, Sac, and Fox also called this area home. The region has long been a center for Indigenous people to gather, trade, and maintain kinship ties. Today, one of the largest urban American Indian communities in the United States resides in Chicago. Members of this community continue to contribute to the life of this city and to celebrate their heritage, practice traditions, and care for the land and waterways.
We embrace our commitment to Indigenous rights, racial justice, and cultural equity not only through this statement but also in our collecting and care of Native American objects, our exhibitions and programs, and our relationships with Indigenous communities.
In email correspondence with F News, the Institute's Public Affairs Office says the statement not only reflects on the space and land the museum is on, but also "the histories of Native peoples who lived on it before us; the many communities we share it with now; and the more inclusive, transparent, and responsive future we seek to build." Further, it acknowledges that the Center "graciously extended their trust and joined [the Institute] in this work," referencing a Memorandum of Understanding (MOU) "between our institutions promoting reciprocal exchange of knowledge and expertise."
Tell me more… The Institute recognizes that land acknowledgements are potentially superficial, and lists the following actions in its commitment: 1) a three-year curatorial fellowship in Native American art; 2) expanded collections to feature contemporary Native American art; 3) reinstallation of the Arts of the Americas permanent galleries; and 4) "other forthcoming projects."
Public Affairs confirmed that the Institute expanded its collection and reinstalled works by contemporary Native artists [full list at the end of the article]. Galleries of 20th-century American art now "include works by Native American artists for the first time in the museum's history." Acquisitions feel significant, particularly when buying from living artists. Does this foster cultural equality? How much of amassing a collection, owned by the museum, unavoidable self-preservation? When asked if the Institute has repatriated anything under NAGPRA, a federal law that outlines when cultural artifacts must be returned, Public Affairs confirmed that items have been repatriated, but declined to comment without consent of the Tribal Nations involved. No update was provided on the curatorial fellowship or "other forthcoming projects."
So what is forthcoming then? The Institute repeatedly references its "relationship" with the Center. In contrast, however, Serna pointedly notes that, after the 2019 land acknowledgement ceremony, there has been "no time where [the Institute] specifically reached out to the American Indian Center. We have relationships with individual faculty [at the School], but nothing from the Institute. And our Director of Arts & Culture, Dave Spencer (Mississippi Chata/Dine) is a graduate of SAIC." The noted MOU "promoting reciprocal exchange" has not yet been provided to F News, so obligations under that document are unclear. 
Several questions posed by this writer to the Institute remain unanswered:
How many members of indigenous nations hold a seat on the Institute's board?
How many members of indigenous nations work in full-time leadership positions within the Institute? 
Does the Institute voluntarily pay land lease fees to any of the listed nations or the American Indian Center?
Does the Institute share any admissions revenue with indigenous nations or the American Indian Center? 
Does the Institute provide perks such as free admission or discounts to members of indigenous nations? 
According to Serna, no Chicago institution pays voluntary rent or shares revenue with either the Center or various nations. Neither does the Center receive passes or requests to help open exhibits at the Institute. 
What is needed? Meaningful relationships. Seats at the table. According to Serna, "What [organizations] ask is often pomp and circumstance: they just want us to put on our clothes and be a prop. We aren't performers. We want to foster relationships so others understand that our 'culture' is more inclusive. We can be traditional at the same time we can put on a suit and kill the stock market." 
The Center conducts extensive feedback in an indigenous community of 65,000+ members, which means it is the best resource to help identify, create, and foster local relationships. "We have folks who would jump at the chance for training or curation," adds Serna. As an example, she notes that Center staff member Spencer is co-curating an exhibit opening next month at the Field Museum. Still, even when meaningful engagement happens, Serna often finds herself in a "wait and see" approach: What will it look like in a year? Five years?
Reparative work must start somewhere. Apologies make pleasant Hallmark greeting cards, but economic, emotional, and cultural damage needs substantive amends. Sincere efforts to honor indigenous rights require ongoing dialogue with the impacted community and a willingness to explore remedies that aren't one-sided. Are we willing to implement changes beyond seats on a board? What if it requires us to return the land? This raises complex questions, with perhaps the more significant one a reflection of us: are we willing to face those challenges? 
* The artists identified to FNews are: James Johnson (Tlingit); Kelly Church (Pottawatomi, Ottawa); Delores Juanico (Acoma); Rebecca Lucario (Acoma); Cavan Gonzales (San Ildefonso); Autumn Borts-Medlock (Santa Clara); Edith Tsabetsaye (Zuni); Edgar Heap of Birds (Cheyenne/Arapaho); Nicholas Galanin (Tlingit, Unangax̂); Maria Martinez (San Ildefonso); Tonita Martinez Roybal (San Ildefonso); Lucy Lewis (Acoma)
A shorter version of this article runs in F Newsmagazine's May 2022 edition.
John W. Bateman has a secret addiction to glitter and, contrary to his southern roots, does NOT like sweet tea. He recently left his southern unicorn lumberjack shack and moved to Chicago to pursue an MFA in writing at SAIC.